December 1, 2020 | Come & Get It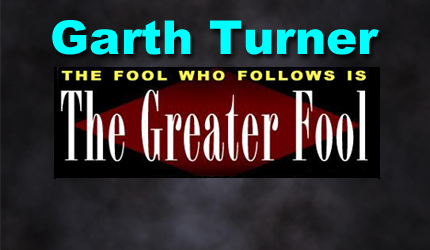 A best-selling Canadian author of 14 books on economic trends, real estate, the financial crisis, personal finance strategies, taxation and politics. Nationally-known speaker and lecturer on macroeconomics, the housing market and investment techniques. He is a licensed Investment Advisor with a fee-based, no-commission Toronto-based practice serving clients across Canada.
Monday's dose of Chrystianomics will be put to a confidence vote, her boss now says. Thanks for the deputy prime minister, Jag, the government will not fall. The spending will continue. And your children's children will look at their marginal tax rates and wonder what the hell their ancestors were thinking.
More news: bank profits are back. And the economy roared ahead 40% in Q3 after being crushed 38% in Q2. The big question is what the second wave will do to Q4. And it won't be pretty. But meanwhile Mr. Market doesn't care. He's hopped up on vax, so the Dow topped the 30,000 mark on Tuesday and investors just enjoyed the best November since ever.
Yup. What a mixed-up world. Stephen Harper suffered the wrath of media hell with a deficit of $56 billion during the credit crisis. When Trudeau's red ink hit $381 billion this week, there was barely a ripple. Around the globe governments have now thrown $19 trillion at Covid. In Canada this has meant a giant spike in the household savings rate, since gobs of people have more money than they did pre-virus. It's why Justin would actually love to lose that vote, triggering an election.
What do most little beavs care about?
Themselves, naturally. And the gifts keep coming.
Like the $400 everybody got Monday for staying home. Chrystia announced the CRA would be introducing a simplified claim to allow WFH warriors to write off up to four hundred bucks worth of staples, paper, thumb drives and wires. This will be a straight deduction from taxable income and – guess what? – nobody needs receipts. Or even a T2200 form from your employer stating that you can claim work-related costs. Nope. It's just a freebie. Four hundred clams.
And for the homeless urban moisters comes the enhanced First Time Home Buyer Incentive. Remember that? It's the shared-mortgage scheme whereby the government will chip in 5% or 10% of the financing, cost-free, for up to 25 years. Now the pot's been sweetened so buyers in Van, the GTA or Victoria can buy digs worth up to $722,000, employing government money – a huge jump from the previous limit of $505,000.
Won't this just add to absurd 1.7% five-year mortgage rates in goosing house prices beyond the means of average people? You bet. But this is Covid Canada, 2020. Everybody gets a pony. If excessive stimulus, emergency rates and historic deficits completely screw things up, just relax. 'We've got your back,' the leader said. What could possibly go wrong?
Well, the big news here on this pathetic blog is the winner of the Deficit Challenge. We asked you for an estimate of how pooched the Chrystia mini-budget would leave us, and more than 300 of you responded with wild, unsubstantiated and possibly inebriated responses. The number announced Monday was $381.6 billion. The closest guesser came in at… $381.6 billion.
That winner posted here as 'TANSTAAFL', whatever that means, and has earned a guest post on a topic of his choosing plus the chance to moderate comments for a day. After being notified of this massive and systemically-significant prize, this was the response from a person we now know is called John.
I initially assumed this was some sort of sad fishing attempt as I did not think my message had even posted. I had to go back and literally check the mind boggling numbers.

This is your blog sir, while I will embarrass myself if you are serious about the offer, I have no interest in moderating the comment section.  I can afford the therapist but I don't think I can carry the cost of the single malt required to wade through that particular ocean.

Given that I am not a financial advisor, realtor, economist, or politician I will have to think about what I have to offer.  I considered turning the blog over to my friend, a micro-biologist working on COVID-19, but he likes gold too much and would likely look at the comment section and loose his last shred of hope for humanity.

If you are serious, I have no problem if you wish to edit or offer an interspersed commentary.  I do not view this as a transgression against my freedom of speech on your blog.  As a warning, my post would likely hold up politicians and experts while ending with a recommendation to get vaccinated to save the economy.
Who is John? What does he do and where's he live? How'd he possibly know – to the fraction of a billion – what our flashy new finance minister was going to do? And why would somebody who's intelligent, articulate and prescient visit such a trashy site?
Stay tuned. You'll soon have the chance to punish him badly.
STAY INFORMED! Receive our Weekly Recap of thought provoking articles, podcasts, and radio delivered to your inbox for FREE! Sign up here for the HoweStreet.com Weekly Recap.