December 24, 2020 | 5 of My Top Christmas Traditions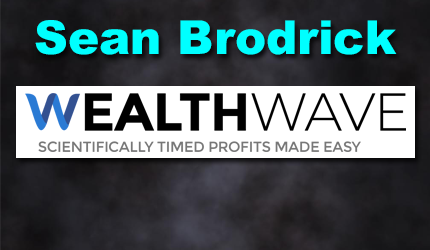 Sean is the natural resource analyst for Weiss Ratings. You can read his thoughts on gold, oil, cannabis, uranium and other natural resources at Wealth-Wave.com
Christmas is a time to pause from the pursuit of wealth and think about the important things like the spirit of the season, family and traditions.
And you know what? Even if you've been around the yule log more than once … I bet these are some Christmas traditions you've never heard of.
I guarantee they'll add a little fun and spice to your Christmas celebrations! Because for me, they've never disappointed.
Tradition 1: Christmas Puddings
You've probably heard of Christmas puddings, also known as plum puddings. Traditionally, Christmas puddings are made with 13 ingredients, to represent Christ and his disciples.
Have you heard of the "pudding tokens," also called favors, of a hidden button, thimble, coin and ring?
It can be a choking hazard, but depending on which one you get (if any) it foretells the future:
If a bachelor finds the button, he'll remain a bachelor for another year. If a married man finds the button, he'll father a child ("cute as a button!").
If a spinster — and I love that word — gets the thimble, she'll remain unmarried for another year. If a married woman finds the thimble, she'll be blessed with another child.
The coin symbolizes luck. It's very lucky to find the coin … hopefully before you swallow it.
The ring symbolizes impending marriage for singles. So find that ring, spinsters! If you're already married, the ring symbolizes wealth. Find that ring, Dad!
Does your family set the traditional Christmas pudding on fire? To do this, you use brandy. The flames are supposed to represent the passion of Christ.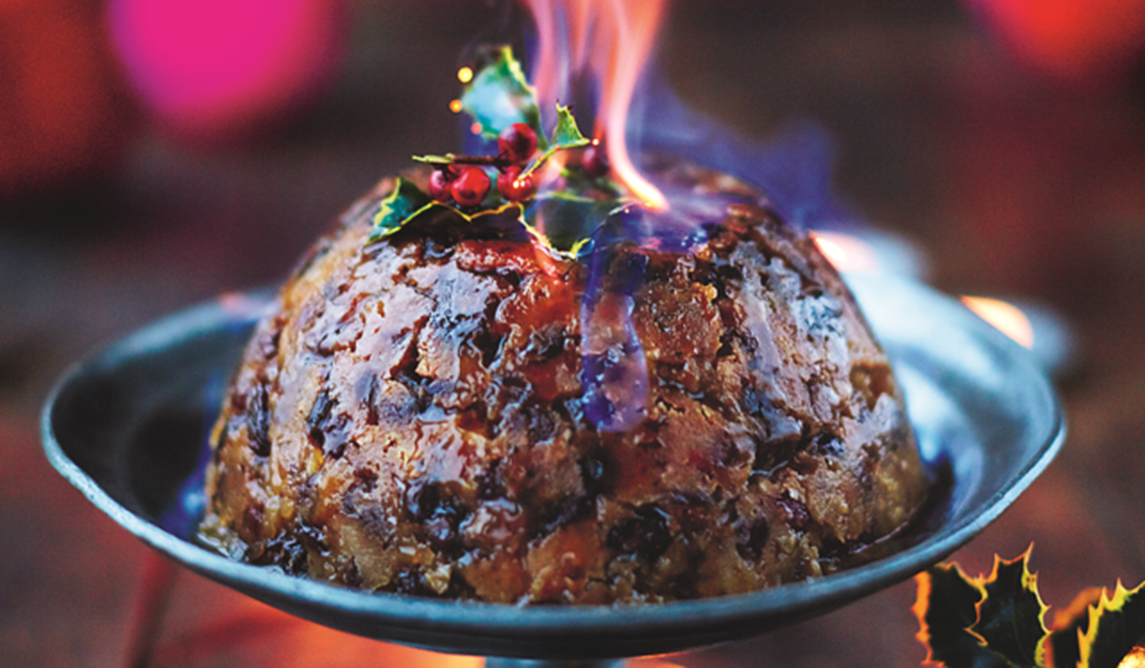 Source: thehappyfoodie.co.uk
Puritan Oliver Cromwell banned this particular tradition because he was such a spoilsport. I'm also thinking more than a few homes burned down from mishandled puddings. King George I reinstated it. Hooray for royalty and fire departments!
Tradition 2: Beware the Krampus
Everybody knows Santa Claus. Do you know his traveling companion, the Krampus? According to Bavarian legend, the Krampus was a horned hellspawn who traveled with Santa in Bavaria.
Krampus brought along a switch with which he would put naughty children in their place.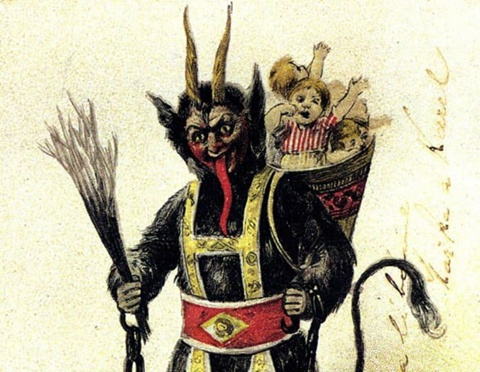 Source: christmasfm.com
Times changed, and the Krampus got shuffled out of official Christmas traditions, but the Krampus is still trotted out for fun in Bavarian Christmas parades.
Tradition 3: Twelfth Night Cake
There's also Twelfth Night Cake. Traditionally eaten on the Jan. 5, which used to be the last day of Christmas festivities.  Sometimes these cakes are now eaten on Christmas Eve … because we're Americans … and we can't wait for a darned thing.
Anyway, a dried pea, bean or silver coin is hidden inside the cake for Twelfth Night — whoever finds it is proclaimed King or Queen for Twelfth Night. Many Twelfth Night cakes are made with fruit, which is where the tradition of Christmas fruitcakes comes from.
Hot mulled cider punch called wassail is also traditionally consumed on Twelfth Night. Finally, in Eastern Europe, Twelfth Night is the night for driving out evil spirits with bells because … Krampus.
Tradition 4: A Christmas Tree
Of the many competing stories detailing the origin of the Christmas tree, my favorite comes from an old German tradition: Churches put on a Christmas play that included the story of Adam and Eve. There was a "tree of paradise" with fruit on it in the play, naturally. People started putting up the trees at home; the fruits became ornaments and … you know the rest.
The story goes that Protestant reformer Martin Luther was the first one to bring a tree home for his kids.
Tradition 5: Christmas Carols
St. Francis of Assisi started Christmas carols and nativity plays. In 1223, St. Francis decided the Christmas mass was in a rut. So, he had an entire manger scene built in his church in Italy, replete with hay, actors and animals.
St. Francis also thought the singing was too drab for Christmas. So, he took a couple of popular tunes of the day and wrote new words for them telling the story of the birth of Christ.
Church elders said he was crazy. History judges him a saint.
One of my favorite carols is "Silent Night." It's beautiful and moving, right? Well, let me tell you the real story.
The year was 1822. Catholic priest Joseph Mohr was the assistant pastor of the Saint Nicholas Church in Oberndorf, Austria. He had already written a beautiful poem for the midnight celebration of mass. But he dillydallied and didn't get around to asking his organist, Franz Gruber, to put music to the poem until Christmas Eve!
Mohr must have figured: "No problem — Gruber's a pro. He can whip up something."
But ol' Franz went to the organ and found that rats had eaten holes in the bellows. Thinking quickly, he took out his guitar. Franz used the guitar to put the poem to the tune of a beer-drinking pub song — that way, everyone would know the tune.
Mohr only wrote the first and third verses of Silent Night. Verses two and four were added years later, anonymously. Maybe in a pub, I'm thinking.
It just goes to show that Christmas traditions change all the time.
I hope you have your own Christmas traditions and celebrations. And if you don't have one, now's a good time to start. May the good times, and the spirit of the season behind it, be yours.
Merry Christmas to you and your loved ones,
Sean
STAY INFORMED! Receive our Weekly Recap of thought provoking articles, podcasts, and radio delivered to your inbox for FREE! Sign up here for the HoweStreet.com Weekly Recap.