November 11, 2020 | Patience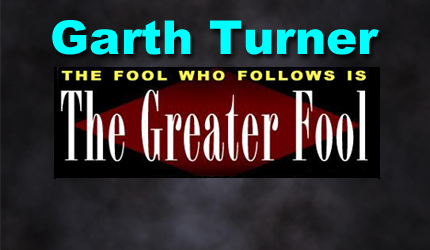 A best-selling Canadian author of 14 books on economic trends, real estate, the financial crisis, personal finance strategies, taxation and politics. Nationally-known speaker and lecturer on macroeconomics, the housing market and investment techniques. He is a licensed Investment Advisor with a fee-based, no-commission Toronto-based practice serving clients across Canada.
The place was packed.
"It's been nuts," Andrea said. "But we can hardly complain." Our server went off to get drinks and the catch-of-the-day special as we sat at our table in the 'patio' in downtown Toronto. Actually this was an outdoor room, built on the sidewalk with thick plastic walls, an awning roof and heated with a row of dramatic propane furnaces, throwing flames a meter high topped by ceiling fans to keep the interior toasty. Not too hard, given the mild temps. But the 150 or so people being served seemed happy. Lots of wine. No masks. Except the staff.
This is what downtown, high-traffic eateries must do to survive the second wave. Big bucks for infrastructure. Big hopes the bread-&-butter interior dining rooms will open soon. But that was dashed this week. Toronto has locked down for another month. No inside eating. No gyms. No gatherings. Meanwhile the infections and deaths keep climbing – as they do in out-of-control America.
So, yeah, the dichotomy continues. Pain on Main Street. Gains on Bay Street. Odds are the real economy will see a tough winter, with rising jobless numbers. More reasons to doubt the FOMO that has propelled house prices and family debt to record levels.
On Monday an outfit which owns a bunch of high-end restaurants in Toronto, King Street Company, filed for creditor protection. More to come. The national business group CFIB says half of all the enterprises in Canada are seeing lower sales as the second wave washes over us. The forecast now is that one in seven of remaining small businesses – 225,000 of them – will not survive. As we  know, this sector is responsible for sustaining more jobs than any other.
Downtown streets and sidewalks are sparse. Most pedestrians wear masks. The underground PATH is deserted. Many commercial landlords have decided the pandemic is an opportune time to renovate, reclad, repave, refinish or restore. So while the core is depopulated, it's a cacophony of construction noise. Down the street from our patio the new Google building's going up on King Street. To the south the striking new CIBC headquarters snakes skyward. The little guys are perishing, but the big guys are getting ready for Spring of 2021. A vaccine. Therapies. No more waves. Hope.
It's a confused time, of course. Biden-Trump worries a lot of people. As we know, 45 is capable of anything in the next seventy-odd days. The Pfizer vax is huge news, but it will take months and months to get into people's arms. When word came of a 'cure' the WFH stocks (Zoom, Amazon, Netflix, Peleton) were hammered. The Nasdaq fell as the Dow (value stocks) exploded. But that lasted just a day or two.
Bond yields, as mentioned yesterday, shot higher as prices fell and money roared back into equities. Bond returns are at the highest since pre-Covid. So markets are clearly looking beyond the winter, past the worsening wave and right over the US presidential turmoil to the promise of next year. And thereafter.
Here's the view from veteran trader Ed Pennock:
Surely the market knew there would be a vaccine. However,90% efficacy, when flu vaccines typically are 40% to 60%, is outstanding. Investors were hiding in the "Work from Home" stocks. They've changed their mind somewhat. We think that going forward will see a Hybrid model occur. A company we know in Calgary is already there. If employees want they can work from home on Mondays and Fridays. Or any other 2 days. But most want Mondays and Fridays. Their CEO thinks that gives the company the best of both worlds.

The Vaccine will allow a return to some kind of Normal. Yet we are firmly heading into the "Digital Economy". After the Pandemic subsides we will explode. Here comes the NEW "Roaring Twenties".
Had coffee on a Yonge Street sidewalk bench with a colleague this morning. A senior investment company guy, and we yakked about those offices we once inhabited far, far above us in the shiny, empty bank towers. "I enjoy having 15,000 square feet to myself," he mused. "But this will change."
You bet. Normal will come back, but altered. Maybe that hybrid – a 60/40 approach to the office. Maybe a hotel model, with workers booking in for defined periods of time. Maybe in 2022 or 2023, we'll party like it was 2019. The roaring Twenties. Coming. Be patient.
Meanwhile, get invested. And go spend some money in your hood. Big tip, too.
STAY INFORMED! Receive our Weekly Recap of thought provoking articles, podcasts, and radio delivered to your inbox for FREE! Sign up here for the HoweStreet.com Weekly Recap.