November 30, 2020 | Here We Go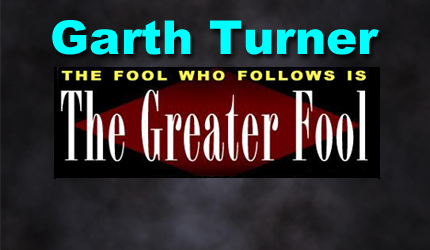 A best-selling Canadian author of 14 books on economic trends, real estate, the financial crisis, personal finance strategies, taxation and politics. Nationally-known speaker and lecturer on macroeconomics, the housing market and investment techniques. He is a licensed Investment Advisor with a fee-based, no-commission Toronto-based practice serving clients across Canada.
Three months and two weeks ago the finance minister resigned.
"Since I expect that we will have a long and challenging recovery, I think it's important that the prime minister has by his side a finance minister who has that longer term vision," Bill Morneau said, politely. "That's what led me to conclude during this time period that it's appropriate for me to step down."
It was a shock. In the midst of scandal. And it occurred after Morneau had a blow-out with Justin Trudeau. One man wanted prudence. The other, glory.
As we know, both were tainted by the WE debacle, now blurred by the ongoing Covid crisis and its  troublesome second wave. Trudeau allowed his family members (including his mom) to become paid shills for a dodgy charity with a penchant for buying commercial real estate in the name of its founders. Morneau carelessly accepted gifts and travel. It was an embarrassment he won't live down.
But that's wallpaper. The real story here is the course of the nation which today again lurches left. Morneau in July was devastated to announce Canada would have the worst deficit on record, $342 billion, as a result of T2's virus spending and the CERB tsunami. He then argued for restraint, telling the prime minister of the need for a long-term strategy to restore fiscal health. Trudeau rebuffed him. This crisis, he argued, was an opportunity to remake society, expand the role of government, promoting social and climate justice. The spending would continue.
Bill quit. Chrystia Freeland was instantly thrust into his chair.
So let's consider this a moment.
Bill Morneau is Old Money. If you've ever spent much time around OM people you know they live by a code. No wonder. The system's been good to these folks. Capitalism works. Things are as they are for a reason. Change should be incremental. Reputation matters.
Before losing his mind and running for Parliament, Morneau headed a billion-dollar executive benefits company and earned over a million annually. He lives on a two-acre estate in the middle of Toronto and married one of the wealthiest women in Canada. Nancy McCain is an heir to the food empire of the same name. Her brother is chairman of McCain Foods. Her cousin runs Maple Leaf Foods. Her sister lives in a little castle across the street. There are two family yachts, large enough to cruise to the Galapagos, normally anchored off the family's summer compound in New Brunswick or its holdings in Florida. There is also a chateau in Provence, in the south of France
In short, there's nothing to prove. Being in public office is not about personal gain, advancement or brand-building. It's service. It finished badly. But it also ended on principle.
Chrystia ain't OM.
Both parents were lawyers with her mother running as a federal NDP candidate in native Alberta. Her BA is in Russian lit and history. Her MA is in Slavonic studies. She worked as a journalist stringer in Ukraine, and afterwards in London and Moscow. Then to the Globe and Mail and Reuters. Her major publication was a book called "Plutocrats: The Rise of the New Global Super-Rich and the Fall of Everyone Else", a 2013 bestseller. Then she ran for Parliament. She's married to Graham Bowley, a former NY Times reporter. Three kids. Normal house.
An accomplished, ambitious woman. Now the second most powerful person in Ottawa. In interviews over the past few days she's indicated a willingness to 'spend whatever it takes' for the Trudeau agenda of worker support and economic rebuilding to occur.
Privilege, business success, family, wealth and marriage made Bill Morneau. Justin Trudeau made Chrystia Freeland. She may well be more in sync with a nation where Millennials outnumber Boomers and social justice/climate issues trump balanced budgets. He may be the dinosaur, the last hulking carcass of fiscal restraint standing at the vault door.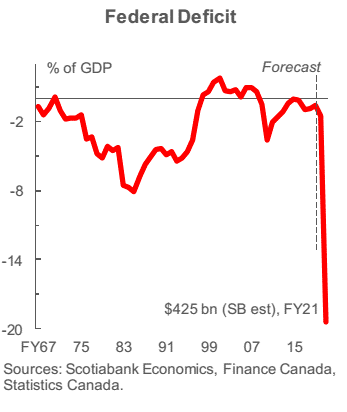 But we are now the spendiest country in the industrialized world. In a single year our deficit, as a share of the economy, has grown by a factor of 18. "No major economy," says Scotiabank, "will show a bigger fiscal swing in 2020, according to estimates from the International Monetary Fund."
And it's only started, apparently.
$     $     $
Well, here it is. The shiny new (so far) Chrystia deficit number: $381.6 billion (by March). And this does not include another $100 billion in stimulus spending coming after the second wave…
Now, let's see who in the steerage section came closest with their estimate, and will be our Guest Blogger! May God help the winner.
STAY INFORMED! Receive our Weekly Recap of thought provoking articles, podcasts, and radio delivered to your inbox for FREE! Sign up here for the HoweStreet.com Weekly Recap.