October 10, 2020 | Trading Desk Notes for October 10, 2020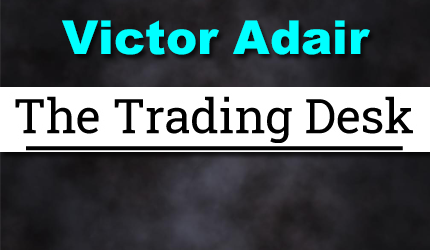 Victor Adair, author of The Trading Desk Notes, began trading penny mining shares while attending the University of Victoria in 1970. He worked in the mining business in Canada and the Western United States for the next several years and also founded a precious metals trading company in 1974. He became a commodity broker in 1977 and a stock broker in 1978. Between 1977 and his retirement from the brokerage business in 2020 Victor held a number of trading, analytical and senior management roles in Canada and the USA. Victor started writing market analysis in the late 1970's and became a widely followed currency analyst in 1983. He started doing frequent media interviews in the early 1980's and started speaking at financial conferences in the 1990's. He actively trades his own accounts from The Trading Desk on Vancouver Island. His personal website is www.VictorAdair.ca.
What's been driving the strong "Risk On" market psychology since late September? We think the market is not only (increasingly) pricing out Trump but is also pricing out a "contested election." The market is pricing in more (maybe much more) stimulus…either because Trump "pulls out all the stops" and Mnuchin/Pelosi do a deal (which the Senate probably won't approve…the Senate's primary focus will be the SCOTUS issues) or if there is no deal before the election then there will be huge Democratic debt financed stimulus after the election. Whatever happens…stimulus will happen.
What's been the market reaction to the strong "risk on" market psychology?
Bond yields UP
All Major stock indices UP (DJ Transports at All Time Highs)
Broad commodity baskets UP
Gold & Silver UP
US Dollar DOWN against all major currencies
Virus status: continues to spread. More lock downs likely. No vaccine widely available. Any "official" announcement of an available/effective vaccine will spur more risk on momentum.
High frequency economic data: Recovery is losing momentum…job losses rising / reduced consumer spending = increasing urgency for more stimulus.
Politics: Nearly all polls show Biden will win election (24 days away) with a wide enough margin to reduce fears of a contested election…possibility of a Blue Wave sweep of House, Senate and White House.
Broad stock indices are rising in this environment but with lots of internal rotation. For instance, previous leaders like Big Tech are less bid (fears of Dem regulation) while "green" stocks (Dems love "green") and emerging markets are aggressively bid ( EM up when USD down.) Stock indices are rising even though Dems are expected to raise taxes on corporations and wealthy individuals. Perhaps the market sees the "negative effect" of higher taxes being offset by more stimulus and a less belligerent foreign policy…which might spur more corporate capex (for instance, less corporate uncertainty caused by unpredictable tariff policies.)
Have we seen "the lows" in bond yields? Despite persistent deflationary pressures the prospect of massive debt financed government spending may push bond yields higher. The "bond vigilantes" who may have feared a Fed "cap" on bond yields may have already started to "test" the Fed…thinking that the Fed may "allow" bond yields to rise as a way to get the 2%+ inflation they want. But if the "risk on" sentiment collapses (for instance, a contested election leads to a constitutional crisis) expect bond yields and stocks to tumble.
This will be our last Trading Desk Notes posted to www.PolarFuturesGroup.com. Starting next week the Trading Desk Notes will be posted to www.VictorAdair.ca. We want to thank our many friends at Pi Financial for a wonderful 8 years together.
Best wishes to all our Canadian readers for a truly thankful Thanksgiving Weekend.
PI Financial Corp. is a Member of the Canadian Investor Protection Fund. The risk of loss in trading commodity interests can be substantial. You should therefore carefully consider whether such trading is suitable for you in light of your financial condition. In considering whether to trade or the authorize someone else to trade for you, you should be aware of the following. If you purchase a commodity option you may sustain a total loss of the premium and of all transaction costs. If you purchase or sell a commodity futures contract or sell a commodity option or engage in off-exchange foreign currency trading you may sustain a total loss of the initial margin funds or security deposit and any additional fund that you deposit with your broker to establish or maintain your position. You may be called upon by your broker to deposit a substantial amount of additional margin funds, on short notice, in order to maintain your position. If you do not provide the requested funds within the prescribe time, your position may be liquidated at a loss, and you will be liable for any resulting deficit in your account. Under certain market conditions, you may find it difficult to impossible to liquidate a position. This is intended for distribution in those jurisdictions where PI Financial Corp. is registered as an advisor or a dealer in securities and/or futures and options. Any distribution or dissemination of this in any other jurisdiction is strictly prohibited. Past performance is not necessarily indicative of future results
STAY INFORMED! Receive our Weekly Recap of thought provoking articles, podcasts, and radio delivered to your inbox for FREE! Sign up here for the HoweStreet.com Weekly Recap.