October 28, 2020 | The Opportunity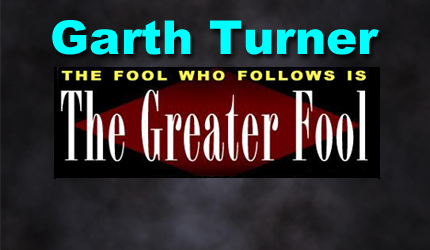 A best-selling Canadian author of 14 books on economic trends, real estate, the financial crisis, personal finance strategies, taxation and politics. Nationally-known speaker and lecturer on macroeconomics, the housing market and investment techniques. He is a licensed Investment Advisor with a fee-based, no-commission Toronto-based practice serving clients across Canada.
What do we make of a few ugly days on the markets?
Well, speculation grows a certain American president that this blog cannot name (until after  Wednesday) may not cede power if he loses the vote on November 3rd. You might wish to read this. Could it lead to conflict in the streets, while the virus – despite politics – continues to infect 75,000 people a day?
And, wait, could that guy (you know who) actually be ascending again? This is so confusing. Here's how crusty old Street vet Ed Pennock saw it today…
The market looks like it's selling on news. In our view, Trump is surging again. He's got a big hill to climb. But that makes the election now very difficult to call. Markets hate uncertainty. Biden has the numbers but will they hold? A record 67 million people have already voted. We are heading for a record turnout. Probably outside the statistical parameters that they have been using to make forecasts. The news about CVD is anything but good.
Yeah, the bug. Europe's got it bad. Italy, France, the UK, Spain, Poland – lots of places are seeing bigger case numbers and more hospitalizations than in the spring. Mr. Market is not happy with these developments. A US regional lockdown could be coming. It means economic disruption, people buying fewer pickups and designer sweats (big these day) at a time when vacations, air travel and fancy restaurant meals are already kaput. GDP down. Blood pressure up. More layoffs. Closures. People stress and vex, then do silly things like sell perfectly good assets into a storm.
On Tuesday our prime minister said all of this "sucks" and you probably should expect Christmas to be cancelled. And now we have the latest from the Bank of Canada, which has been spending billions each week keeping your mortgage rate low. The highlights from Tiff:
No rate change. In fact the cost of money will stay low until inflation (now 0.5%) hits two per cent
When's that? "Not until into 2023."
US growth is fading considerably. In Canada it will "slow markedly." Virus.
Our economy will shrink more than 5% this year then grow 4% for the next two. "Considering the likely long-lasting effects of the pandemic, the Bank has revised down its estimate of Canada's potential growth over the projection horizon."
The bankers will continue to depress mortgages by spending "at least $4 billion a week" buying long-term bonds… "which have more direct influence on the borrowing rates that are most important for households and businesses."
Hmmm. Is this good? Green light to buy a house? Or stuff your TFSA with cheaper ETFs?
Well, here's what we know.
First, yes, mortgages will stay cheap. The central bank says rates will remain low for at least two years until the economy recovers enough to throw off inflation. If this is not the bottom for home loans, we're close. And without a doubt, cheap money fuels real estate – so long as enough people have jobs.
Reality check: five-year fixed-rate money has never cost less than it does now.  In other words, why would you pay off a 1.8% loan? So, don't. Take the cash you're not spending on a monthly payment and invest it, especially when neat things like equity ETFs are on sale.
Second, never, ever, ever (ever) forget this will pass. Pandemics are temporary, not permanent. Even if a vaccine never arrives, the virus would burn out in time. The race now is to save as many people as possible from infection and death and thereby shorten the episode, through medicine and public health measures. (This is why the herd immunity theory is nuts. Worse, it's mass murder.) Wear your damn mask.
Third, government stimulus will flow like Bandit's drool over a liver treat, which is a sight you won't easily forget. There's a 100% certainty a multi-trillion-dollar package will pass the US Congress, whether it's before or after the vote. CBs will continue to do what our guys pledged today – keep rates crashed and hold the taps open with billions in quantitative easing (QE). The combo of this fiscal and monetary stimulus will keep the lights on and markets supported until the bug departs.
So, fourth, when assets fall in value, pay attention. It's why this blog has pointed out (for example) that some DT Toronto condos selling for $700,000 seven months ago are now less than $500,000. Or why a day when the equity market loses 3% of its value is a great time to do a little fund shopping. Of course, there could be a bunch more volatility over the coming days and weeks (mostly depending on the virus and the, ah, other thing), but you get the point. If the world's destined to look a helluva lot better in 12 or 20 months, then go vultch.
There. See how much better you feel about complete mayhem?
STAY INFORMED! Receive our Weekly Recap of thought provoking articles, podcasts, and radio delivered to your inbox for FREE! Sign up here for the HoweStreet.com Weekly Recap.