September 15, 2020 | West Coast in Flames – Part of the Strategy to Impact the Elections & Great Reset?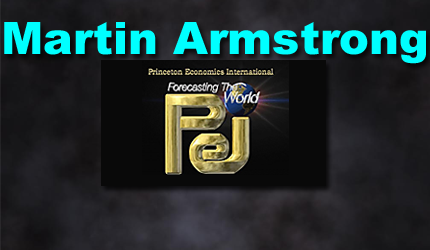 Martin Arthur Armstrong is the former chairman of Princeton Economics International Ltd. He is best known for his economic predictions based on the Economic Confidence Model, which he developed.
Michael Jarrod Bakkela, 41, was charged with two counts of arson and additional crimes for allegedly setting a fire earlier this week in southern Oregon, while the region was already beset with the Almeda Fire. It appears from our cyclical models that this fire was deliberately set to further this Great Reset. Like the COVID-19 pandemic that also did not make sense cyclically, these fires appear to be the same scenario where they were deliberately set. They have expanded from California all the way up but magically stop at the Canadian border. Additional arrests have been made regarding arson to start these fires.
While September/October is the normal cyclical period for wildfires on the west coast, the extent of these fires is by no means natural. There are around 100 separate fires on the west coast. They are too spread out and it appears cyclically that this may be another orchestrated plot to justify the Great Reset because they are immediately blaming this on climate change. However, historical lists of fires in California do not provide an in-depth look from a cyclical perspective because the majority of people began to migrate there post-1849 Gold Rush. Nevertheless, by 1889, there was a record of a massive fire engulfing 310,000 acres. Running this through our timing models certainly does not point to such a widescale wildfire. They magically stop at the Candian and Mexican borders.
1889 – Santiago Canyon Fire about 310,000 acres destroyed during the last week of September (cyclical season).
1923 – Berkeley Fire only left 4,000 homeless.
1933 – Griffith Park Fire  October 3, in  Los Angeles which was the deadliest fire for 85 years in terms of the death toll
1953 – Rattlesnake Fire  July 9, (set by an arsonist non-cyclical) engulfed 1,300 acres.
1961 – Bel Air Fire  November 5, engulfing 16,900 acres
1970 – Laguna Fire  September 26, 175,425 acres
1990 – Painted Cave Fire June 27, 5,000 acres (set by an arsonist non-cyclical)
1991 – Oakland Firestorm October 19, destroyed 2,843 single-family homes and 437 multi-family units
1995 – Mount Vision Fire October 3, 12,354 acres
1980 – Panorama Fire  November 24, (set by an arsonist non-cyclical) 28,800 acres burned
STAY INFORMED! Receive our Weekly Recap of thought provoking articles, podcasts, and radio delivered to your inbox for FREE! Sign up here for the HoweStreet.com Weekly Recap.