September 19, 2020 | Trading Desk Notes September 19, 2020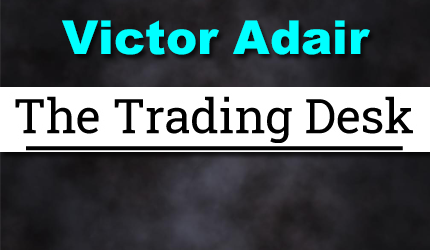 Victor Adair, author of The Trading Desk Notes, began trading penny mining shares while attending the University of Victoria in 1970. He worked in the mining business in Canada and the Western United States for the next several years and also founded a precious metals trading company in 1974. He became a commodity broker in 1977 and a stock broker in 1978. Between 1977 and his retirement from the brokerage business in 2020 Victor held a number of trading, analytical and senior management roles in Canada and the USA. Victor started writing market analysis in the late 1970's and became a widely followed currency analyst in 1983. He started doing frequent media interviews in the early 1980's and started speaking at financial conferences in the 1990's. He actively trades his own accounts from The Trading Desk on Vancouver Island. His personal website is www.VictorAdair.ca.
Massive stimulus from governments and Central Banks created a powerful "risk on" market psychology that drove equities and commodities higher and the USD lower over the past few months. We think this "risk on" market psychology in the process of reversing and we've been trading accordingly.
Mega cap tech had a spectacular run in this "risk on" environment...supercharged by the virus "disruption" effect and the unprecedented levels of public speculation in option "lottery tickets" with the "cherry on top" provided by aggressive buying in front of Apple and Tesla stock splits. (It's no surprise that Naz reversed course within 2 days of the split shares beginning to trade.)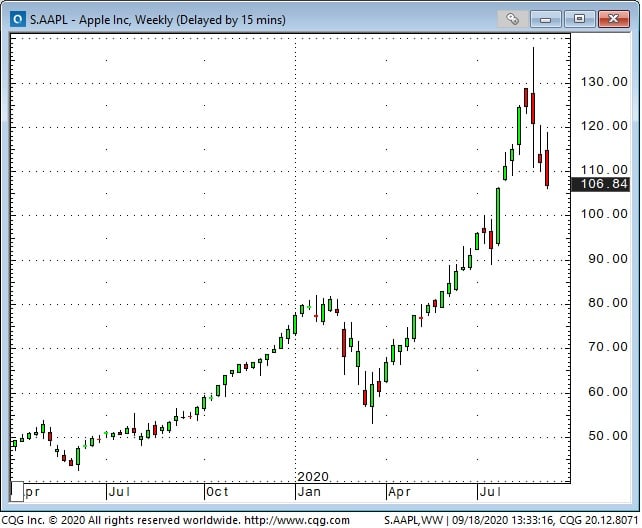 We thought that the "process of reversing" would not be a "V" shaped top…we expected BTD buying to give the market a significant boost after the first leg down…but so far the "bounce" has been modest and Friday's break below the August lows may temper the apparently widely held belief that, "Stocks only go up."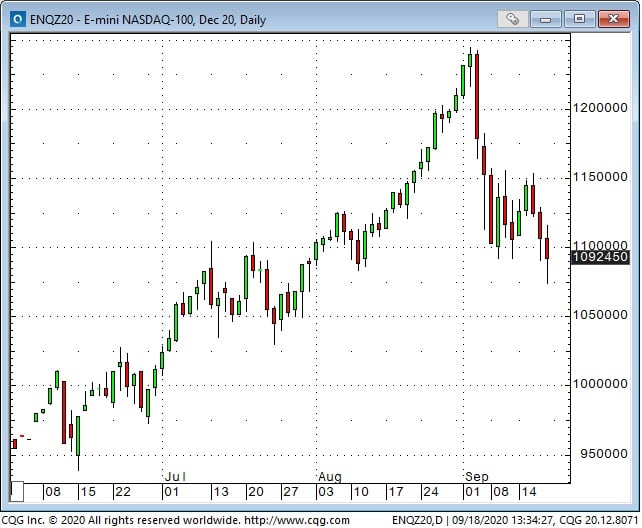 The Fed met the "Go Big Or Go Home" challenge in March through June but has gone relatively "quiet" since then…it seems the Fed is  looking to the government to provide additional stimulus…but the government has been MIA in terms of political compromise so far…although historical precedence would lead us to believe that "political calculus" will produce another round of stimulus before the first Presidential debate on September 29.
We understand that we will see record GDP growth from the "hole" that the economy fell into...but the virus and lockdown "disruptions" have left millions of people unemployed and we wonder what happens when the various "forbearance" programs come to an end and the banks and landlords start pressing for payment. Or what happens if we get a serious 2nd wave of the virus?
We've previously written about the "All One Market" idea where recently  "risk on" market psychology meant stocks and commodities up and the USD down. However…our trading experience tells us that once you identify an inter-market relationship it often stops working.
Our focus here is on the US Dollar Index which has fallen ~10% from its March highs…when capital flooded into the USD for safety.  We've thought that if the equity market started to trend lower that the US Dollar would start to rally. We still hold that thesis but our conviction level wavered on Thursday when the EURUSD traded to a one month low…BUT…then reversed to close higher on the day…and then traded higher again Friday even as the major American equity indices were under heavy selling pressure.
The EURUSD had a great opportunity to break down…but didn't...and that may be an important "tell"…or it may be that the market just reverted to the sideways trend it's been in for 6 weeks.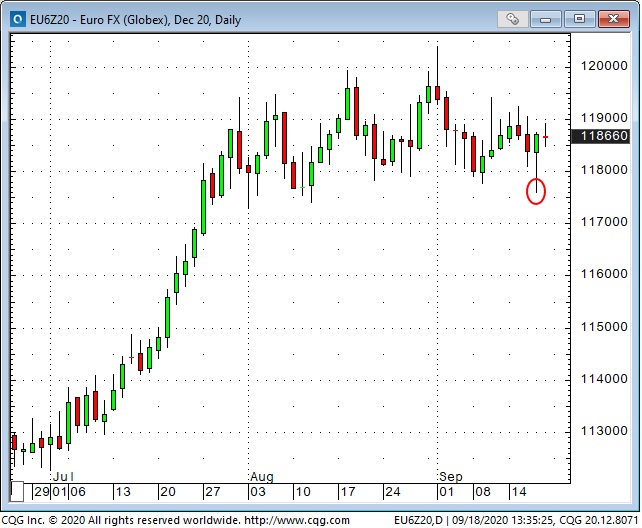 The Yen and the Renminbi have also been strengthening against the USD the past couple of months. (The CNH chart falling means it takes fewer Renminbi to buy one USD.)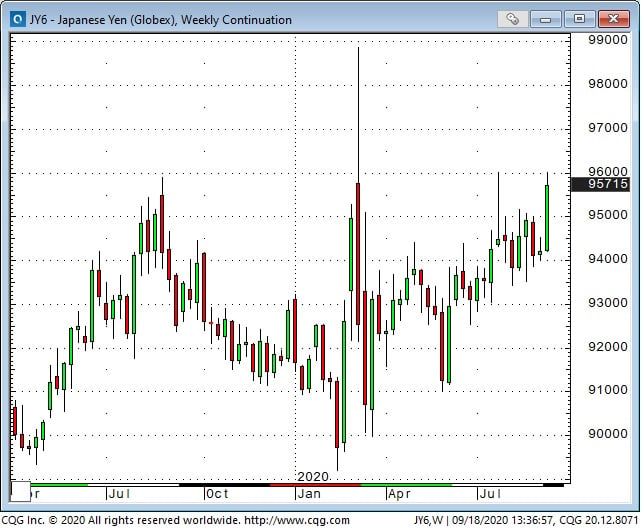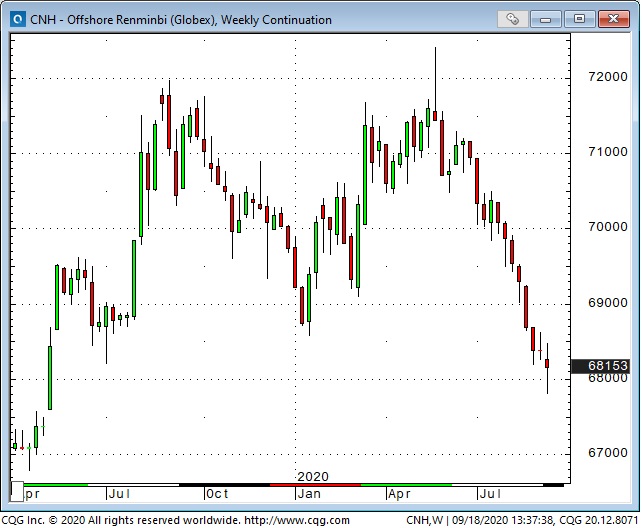 The gold market has benefited from ~$100 billion flowing into global Gold ETFs this year...the total global gold ETF market is ~$240 billion so that $100B is significant. We've thought that gold was at risk of correcting lower if stocks fell and the USD rallied. We still think that's a significant risk but if the USD weakens gold will likely rally.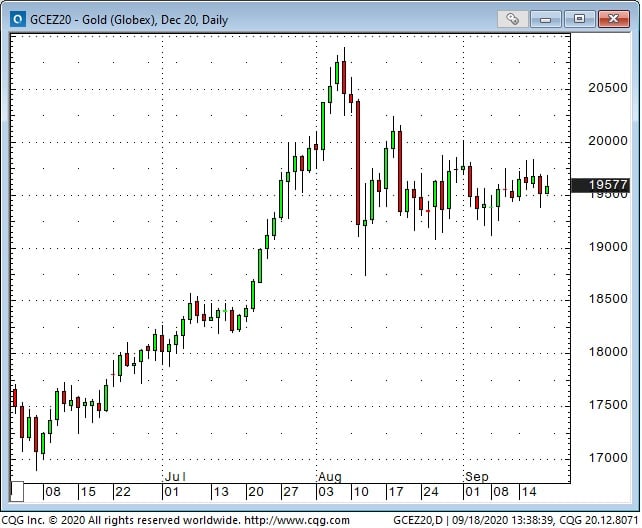 Soybeans have rallied to a 2 year high…apparently Chinese buying (in line with the trade agreement) is making the difference.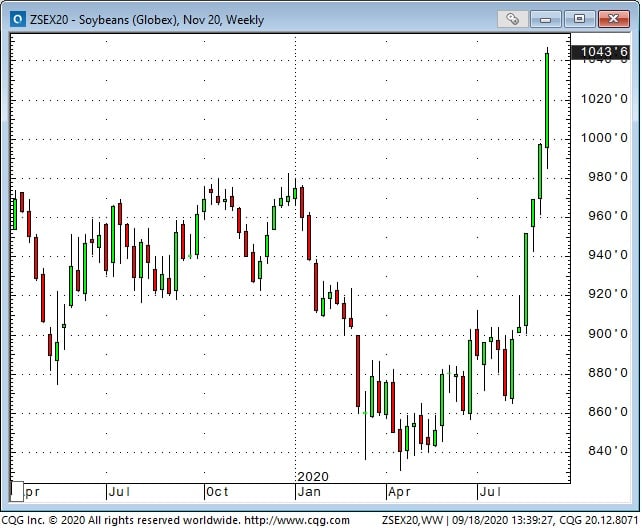 Copper has also rallied to a 2 year high…again Chinese buying is credited...although you get the idea that the prospect of millions of new electric cars may be inspiring some speculative buying!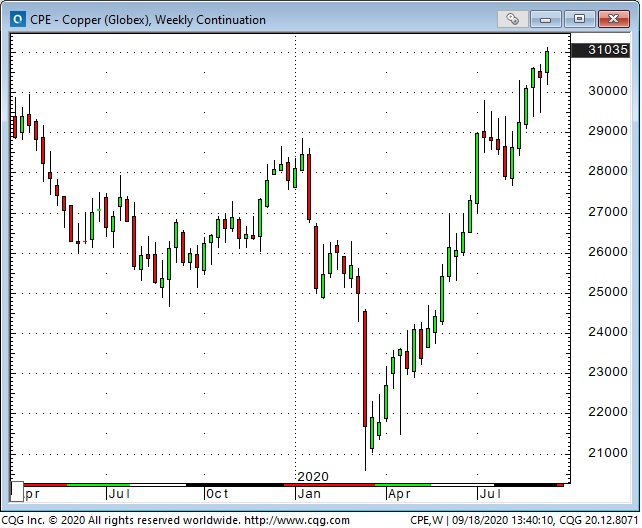 Crude oil fell ~$7BBL the past two weeks and rallied back ~$4 this week with a little help from OPEC and hurricane worries. We've viewed crude as a lack-of-demand story the past couple of months and we positioned for contango spreads to steepen. They did and we closed those positions this week for a decent profit. We started to reposition short WTI Friday.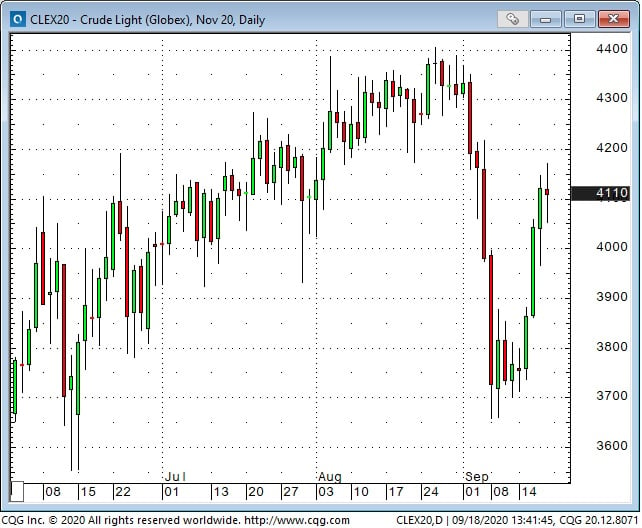 If you'd like to know more about using the futures and options market to trade currencies, metals, interest rates, stock indices, energy and other commodities please contact Drew Zimmerman at PI Financial Corp in Vancouver.
PI Financial Corp. is a Member of the Canadian Investor Protection Fund. The risk of loss in trading commodity interests can be substantial. You should therefore carefully consider whether such trading is suitable for you in light of your financial condition. In considering whether to trade or the authorize someone else to trade for you, you should be aware of the following. If you purchase a commodity option you may sustain a total loss of the premium and of all transaction costs. If you purchase or sell a commodity futures contract or sell a commodity option or engage in off-exchange foreign currency trading you may sustain a total loss of the initial margin funds or security deposit and any additional fund that you deposit with your broker to establish or maintain your position. You may be called upon by your broker to deposit a substantial amount of additional margin funds, on short notice, in order to maintain your position. If you do not provide the requested funds within the prescribe time, your position may be liquidated at a loss, and you will be liable for any resulting deficit in your account. Under certain market conditions, you may find it difficult to impossible to liquidate a position. This is intended for distribution in those jurisdictions where PI Financial Corp. is registered as an advisor or a dealer in securities and/or futures and options. Any distribution or dissemination of this in any other jurisdiction is strictly prohibited. Past performance is not necessarily indicative of future results
STAY INFORMED! Receive our Weekly Recap of thought provoking articles, podcasts, and radio delivered to your inbox for FREE! Sign up here for the HoweStreet.com Weekly Recap.