September 20, 2020 | The Homewrecker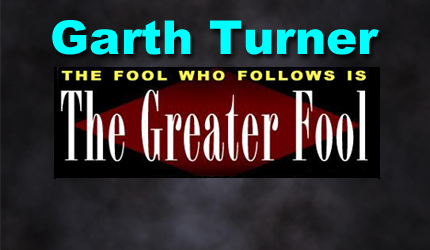 A best-selling Canadian author of 14 books on economic trends, real estate, the financial crisis, personal finance strategies, taxation and politics. Nationally-known speaker and lecturer on macroeconomics, the housing market and investment techniques. He is a licensed Investment Advisor with a fee-based, no-commission Toronto-based practice serving clients across Canada.
Three more sleeps until Justin Trudeau has his way with us. Wednesday's Throne Speech comes as the virus flares again in Ontario, BC and Quebec, as anti-mask Wexiters rev their pickups through the streets of Calgary, as Trump prepares to pack the Supreme Court in case that election blows up, as the economy starts going Covid-cold for the winter, as real estate bizarrely booms, mortgage deferrals end, three million people shift from CERB to EI and as the cacophony of voices crying for a universal income grows louder.
The bug has done it once more. By pushing the average price of a detached house in Toronto above $1.5 million (new record), the pandemic has widened the wealth gap yet again. Bad enough that wise people with balanced financial portfolios have sailed right through the public health crisis and economic meltdown. Now everybody with real estate has immunity.
At least that's how a lot of folks see it. The UBIers. Millennials. Renters. Chrystia. The federal government.
You see, this is the worst recession since the 1930s. Public finances have been shredded. Eight million people were on government benefits just weeks ago. Big employers are not calling most workers back now until after Christmas. Maybe the spring. Tens of thousands of small business are just kaput. This is mucho ugly. And yet house prices rose 18% last month year/year. Mortgages are practically free. The kids are pissed.
"Your latest blog entry links to a site, https://www.ubiworks.ca/howtopay, which promotes the idea of a land value tax," writes Alex. "I have always thought it was unfair that investing in securities is heavily taxed, but investing in real estate is not. I consider anyone who buys a home to be an investor, since I believe the main reason someone chooses to buy a home over renting one is the prospect of untaxed land value and property value (if they do good renos) appreciation.
"I was wondering what you think of this idea? It certainly has a lot of fans including none other than Milton Friedman, but it appears that in Canada, a bastion of socialism, any wealth accumulated from owning real estate as a resident is sacrosanct and therefore should be left untaxed. Thoughts?"
Until Wednesday, Alex.
Source: Iain Emslie, blog dog
Now this is pure speculation, since the prime minister did not accept my generous offer to proof read and fact-check the speech to be delivered in Parliament. But whether the hammer drops this week, in the next budget or soon thereafter, it's nevertheless poised.
Four years ago (2016) when the Libs started making you report residential real estate sales on your tax return, this blog told you why. No, it was not (as stated) to catch non-Canadians claiming the principal residence tax exemption. It was to start building a database of residential real estate and lay the foundation for a housing tax.
And why not? Although Alex sounds like one of those irritating young bearded Trotskyites, he has a point. Why was the capital gains tax (born in 1972) applied to everything except family real estate? Savings accounts and GICs are taxed. Investment gains are taxed. This one major exemption has hugely skewed personal financial habits, funneling massive amounts of money into houses, wildly inflating prices and turning homes into financial assets, breeding speculation and greed. When Covid came, it got worse. Nesting urges, WFH, pent-up demand, the flight to space and cheap loans combined to bring us here. If there's one stark, looming, omnipresent embodiment of us-and-them, this is it. The house.
People with property are now the wealthy. And times are tough for the non-wealthy. Guess what that means?
Even the mainstream guys are getting the drift lately. Pop accountant and Globe tax columnist Tim Cestnick recently penned a two-part series on the inevitability of residential real estate taxation. As did this pathetic blog a few months ago, he pointed to CMHC's funding of a UBC study on housing wealth, inequality and taxation, and included the agency boss's cry that, "We need to call out the glorification of homeownership for the regressive canard that it is."
Cestnick also reminds us what the jealous and needy children of Generation Squeeze have to say about housing (that group loves UBI, by the way):
"We need to make it so that no Canadian relies on gains in housing wealth to feel secure, and we need to rethink policies that, by encouraging the financialization of housing, push the cost to buy or rent a home even further out of reach."
And at the top of the list of things inflating real estate? That's tax-free profits.
What's in store?
A first step might be capping the taxless portion of housing appreciation. A quarter million, maybe, like in the US? After that gains are added to income and taxed as such. There could be a minimum period of habitation required to claim that partial exemption. And don't expect this to come with deductibility of expenses, renos or mortgage interest. That's not happening.
GST? Maybe it'll be levied on resales the same as it is on new housing. Limiting tax-free gains and charging sales tax on transactions would certainly help push down valuations. So would a wealth tax – easy to slap on real estate (like the UBI land value tax) because properties have public assessments in place, the basis for local tax.
The main point is simple. Incomes are already subject to a top marginal rate of up to 54% in a bunch of provinces. More tax just decreases revenues. Corporate tax can hardly be raised in a recession with double-digit unemployment and businesses staggering to survive. Investors are already taxed on all their gains while savers pay even more on interest earned. So with the bulk of Canadian net worth sitting in residential real estate – which just inflated 18% in a year – why should homeowners pay nothing?
You see the logic? For some it is inescapable. And that includes the people running the country, plus the cohort of young voters they depend on.
Maybe Wednesday. Maybe the first Freeland budget. Perhaps after T2 romps to his next electoral victory. But it's coming. You might wish to seek a defence.
STAY INFORMED! Receive our Weekly Recap of thought provoking articles, podcasts, and radio delivered to your inbox for FREE! Sign up here for the HoweStreet.com Weekly Recap.