September 17, 2020 | The Fed Sounds the Starting Gun for Gold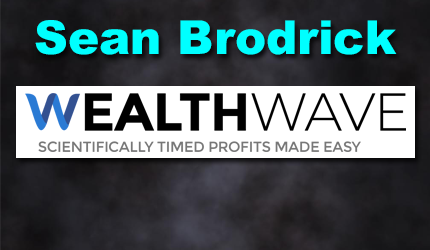 Sean is the natural resource analyst for Weiss Ratings. You can read his thoughts on gold, oil, cannabis, uranium and other natural resources at Wealth-Wave.com
Did you see the announcement from the Federal Reserve's Open Market Committee (FOMC) yesterday?
Basically, Fed Chair Jerome Powell and his cohorts stabbed daggers through the idea of raising rates anytime soon.
This has all sorts of implications. But one thing it does is sound the starting gun for is gold's next run higher.
That's okay. It's not surprising for traders to be short-term disappointed in the FOMC's decisions. They "sell the news." If your eye is on anything but the very short term, it's a buying opportunity.
Back to the Fed: There were parts of the meeting that went as expected. Interest rates were left unchanged and within the Fed's zero-bound range. The central bank signaled it is slightly more optimistic on economic growth through the end of the year. And that's not surprising considering they're firing the free money cannons and will be for a long time.
In its monetary policy statement, the Fed said:
The committee decided to keep the target range for the federal funds rate at 0% to 0.25% and expects it will be appropriate to maintain this target range until labor market conditions have reached levels consistent with the Committee's assessments of maximum employment and inflation has risen to 2% and is on track to moderately exceed 2% for some time.
But here's the eye-popping thing: what's called the "dot plot" — the forecasts for interest rate hikes from the Fed members themselves.
The central bank's median forecast is for interest rates to be around 0.1% this year through to 2023. To put that through the ol' "Translato-Matic", it means "free money for years to come!"
The Fed expects interest rates to rise sharply beyond 2023. Sure, sure. That's a wild guess: part hope, part casting chicken bones. I guess we can say they'll raise rates … if the financial system doesn't run off the rails first.
What about inflation? The Fed ain't worried about no stinkin' inflation. Heck, they'd LOVE for inflation to heat up to 2% or higher. It's better than the alternatives of stagflation or deflation.
And now let me tie this back to gold.
The longer the Fed keeps rates low, the better gold looks. That's because gold doesn't pay interest. And with rates so low, many bonds aren't paying interest. Heck, when you figure in inflation, as low as it is, real interest rates are negative.
And that's an environment in which gold really shines.
Meanwhile, all the long-term forces I've been pounding the table about are in play: A worsening supply/demand squeeze, high-speed government money printing, insane levels of government and private debt, economic worries, the war cycle and more.
All these fundamentals point the way higher for gold and silver. My target on gold is $5,000 over the next couple years; my target on silver is $125 at the same time — an even bigger move in percentage terms than gold.
I'm going to help my subscribers ride the precious metals megatrend for all it's worth. Heck, we already added two more stocks in Gold & Silver Trader this week.
Again, gold's reaction to the news was underwhelming — for now. Once it starts to get priced in, that's when the yellow metal will take off.
And that's why, this coming Wednesday, Sept. 23, at 2 p.m. EST, I'll be hosting an urgent briefing. This pullback in metals isn't going to last long. If you think you saw a gold rush earlier this year, you ain't seen nothing yet!
On Wednesday, I'll dive deep into this Great Reckoning and reveal how you can bag massive potential profits in precious metals.
As I said, this pullback will be brief. This is information you don't want to miss, so save your seat here.
And if you're doing this on your own, get busy. The Fed has fired the starting gun. The race is on. It's time to go for the gold.
All the best,
Sean
STAY INFORMED! Receive our Weekly Recap of thought provoking articles, podcasts, and radio delivered to your inbox for FREE! Sign up here for the HoweStreet.com Weekly Recap.