September 4, 2020 | Reality. Check.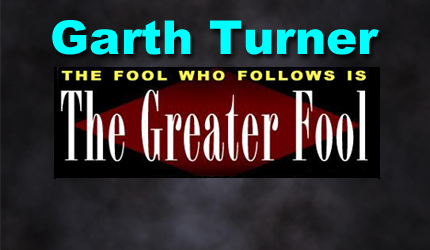 A best-selling Canadian author of 14 books on economic trends, real estate, the financial crisis, personal finance strategies, taxation and politics. Nationally-known speaker and lecturer on macroeconomics, the housing market and investment techniques. He is a licensed Investment Advisor with a fee-based, no-commission Toronto-based practice serving clients across Canada.
This week stocks laid an egg. The pros weren't much surprised.
We were overcooked, after all, with investors getting ahead of themselves and pushing valuations – especially for inflated tech companies and sexy corps like Tesla – into the stratosphere. Mobs of moist little day-traders clicking on their Robin Hood apps didn't help much. Lately speculation has been everywhere. Equity markets hit record highs earlier  this week, and the S&P 500 had gained 60% since March. Sixty per cent. That's about nine years of normal growth. Stunning.
So markets are taking a reality check.
Do we still have a global pandemic? Check.
Almost 190,000 Americans have died of Covid, right? Check.
There are some 30 million unemployed Americans on the dole? Check.
The federal deficit in Ottawa is 12 times bigger than expected? Check.
Washington is spending $3.3 trillion more than it's collecting this year? Check.
These are numbers the world has never seen before, is that correct? You bet, check.
The jobless rate in Canada tops 10% even after the latest gains? Check.
This is the worst recession since at least World War Two? Check.
The US is trying to pick between a burned-out 77-year-old career politician and a quixotic, race-baiting misogynist billionaire reality TV real estate guy? Who's 74? Uh-huh. Check.
So, stock markets are reassessing their froth. Good thing. A correction of 10% or so would be understandable. Even welcome. The world is still brimming with uncertainties. A second virus wave could come. The American election could degenerate into chaos. The online stocks are smelling a lot like the dot-coms did twenty years ago, more flash than cash flow. After riding an incredible tsunami since the virus first hit, professional fund managers are happy to hit the sell button, take risk off the table and wait for the economy to catch up.
Average investors can try the same, but it's probably not a great idea. Let the Robin Hood kids get whipsawed around by Mr. Market. For most people with an eye on retirement, for example, the best strategy is to set up a B&D portfolio, tweak it every year or six months, and forget it the rest of the time. A bunch of gains since March could be reversed, but they will be restored over time. And you have absolutely no idea on what day big advances or declines will take place. So stop trying to time it.
Now what differentiates putting money into a financial portfolio from investing in a house comes down to one word. Debt. Or leverage. People buy ETFs with money they have. They grab houses with wealth they don't have. Using 10x or 20x leverage is common. When the real estate you bought with leverage rises in value, you win. If you paid too much in a frenzy and the value falls, you're pooched.
So if stock investors were overly ambitious and are now being spanked, why can't that happen with real property? After all the same conditions exist – pandemic, recession, big unemployment, political instability and debt. How much danger is there that this housing market could correct, far faster and sooner than many expect?
Hmmm. Beats me. But look at this:
In Toronto in August prices hit an all-time record high. That was the second record in two months. Sales were up 40%, the average selling price gained 20% year/year and a ho-hum detached gained 19%, to $1.2 million. Toronto, by the way, has an unemployment rate of 13%. Fewer people went on vacation in August this year because of the pandemic and job loss, says the real estate board, so they stayed in the city and bought houses. Sure, makes sense. Toilet paper, Zoom downloads, houses. Whatever.
In Vancouver sales were 20 times higher than the 10-year average. The benchmark price topped $1.04 million. Both detached and attached houses saw sales more than double from the same month a year ago. Prices were up 5%. The realtors said, "Low interest rates and limited overall supply of homes for sale are creating competition in today's housing market."
In Victoria there were 48% more sales in August, while listings fell and prices gained over 5%. To its credit, the local board has been realistic, suggesting this stuff will not last: "This is not a trend, but our market at this moment in time during a unique situation. It is a challenging time to define what is happening in the market given so many factors that don't exist in a normal year. We have been surprised by the pace of the summer market and are grappling with the evolving socio-economic effects of the pandemic and how these underlying factors will influence our fall real estate market."
In Ottawa there were 17% more sales last month amid the biggest surge in listings in five years. House prices shot ahead 22% and the values of condos swelled 24%. Multiple offers abound and the realtors are calling it "a perfect storm." Adds real estate board boss Deb Burgoyne: "This is an extremely challenging market for many, especially those on the buying side. Many are experiencing what we call 'buyer burnout', having placed many offers without success."
Other cities – Halifax, Montreal, Winnipeg – have yet to report, but the story's expected to be the same. The disconnect between what people perceive and what exists is huge. It's unprecedented that in a recession, amid job and employer carnage and in the grip of a public health crisis, battling a virus with no cure, that FOMO would foment.
Some people have come here to slough off warnings about a real estate bubble, saying if it exists, stocks must be there, too.
Maybe so. But one is far more lethal.
STAY INFORMED! Receive our Weekly Recap of thought provoking articles, podcasts, and radio delivered to your inbox for FREE! Sign up here for the HoweStreet.com Weekly Recap.