September 13, 2020 | How a Surefire Horse Lost by a Nec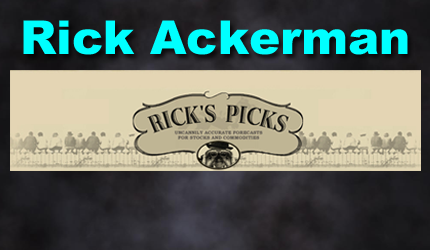 Rick Ackerman is the editor of Rick's Picks, an online service geared to traders of stocks, options, index futures and commodities. His detailed trading strategies have appeared since the early 1990s in Black Box Forecasts, a newsletter he founded that originally was geared to professional option traders. Barron's once labeled him an "intrepid trader" in a headline that alluded to his key role in solving a notorious pill-tampering case. He received a $200,000 reward when a conviction resulted, and the story was retold on TV's FBI: The Untold Story. His professional background includes 12 years as a market maker in the pits of the Pacific Coast Exchange, three as an investigator with renowned San Francisco private eye Hal Lipset, seven as a reporter and newspaper editor, three as a columnist for the Sunday San Francisco Examiner, and two decades as a contributor to publications ranging from Barron's to The Antiquarian Bookman to Fleet Street Letter and Utne Reader.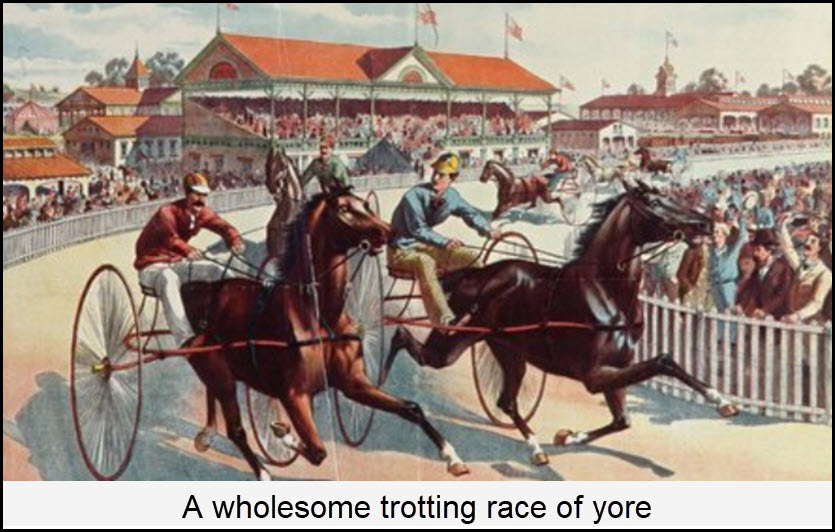 [I wrote the following for the Sunday San Francisco Examiner two decades ago. I offer it as lighter fare in lieu of the usual rant about how the stock market is mentally ill, investors are besotted with greed, and the global financial system galloping toward ruinous deflation. RA]
Talk about a sure thing! Here was the kind of inside information that one imagined tumbled from heaven into the ears of the anointed. It concerned not the stock market – we'll get to that part soon – but a pacer named Happy Yankee A that was running in the seventh race at Roosevelt Raceway outside of Philadelphia one evening nearly four decades ago. According to my source, this horse was not merely a strong bet to win, he was an absolute lock, lead-pipe cinch. This horse absolutely could not lose. What's more, the Yankster had looked so tired the last few times out that he would probably go off at fat odds.
My tipster was Willie D, a storied acquaintance and unusually gifted confidence man who could loosen a mark's checkbook the way a starfish pries open a clam. Here he was on the phone one Saturday morning – probably to everyone he owed – trying to burnish his karma with an offer of timely investment advice. One seldom saw or heard from Willie D around breakfast time, since that was when he usually went to bed. But that day he had stayed awake, he said, to get the word out. He wanted to give his pals enough time to borrow, beg or steal as much cash as they could by post time, the better to wager on the seventh race.
A Jones for Pacers
If word of Happy Yankee A's expected trip to the winner's circle had come from anyone else, I might have shrugged it off. After all, how many touts die rich? But a hot tip from Willie? It seemed too good to pass up. Although he had a serious jones for the trotters – one that often left him too depressed to get out of bed and too broke to buy a decent meal – Willie also had occasional winning streaks that would put him on top of the world, if only briefly. Over time, however, it was Willie's peerless ability as a salesman that paid the rent. He could in fact sell just about anything to anybody: Persian rugs, estate jewelry, sterling tea sets, tires — and at county fairs and flea markets, a mysterious-looking gizmo known as the "SparkMaster" that was guaranteed to double one's gas mileage.
But handicapping horses was his first love, if not a steady source of income, and he followed the sulkies around the U.S. to create an endless summer of betting opportunities: at Santa Anita, Freehold, Meadowlands and Kentucky's Red Mile. It was one summer, nearly 40 years ago, that he stumbled onto a fabulous secret that for a short while produced more sure-fire winners than a set of loaded dice. It was based on an observation that seemed to have eluded not only the attention of the rubes in the grandstands, but the astute instincts of the $100 bettors in the clubhouse. You see, Willie's million-dollar ticket was to wager only on trotters hitched to a single-pole bike, the rig on which a driver sits. The shaft trailed directly behind the horse, using advanced principles of physics to reduce torsional drag. Only a relative handful of drivers ever came to use single-shaft rigs, and few outsiders seem to have realized what a considerable advantage they provided over conventional two-pole bikes that were attached to the horse on both sides. But Willie D surely did, and before the monoshaft was banned from the circuit later that season, it was his ticket to Fat City.
'This Horse is a Lock-Up!'
As chance would have it, neither Happy Yankee A nor any of the other entries in the seventh race would be pulling a single-pole bike on that particular night. It didn't matter, though, Willie reassured me. "The horse is a lock-up," he said, "and it's got nothing to do with the bike." That was the clincher. I hadn't wanted to rely on mere physics to give me and edge, but rather on some criminal scheme that made the seventh race as predictable as the next day's sunrise. But I didn't have much time left that day to raise a decent stake. It was a weekend morning and most banks back then did not have ATMs, so I spent the rest of the day cashing personal checks at local stores. By the time I'd hit up the hardware, the five-and-dime, a pharmacy, a supermarket and a candy store, I'd scrounged about $300, equal to about a week's pay for me back then.
We digress now to a story that may sound familiar to many of you. It concerns the hot tip that is bound to come the way of any investor who is looking to double his money fast in the stock market. My tipster this time was not a confidence man, however, but a highly successful lawyer who told me that a large publicly listed company was about to be acquired by another at a price well above the market. He said he was too close to the deal to take a stake in advance of the buyout, but that anyone who jumped on the stock in the next day or two would be handsomely rewarded. How sure was he about this? "The ink on the contract is already dry," he said. The buyout would be consummated by midweek.
Saved from Greed
As it happened, I did not take the plunge, but I would be lying if I were to tell you that my first impulse was to abide by the law, which strictly prohibits trading on insider information such as my source presumably possessed. No, it was only my inability to raise the approximately $6,000 it would have taken to buy 100 shares of the stock that saved me from my own greed. That, and the still-pungent experience of having waited six years for another such "done deal" to materialize.
If you can sense where all of this is leading, perhaps you've been burned yourself acting on a supposed tip from the inside. The truth is, most of the time even the insiders themselves don't know how or if a deal is going to turn out. Over the course of my adult life I've probably heard about 50 such buyouts, but only a relative handful ever panned out. And the ones that did were consummated months or even years after the date the tipsters had specified.
Fading in the Stretch
The lesson in all this is that next time someone phones with a hot tip about a stock whose price is about to double, you should grab your checkbook and run the other way. If it's a well-connected friend who says the ink on the deal is dry, tell him you know someone who got his just desserts after acting on those very words.
As for the Yankster, he went off at 5-to-1, bolting like greased lightning from the gate. Out front by two lengths – make that four lengths – he blazed down the back stretch. At the final turn, it was Happy Yankee A by a two lengths, now a length, now a neck, uh, now . . . trailing . . . by a neck. Fading, fading, fading . . .
And you know the rest. Willie D went home that night zero-for-seven, too disgusted to stick around for the eighth race. I went home broke, never to be so easily swayed by a tipster.
STAY INFORMED! Receive our Weekly Recap of thought provoking articles, podcasts, and radio delivered to your inbox for FREE! Sign up here for the HoweStreet.com Weekly Recap.