September 8, 2020 | Hicksville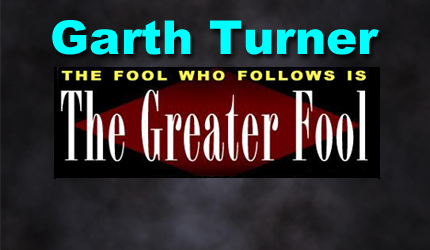 A best-selling Canadian author of 14 books on economic trends, real estate, the financial crisis, personal finance strategies, taxation and politics. Nationally-known speaker and lecturer on macroeconomics, the housing market and investment techniques. He is a licensed Investment Advisor with a fee-based, no-commission Toronto-based practice serving clients across Canada.
Once there were cows. Then cookie-cutter little houses on treeless streets. Then the Home Depot came. Fat roads. Traffic and people. McMansions And now this.
Last month 360 detached houses sold in Mississauga (pop 800,000) for an average price of $1,307,832. That was $244,300 (or 23%) more than the same house fetched a year ago. The first time above $1.3 million. And it was forty grand more than similar homes were changing hands for across the line in west Toronto, and $100,000 above the price in the east end of the city. Only the traditional mid-town enclave of the wealthy saw sales at a higher level (by a million).
Hmm. What's up?
The Virus Boom. It's hard to imagine a global pandemic would have rendered the commutershed more valuable than the employment destination it fed. But it's occurred. More evidence that these are not normal times. The question is whether or not they constitute the new normal.
It'll be years before that question's answered. However, the paleo thinking behind this blog is that until human nature is altered, things will revert to the way they were. Cities will restore and rejuvenate. Employers want workplace interaction, creativity and team thinking and people with aspirations will want to be there. After all careers and jobs are two different fish. Even in the gig economy. Once the world normalizes, a mess of newly-minted suburbanites will discover what commuting hell is, and why urban houses cost seven figures more.
Meanwhile, the best strategy at the moment is to sit on your hands, not falling victim to FOMO.
Look what financial markets have been saying recently. Volatility is building. Valuations are being second-guessed. Commodity prices deflating. After all, we're still in a recession with scary levels of unemployment, record heaps of personal debt and hundreds of thousands of people not able to service their mortgages. Some companies aren't coming back. Some are crippled. Look at Porter Airlines – no fights now until at least the middle of November, if ever. Retail is crushed. Restaurants entering a winter nightmare. Big corps trimming office space in advance of trimming workers.
Meanwhile the macroeconomics may start to suck soon. The American election is a slow-mo disaster. The virus is churning a second wave through parts of Europe, hitting India and leading to a 200,000 death toll to our south. Oil prices are forecasting a slower pace of global recovery. Central bankers, sitting on near-zero rates, are out of magic bullets. Government spending is off the charts.
Yet the average house in Mississauga now costs $1.307 million, up a quarter million since Covid came. Does this not define 'risk'? It's emotion, after all, not the economy which has caused a continent-wide real estate rush.
$     $     $
Speaking of emotion, time for a sort hop to Montreal.
"We recently migrated to Montreal from Vancouver," says Alex. "Primarily due to the unattainable, and disgusting nature of the home ownership in BC. We thought we could get to Montreal in time to buy something at a modest price but alas, it seems as though house prices are moving faster than our wee toes can keep up.
"My wife and I are Both 36 and have a 1 year old. We have never owned a house, but we feel we need a home and don't really know how much bullshit it is going to be. We have a huge down payment, and won't need to borrow big to pay off a loan.

"I do not understand if we should be trying to buy now in a great area or wait until October when the mortgage deferrals stop and an influx of properties could hit the market and drive prices "18-20%" lower. Do I try to lock in a mortgage rate for 120 days now and wait until the axe falls? We are looking for a home for our family with the ability to service the debt without killing ourselves like everyone we know in Vancouver. What to do?"
Well, Alex, sales in Montreal last month were up over 30% and prices ahead 24%. Of course, compared to Van or the GTA (including Mississauga), it's cheap. Average price under $450,000. Like in Alberta, big numbers of deferrals. Big Covid in Quebec, too. And the shuttered US border is having a significant impact.
Will houses cost less in November than in August? Probably. Will the deferral cliff have an impact? Yes, it will. Will mortgage rates go up by Christmas? Not a chance. The answer to your question – buy now (in a frenzy) or wait (until it passes) – should be obvious. The next query is why, when home loans are 1.5%, you'd throw all your cash at an asset that could prove unstable. Better to have a minimal downpayment, cheap financing and invest the rest for the long-term security of your family. Or, if you insist on using the cash, borrow against the place to invest and achieve a tax-deductible mortgage. Or just rent.
By the way, you didn't need to move 4,500 km to afford a house. Drama queen, much?
STAY INFORMED! Receive our Weekly Recap of thought provoking articles, podcasts, and radio delivered to your inbox for FREE! Sign up here for the HoweStreet.com Weekly Recap.