September 20, 2020 | Good News For A Change: Vertical Farm Edition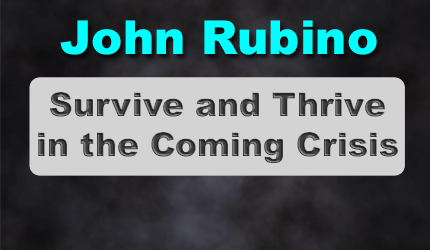 John Rubino is a former Wall Street financial analyst and author or co-author of five books, including The Money Bubble: What To Do Before It Pops and Clean Money: Picking Winners in the Green-Tech Boom. He founded the popular financial website DollarCollapse.com in 2004 and sold it in 2022.
So this year sucks and next year might be even worse.  Buy gold and short tech stocks. 
With that out of the way, let's spend some time in the unfamiliar territory of things that are actually going right, with something called "vertical farming." Here, very generally, is how it works:
Go to, say, downtown Detroit and buy an empty building that has working electricity and water. Convert it to a multi-story hydroponic farm that uses grow lights (perfected by marijuana farmers) and water-born nutrients to raise organic vegetables.
Because your crops don't have to be shipped in from distant farms they can be priced reasonably. Because bugs aren't an issue in a sealed building in the middle of a city, pesticides are unnecessary.
Then turn the first floor of the building into a 24/7 farmers market. And just like that, you've turned a food desert into a food oasis. People who didn't have access to high-quality veggies now have a plethora, and the pesticide-soaked farmland that used to serve this market can be repurposed to serve other needs, including those of the flora and fauna our ancestors displaced back in the day. It's a win/win for all but factory farms and big food processors.
Here's a variant on this theme that's gaining real world traction:
Infarm, the vertical farming company that has built a network of urban farms to grow fresh food closer to consumers, has raised $170 million in new investment in a "first close" of a Series C. It brings the company's total funding to date to more than $300 million.

That's likely testament to the speed of new retail partnerships over the last 12 months. They include Albert Heijn (Netherlands), Aldi Süd (Germany), COOP/Irma (Denmark), Empire Company's Sobeys, Safeway and Thrifty Foods (Canada), Kinokuniya (Japan), Kroger (U.S.) and Marks & Spencer and Selfridges (U.K.).

With operations across 10 countries and 30 cities worldwide, Infarm says it now harvests more than 500,000 plants monthly, and in a much more sustainable way than traditional farming and supply chains. Its modular, IoT-powered vertical farming units claim to use 99.5% less space than soil-based agriculture, 95% less water, 90% less transport and zero chemical pesticides. In addition, 90% of electricity used throughout the Infarm network is from renewable energy and the company has set a target to reach zero emission food production next year.

Founded in 2013 by Osnat Michaeli, and brothers Erez and Guy Galonska, Infarm's "indoor vertical farming" system is capable of growing herbs, lettuce and other vegetables. It then places these modular farms in a variety of customer-facing city locations, such as grocery stores, restaurants, shopping malls and schools, thus enabling the end-customer to actually pick the produce themselves. To further scale, it also installs Infarms in local distribution centres.

The distributed system is designed to be infinitely scalable — you simply add more modules, space permitting — whilst the whole thing is cloud-based, meaning the farms can be monitored and controlled from Infarm's central control centre. It's also incredibly data-driven, a combination of IoT, Big Data and cloud analytics akin to "Farming-as-a-Service."

The idea, the founding team told me back in 2017 when I profiled the nascent company, isn't just to produce fresher and better-tasting produce and re-introduce forgotten or rare varieties, but to disrupt the supply chain as a whole, which remains inefficient and produces a lot of waste.

"Behind our farms is a robust hardware and software platform for precision farming," explained Michaeli at the time. "Each farming unit is its own individual ecosystem, creating the exact environment our plants need to flourish. We are able to develop growing recipes that tailor the light spectrums, temperature, pH and nutrients to ensure the maximum natural expression of each plant in terms of flavor, colour and nutritional quality."

Will the future of vertical farming be in-store units or massive farms that ship to multiple outlets? According to a company exec: "Today across our markets, the split between our farms in stores and in distribution centers is roughly 50/50. However, as you anticipate, we will be expanding our network this year with many more distribution hubs. This expansion will likely lead to an 80/20 split as early as next year, with the majority of our regions being served with fresh, living produce delivered throughout the week from centrally located hubs. This not only offers retailers and restaurants flexibility in terms of volumes of output, and the ability to adapt the presentation of our offerings to floor areas of different sizes, but it also allows us to begin to serve whole regions from our next-generation farms under development today.

Based in our hubs, these farms will deliver the crop equivalent of an acre or more of fresh produce on a 25 m2 footprint, with significant further savings in energy, water, labor and land use."
As with solar power and cultured meat,  the "infinite scalability" aspect is key with vertical farming. It can be small and local, as with Infarm's store kiosks, or centralized and factory-scale, with costs low enough to under-price much of what's in today's supermarkets.
Assuming the concept works as promised, vertical farms should generate some of tomorrow's interesting business models and hot growth stocks, thus answering two big questions: Where will we get our food a decade hence, and where should we invest when today's overvalued stock market finally crashes?
STAY INFORMED! Receive our Weekly Recap of thought provoking articles, podcasts, and radio delivered to your inbox for FREE! Sign up here for the HoweStreet.com Weekly Recap.