August 1, 2020 | Trading Desk Notes August 1, 2020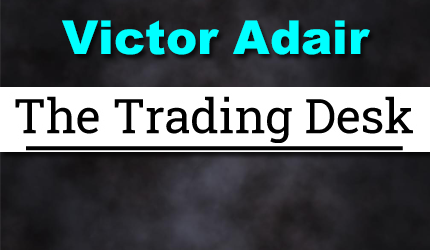 Victor Adair, author of The Trading Desk Notes, began trading penny mining shares while attending the University of Victoria in 1970. He worked in the mining business in Canada and the Western United States for the next several years and also founded a precious metals trading company in 1974. He became a commodity broker in 1977 and a stock broker in 1978. Between 1977 and his retirement from the brokerage business in 2020 Victor held a number of trading, analytical and senior management roles in Canada and the USA. Victor started writing market analysis in the late 1970's and became a widely followed currency analyst in 1983. He started doing frequent media interviews in the early 1980's and started speaking at financial conferences in the 1990's. He actively trades his own accounts from The Trading Desk on Vancouver Island. His personal website is www.VictorAdair.ca.
The US Dollar Index (USDX) had its worst month in a decade in July...falling >5% to a 2 year low. USDX has dropped >8% from mid-May when Macron/Merkel launched their plan to create a jointly guaranteed recovery fund for Europe…which launched a sizzling Euro rally on thoughts that this might be a major step towards a European fiscal union. USDX is down ~10% from the 40 month highs it hit in late March when stock markets were crashing and capital surged into the USD for safety.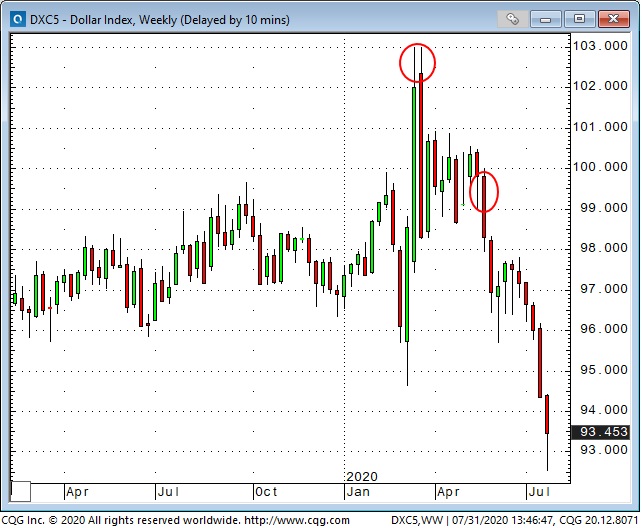 If you take the perspective that markets rise when buyers are more aggressive than sellers...and fall when sellers are more aggressive than buyers…you might ask yourself, "Why were US Dollar sellers so aggressive?"
We think USD sellers were motivated by these popular narratives: 1) the mid-to-late March flight to safety into the USD needed to be unwound in late March once the Fed launched their "Whatever it takes program" which included swap lines. 2) the Fed was printing too many USD…diluting the "global stock" of USD…effectively debasing the currency…which would mean the long elusive inflation genie was about to appear. 3) The virus was spreading in the USA (faster than elsewhere) due to political mismanagement causing the economic recovery to sputter which meant more fiscal and monetary stimulus would be forthcoming which would further dilute the USD's value. 4) The USD interest rate premium was gone…taking away a key competitive advantage. 5) The US political (and social) scene was becoming increasingly dysfunctional…so get out of USD. 6) Momentum. Once the USD began to fall the decline fed on itself and FOMO kicked in.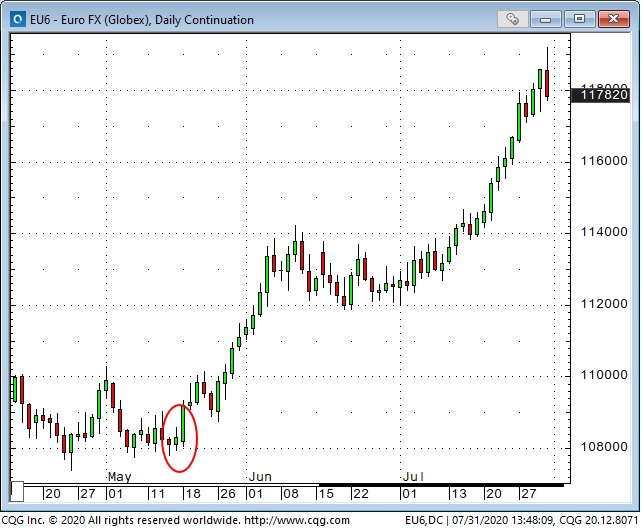 We think aggressive selling of the USD has been one expression of "risk on" market psychology and is way overdone. In our short term trading accounts we're short initial small positions of CAD and MEX. These currencies rallied as the USD fell, but their advance was not nearly as strong as the Euro or the Swiss or the Aussy. We chose to short CAD and Mex because they were the weaker currencies…perhaps more likely to fall if the USD rallied.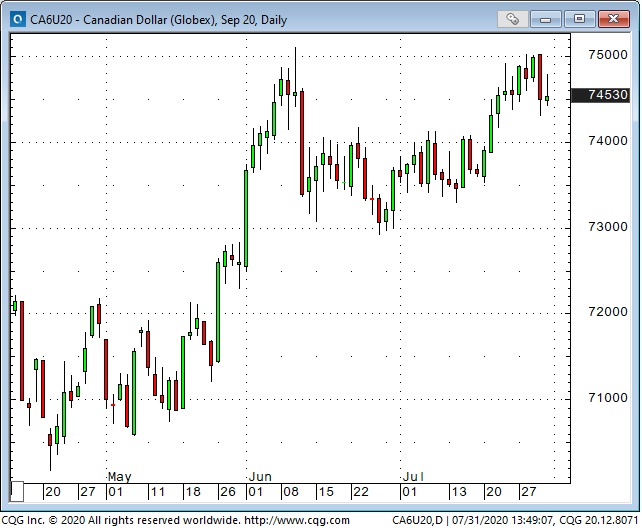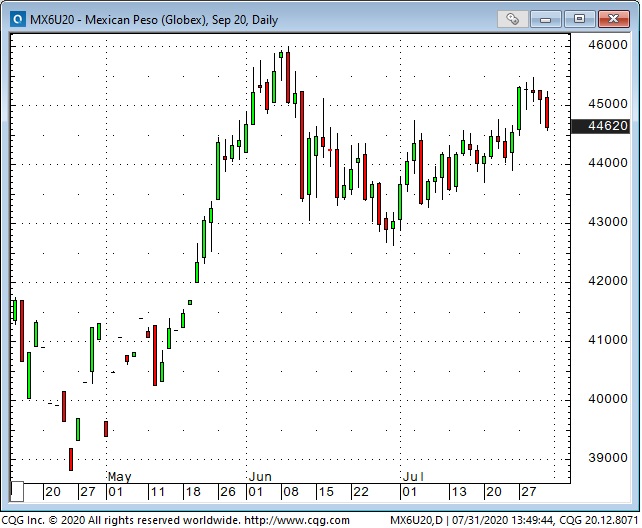 Gold rallied ~$200 in July to hit All Time Highs this week with the December futures contract trading briefly above $2000. The weak USD helped fuel gold's rally as did the continuing decline in US real interest rates. (The real yield on the 10 year UST touched negative 1% Friday.) There's been record inflows into gold the past 6 weeks with global gold ETFs at record highs. While some traditional gold buyers have backed away from the market "investment demand" has been the major driver of the rally. We think the explosive rally in gold is ripe for a correction. We've taken a limited risk bearish position with an October put spread.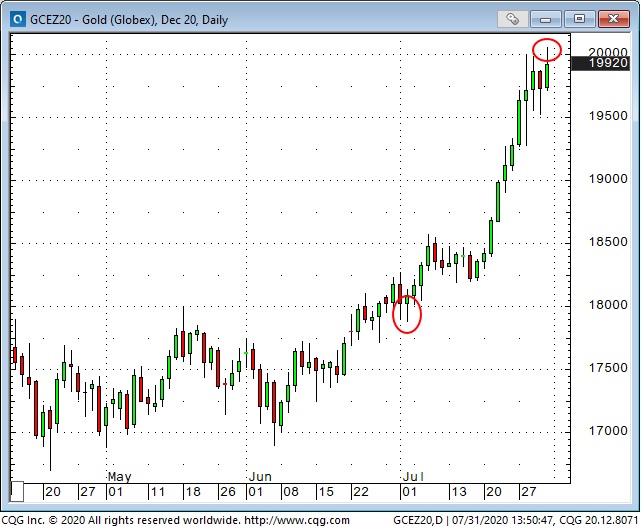 Crude oil has traded in a relatively narrow range the past 6 weeks. We think lack-of-demand is the big story in crude (gasoline is struggling) and we are positioning for lower prices with a bearish time spread (long deferred contracts/short nearby.)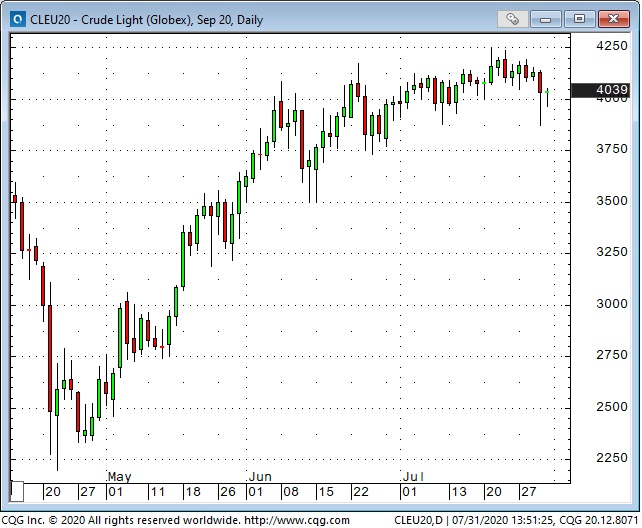 We've been shorting the major US stock indices on and off since early June thinking that the rally off the March lows was a bear market rally. We've had some profitable trades but on balance we've lost money on that idea and therefore have kept our size small and our stops close. We re-established a small short position in the S+P Friday when the index opened weaker despite very bullish earnings reports Thursday afternoon. We will be stopped if the spuz rallies above Thursday's high.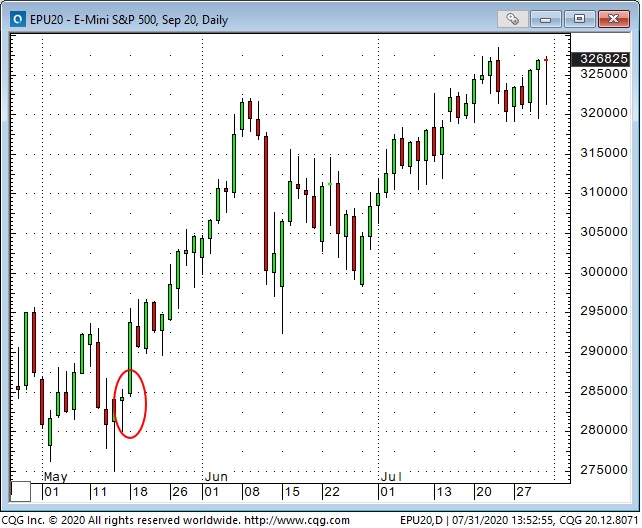 Copper has played into our idea that the "risk on" rally across markets was getting tired and we might see some meaningful reversals across markets.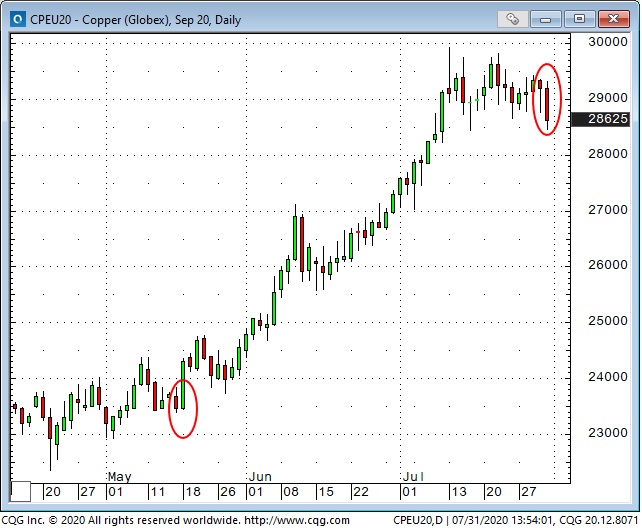 If you'd like to know more about using the futures and options market to trade currencies, metals, interest rates, stock indices, energy and other commodities please contact Drew Zimmerman at PI Financial Corp in Vancouver.
PI Financial Corp. is a Member of the Canadian Investor Protection Fund. The risk of loss in trading commodity interests can be substantial. You should therefore carefully consider whether such trading is suitable for you in light of your financial condition. In considering whether to trade or the authorize someone else to trade for you, you should be aware of the following. If you purchase a commodity option you may sustain a total loss of the premium and of all transaction costs. If you purchase or sell a commodity futures contract or sell a commodity option or engage in off-exchange foreign currency trading you may sustain a total loss of the initial margin funds or security deposit and any additional fund that you deposit with your broker to establish or maintain your position. You may be called upon by your broker to deposit a substantial amount of additional margin funds, on short notice, in order to maintain your position. If you do not provide the requested funds within the prescribe time, your position may be liquidated at a loss, and you will be liable for any resulting deficit in your account. Under certain market conditions, you may find it difficult to impossible to liquidate a position. This is intended for distribution in those jurisdictions where PI Financial Corp. is registered as an advisor or a dealer in securities and/or futures and options. Any distribution or dissemination of this in any other jurisdiction is strictly prohibited. Past performance is not necessarily indicative of future results
STAY INFORMED! Receive our Weekly Recap of thought provoking articles, podcasts, and radio delivered to your inbox for FREE! Sign up here for the HoweStreet.com Weekly Recap.