August 16, 2020 | The Next Buying Opportunity in Gold?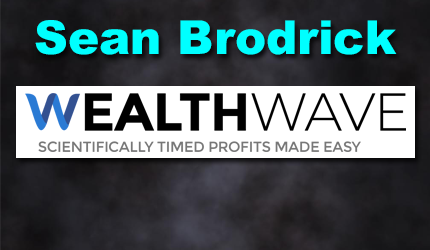 Sean is the natural resource analyst for Weiss Ratings. You can read his thoughts on gold, oil, cannabis, uranium and other natural resources at Wealth-Wave.com
What a wild couple of weeks it's been for gold.
First, the yellow metal pushed over its previous all-time high of $1,923, and, on Aug. 7, it clocked an intraday high of $2,089 per ounce. Then gold folded its wings and swan-dived back below $1,900 before finally closing above $1,940.
New highs are bullish. Big swoons scare the gee willikers out of the market. What are traders supposed to think?!
Here's what I think: Gold is still in a big, snortin' bull market. But we could see more downside in the short term, especially in gold and silver miners, developers and explorers. And that might be the best buying opportunity in a long, long, time.
Let me show you a couple charts to make my point …
This first chart shows gold with Fibonacci retracements. Fibonacci was a medieval Italian mathematician who discovered ratios that recur in nature over and over. They're useful in trading because "Fib" numbers show where support and resistance are likely to occur.
Even if you think Fib numbers are a bunch of hokum, plenty of other technical traders are watching them. So, Fib numbers become self-fulfilling targets.
I sent a version of this chart to Gold & Silver Trader subscribers on the day of gold's big plunge this past week — the biggest plunge in seven years — showing likely targets for gold.
You can see why people like this. It shows gold tested one level of Fibonacci support then dropped the next day to test the next level before recovering.
Some people see this as bullish. Maybe.
On the other hand, it also shows the potential for a bear flag, which is more pronounced on the chart of the Van Eck Vectors Gold Miners ETF (NYSE: GDX), the big gold stock fund
That would be about a 30% drop from the high. Quite nasty, eh? Remember, "flags fly at half mast." That gives us a price target around $32.
What's more, the lower target would also be close to the lower end of gold's range AFTER it recovered from the March liquidity event and BEFORE it took off in July. And that line of support lines up with the rising 200-day moving average.
Now, there is no law that gold miners, as tracked by the GDX, MUST go down and tag either of those support levels. But, if the GDX does tag support, even slap-and-tickle briefly, it would be a heck of a buying opportunity.
And if you think the GDX couldn't do that, well, remember what it did in March …
Indeed, that March pullback was a 50% pullback from the February high — another nice Fibonacci number.
Now, that may look terrible. But, in actuality, this was an INCREDIBLE buying opportunity.
So, let me sum up:
Gold is still in a big bull market.
I don't KNOW what gold will do.
There is an OPPORTUNITY for gold to go lower.
If it does, gold miners should pull back EVEN MORE.
A much deeper pullback would be a BUYING OPPORTUNITY, maybe the best one in a long time.
Now, let me tell you what we're doing in Gold & Silver Trader. We have a stop in place to protect our gains. They may or may not be hit. In the meantime, I'm making a shopping list of stocks I want to buy — hopefully at cheaper prices.
Because — and I can't emphasize this enough — gold is in a big bull market. These bull markets in metal are cyclical, and they last for years.
Pullbacks can be bought. And we may get a big one soon.
All the best,
Sean
STAY INFORMED! Receive our Weekly Recap of thought provoking articles, podcasts, and radio delivered to your inbox for FREE! Sign up here for the HoweStreet.com Weekly Recap.