August 23, 2020 | The exodus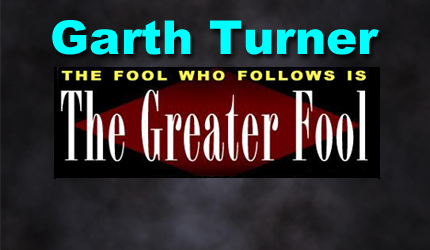 A best-selling Canadian author of 14 books on economic trends, real estate, the financial crisis, personal finance strategies, taxation and politics. Nationally-known speaker and lecturer on macroeconomics, the housing market and investment techniques. He is a licensed Investment Advisor with a fee-based, no-commission Toronto-based practice serving clients across Canada.
Has the bug changed everything?
Yesterday my fancy portfolio-manager buddy Doug described the 'grand experiment.' Without a doubt, WFH is a thing. For many people, seems like the new normal. They won't be going back to an office again, trapped in their guest bedrooms with Zoomed colleagues and kiddies battling for bandwidth.
Now in the sixth month of our Covid captivity, work-from-home, serious doubts about school reopenings, online shopping and mandatory masks have profoundly changed the way people think, and also some of the economic realities facing society. Look at this…
Despite millions on the dole and the worst recession since ever, real estate sales were insane last month as the cocooning continues. The most monthly sales ever. Up 49% in Toronto, almost as much in Van, 40% in Montreal and the Fraser Valley, nearly 30% in Ottawa, Burlington and raging in the 905.
But wait. Condo rental listings in the biggest city surged 80% in the last three months while the number of leases signed dropped 14%. Rental rates have fallen as much as 24%. Former Airbnb units are being listed for sale or long-term lease. New projects are streaming to market. It's a mess.
Writes Toronto realtor Brynn Lackie: "In the midst of what appears to be a mass exodus to the suburbs, I have clients I would have described as die-hard Torontonians who exclusively drink Jimmy's Coffee sending me listings they have flagged in Barrie, Burlington and Aurora."
And because the bug killed the GDP, interest rates have been crushed. We've just hit a new milestone. Wow. Five-year insured mortgages for 1.59%, or half what they were going for less than two years ago. Even home loans not insured by CMHC are cheapo at under 2%. Variable rates are now 1.5%. In just a few months, all of these rates will be below the annual cost of living increase. That's called free money.
Finally, CERB will end at the beginning of October and three or four million people will become EI folks. Officially unemployed. Plus the mortgage deferrals cease for a few hundred thousand families who have not made a payment since March.
As you can surmise, these are monumental developments. Home work. Suburban rush. Condo crush. Plus a buying binge in the midst of crisis. What are we to make of it all?
Well, real estate is on a sugar high at the moment. These crazy mortgage rates have buyers buzzing around, making offers on properties they (at best) have only FaceTimed, borrowing boodles, migrating to the boonies and assuming what's just happened, thanks to Covid, will remain. Poor souls. Recency bias hits again.
In 2021 the virus will dissipate. Therapies, maybe a vaccine, will emerge. Trump will be gone. Corporate profits will return. Unemployment will slowly fade. The recession will linger for a few quarters before robust US growth moves north. Bond yields will slowly swell. Mortgages for 1.5% will suddenly become a memory. WFH will have been proven a productivity-murdering concept. Zoom refugees will crave getting back into the office. The clubs, conventions, concerts and games will start to come back. And a whole mess of people will wonder what they were smoking when they moved to Barrie or Kamloops, borrowed their brains out to do so at the top of the market and discovered what a pain in the butt lawns and pool chemicals can be.
As this pathetic blog spelled out some days ago, urbanity ain't dead yet. Cities flourished for a reason. The virus reaction – suburban flight, pool lust and neighbours with camo quads – is kneejerk and myopic. In time parents will still crave good schools. People will want to commute on public transit, not in gridlock. Demand hoods will be in even greater demand. The downtown towers will be repopulated and the hip urban lifestyle even more desired after months of Netflix and walking your dog on a cul-de-sac of zombies.
In crisis there's always opportunity. Some significant ones are coming. More on that soon.
STAY INFORMED! Receive our Weekly Recap of thought provoking articles, podcasts, and radio delivered to your inbox for FREE! Sign up here for the HoweStreet.com Weekly Recap.