August 24, 2020 | Never Enough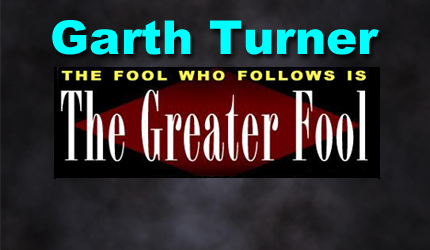 A best-selling Canadian author of 14 books on economic trends, real estate, the financial crisis, personal finance strategies, taxation and politics. Nationally-known speaker and lecturer on macroeconomics, the housing market and investment techniques. He is a licensed Investment Advisor with a fee-based, no-commission Toronto-based practice serving clients across Canada.
Never doubt the inverse relationship between house prices and interest rates. As the cost of a five-year insured mortgage spiraled down to 1.5% last week, real estate went nuts. Bidding wars, blind auctions, bully bids, manipulative realtors and greedy sellers. What a combo.
A mortgage of $1 million (more common than you might think) at 1.59% carries for just over four grand a month. That's the cost of a two-bedroom condo rental in the downtown core of Toronto. (Of course you also have to pay $60,000 in land transfer tax when you buy, plus property tax to own and commission to sell.) A year ago a good mortgage was 3.2%, and that seven-figure loan cost $800 more a month to shoulder.
A small example. Let's take Toronto where a million isn't what it used to be. In theory a couple with a household income of $300,000 and a hundred grand for a down payment would qualify for a mortgage of $1.23 million at 1.59%, buying them a house worth $1.32 million. Compare that with last year when a five-year home loan cost 3.2%. Then the max loan would be just over $1 million, securing a property selling for $1.119 million. (In reality CMHC insurance ends for properties over $1 million. Plus there is the stress test to pass.)
See what Covid did? The same people could borrow and spend $200,000 more. And many are. Low rates are pushing houses higher, increasing the capacity of buyers to carry debt. Evidence of this is everywhere, and spreading. The low rates central banks are using to rescue the economy are having the same effect as in 2009, when this device was equally triggered. That's when Canada's real estate roulette started.
By the way, when is the typical million-dollar mortgage paid off?
Never, of course. Most Canadians move every four years or less, so they're basically renting the money. Mortgages this cheap and plentiful are allowing people to buy homes they don't actually own with cash they'll never repay, while financing real estate inflation. Every time the For Sale sign is spiked into the front lawn, a greater fool rolls up.
But wait. The virus has done a lot more than just depress the cost of borrowing. It's actually created cash flow.
Stores were closed for months. Clubs, concerts, conventions, arenas, theaters shuttered. Nobody's travelling to Cuba or taking planes across the country. WFH means no commuting. No gas, car repairs or a new ride. No new dress slacks, high heels, lunches out or hair appointments. A survey by MNP last month found people had an average $150 more a month in disposable income than in March. The proportion of households within $200 of financial insolvency each month dropped from about half to just 43%.
Yes, in Canada when only four in ten folks are one muffler repair away from ruin, it's considered success. Kinda like how Chrystia will manage federal finances. So, mortgages at 1.5% will, of course, seriously augment debt and set families up for an interesting future when the virus is no longer around to distort reality.
In fact, MNP warns that as economic normality slowly returns, creditors will be pushing households even further into debt as loans are refinanced or extended. "It's difficult to predict how many Canadians will require some form of debt-relief as a result of COVID, but it's not too much of a leap to say it will likely be as unprecedented as the scope of the pandemic itself," it says.
After all, we know what's coming. CERB payments will transition into EI. Unemployment will stay elevated well into 2021. Mortgage deferrals will end. Credit card and LOC payment holidays will be over. Workplaces will start to reopen, and commuting resume. And there could be mayhem and economic disruption as the US election unfolds in early November.
CMHC appears to be sticking with its prediction that house prices could drop from these levels by 20% before the year is out. If it were to happen, every buyer today with less than a fifth down would be under water – owing more debt than they own in house.
One thing's for sure. If you get a honking big loan for 1.5%, you won't be renewing it for the same price five years hence. No matter what President Harris or PM Freeland do.
STAY INFORMED! Receive our Weekly Recap of thought provoking articles, podcasts, and radio delivered to your inbox for FREE! Sign up here for the HoweStreet.com Weekly Recap.