August 20, 2020 | Has Big Money FINALLY Discovered Gold & Miners?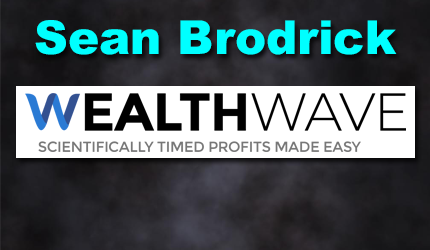 Sean is the natural resource analyst for Weiss Ratings. You can read his thoughts on gold, oil, cannabis, uranium and other natural resources at Wealth-Wave.com
Gold took it on the chin on Wednesday, after the FOMC minutes came out.
The Fed seemed to take a yield curve control program off the table, though it re-emphasized that it could "reassess in the future" and that the central bank is ready to act if the economy continues to slow.
I think the economy will slow, and the Fed WILL have to act.
In Saturday's Wealth Wave, I gave you some downside targets for gold. Maybe we'll get there. But maybe not, because some investors with deep pockets are stepping up to buy the yellow metal and miners.
The gold industry was all abuzz after mega-investor Warren Buffett's Berkshire Hathaway Corp. (NYSE: BRKA) announced it was taking a stake in Barrick Gold (NYSE: GOLD). I can see why he finds it attractive.
More interestingly, Mr. Buffett has company. Big funds and big investors including Bridgewater Associates, DoubleLine Capital, Paul Tudor Jones and more have all recently announced they are upping their gold and miner holdings. Welcome to the party, boys!
Has the big money finally discovered gold and miners? It sure looks that way.
Then, the Wall Street Journal interviewed Mark Bristow, the CEO of Barrick Gold. In the interview, he ticked off some facts on the gold industry that investors should be aware of:
Fact 1: "We are definitely past peak gold," Bristow said. He estimates that new metal added to miners' reserves since 2000 replaces only half of the gold they mined in that period.
Fact 2: The gold industry's exploration budget was $4.44 billion last year, 63% lower than its record high in 2012. The average cost to find an ounce of gold was $62 between 2009 and 2018, more than double the cost for the previous decade.
Fact 3: The average mine grade (at gold mines) has fallen from over 10 grams a ton in the early 1970s to around 1.46 grams a ton last year, according to Metals Focus, a precious-metals consulting firm.
These forces are lining up with other bullish forces for gold and silver that I've talked about in previous Wealth Wave issues, including …
A rising tide of negative-yielding government debt around the world, which removes much of the opportunity cost of owning gold. Recently, that mountain of debt was at $15.29 TRILLION.
Central bank gold purchases. Last year's total central bank net purchases were at 646 tons. This year, buying continues, though at a slower pace (for now). Kazakhstan, Turkey, Mongolia, India, Cambodia and Qatar were all buyers of gold in July.
And then there's the fact that gold is the hardest of currencies. Don't let this past week's bounce in the U.S. dollar fool you. That bounce is dead-cat in nature.
The once-mighty greenback is on the slip-and-slide of doom. The U.S. Dollar Index is down about 11% from highs hit earlier this year. This is a MASSIVE move in a currency. And it is due to declining yields on U.S. bonds. Funny enough, gold prices climbed 11% in July alone.
And that declining yield is due, in turn, to ballooning U.S. debt and investors terrified about the economic effects of COVID-19 and the recession it caused.
But when investors flee the U.S. dollar, where do they run to? Take a look at this chart:
You can see that there is a strong correlation between the plunge in bond yields — and the greenback — and the surge in gold prices.
As I've said before, I think we're in the early stages of gold's bull market. It's just taking two steps forward and one step back.
This is playing out against the backdrop of a weaker economic recovery in industrialized countries and a weakening dollar. That "background noise" will incentivize investors to stay in gold, with its "safe-haven" status.
So, the big boys with fat pockets are finally starting to dip their toes into the water of gold and mining stocks. Smart investors will get in ahead of them.
The future looks bright for gold and mining investors.
All the best,
Sean
STAY INFORMED! Receive our Weekly Recap of thought provoking articles, podcasts, and radio delivered to your inbox for FREE! Sign up here for the HoweStreet.com Weekly Recap.