August 9, 2020 | Are You Ready for the Coming Oil Boom?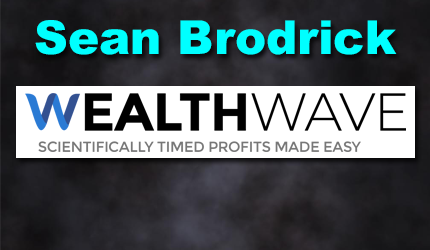 Sean is the natural resource analyst for Weiss Ratings. You can read his thoughts on gold, oil, cannabis, uranium and other natural resources at Wealth-Wave.com
Since this horrific pandemic started, the oil & gas industry has gotten hammered. Could things be about to turn?
I think so.
First of all, this year's swoon in oil and gas is the end of a bearish chapter — part of a longer-term big bear for oil & gas, which has seen about seven years of pain.
I mean, in 2014, oil prices were over $100 a barrel. Prices collapsed to $20 a barrel this year. This was due to three factors:
1. Oversupply

2. The brief price war between OPEC and Russia

3. The collapse of demand due to the global pandemic
This year, numerous oil companies filed for bankruptcy.
Yeah, it was a bad time. But times change.
The oil and gas industry is very cyclical. We're coming out of one of the worst quarters ever. In fact, oil prices have recovered and are hammering away at overhead resistance by trading in a tight range for months. Here's a chart of West Texas Intermediate, the U.S. crude oil benchmark …
You can see that crude is testing overhead resistance. If it can break above that resistance on a weekly basis, my next target would be $65, and after that, $80.  So, on a technical basis, oil has the potential to move higher quickly.
How about fundamentals? Economies around the world are beginning to recover and demand for oil and oil products is returning. Here's a chart from a recent Exxon Mobil Corp. (NYSE: XOM, Rated D+) presentation, showing transportation fuel demand.
What's still missing is demand from airlines and cruise ships. The general expectation is that they won't resume regular operations until 2023.
But what if global oil demand returns to "normal" before that?
After all, China's oil demand has recovered to more than 90% of the levels seen before the coronavirus pandemic struck earlier this year.
And China's oil imports are a real eye-opener. In the first half of the year, China's imports of crude oil jumped by 9.9% compared to the first half of last year. The growth in imports between January and June was 4.9% faster than between January and March. In fact, recently, Chinese crude oil imports were 25% higher than a year ago!
Huh. That doesn't really look like the imports of a country suffering from a pandemic-induced slump does it? And with Chinese imports surging, how long before they start buying more oil from America?
As a result, U.S. oil prices would go higher.
Obviously, China's demand is accelerating. And analysts at Wood Mackenzie expect China's oil consumption in the second half to grow 2.3% to 13.6 million barrels per day (bpd) from the same period last year.
In fact, demand in many emerging markets is ramping up. Not everywhere, sure. Imports of crude oil into India dropped to a five-year low in June. But generally, people around the world are learning to live with COVID-19.
Now here's a funny thing: This past week, on Monday, OPEC began to scale back its historic production cuts, which were enacted in response to the COVID-19-triggered drop in demand. Traders braced for oil prices to go down on the news. Instead, prices went up.
And we got news on Friday that Iraq will cut production in August by an additional 400,000 barrels a day to make up for missing its production target in previous months. That's according to a statement from state oil-marketing organization Somo.
When prices go up on what should be bad news, that's usually bullish.
On Tuesday, the American Petroleum Institute (API) reported a draw-down in crude oil inventories of 8.587 million barrels for the week ending July 31. Analysts had predicted a modest inventory draw of 3.267-million barrels. This is the second week in a row that saw a bullish surprise.
The API also reported a draw of 1.748 million barrels of gasoline for the week, compared to last week's 1.083-million-barrel build. This week's draw also beat expectations.
And more bullish news just came out: On Wednesday, it was reported that U.S. crude inventories fell to the lowest level in more than three months.
Now let's add in that oil production in the United States has fallen from 13.1 million bpd on March 13 to 11.1 million bpd on July 24. It has been at that low level for two weeks according to the Energy Information Administration (EIA).
These are all early indicators that the oil market is bottoming. Sure, things can go the other way. China might stop buying oil for some reason. But it's worth taking a nibble on oil.
How You Can Play This
As with gold, I prefer to play stocks and funds that are leveraged to the underlying commodity more than oil itself. The big daddy of oil stock ETFs is the Energy Select Sector SPDR Fund (NYSE: XLE). But if you have an appetite for more risk and potential reward, you also might consider the SPDR S&P Oil & Gas Exploration & Production ETF (NYSE: XOP).
You can also buy individual stocks. That's what I'm recommending to subscribers. Do your homework if that's your choice, but like I've been saying, there are winners out there on the horizon.
All the best,
Sean
STAY INFORMED! Receive our Weekly Recap of thought provoking articles, podcasts, and radio delivered to your inbox for FREE! Sign up here for the HoweStreet.com Weekly Recap.