July 31, 2020 | Us, 1. Them, 0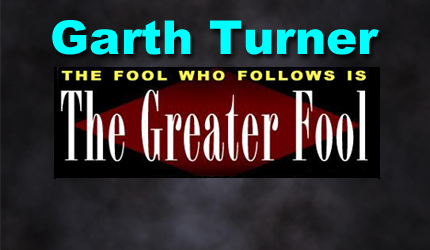 A best-selling Canadian author of 14 books on economic trends, real estate, the financial crisis, personal finance strategies, taxation and politics. Nationally-known speaker and lecturer on macroeconomics, the housing market and investment techniques. He is a licensed Investment Advisor with a fee-based, no-commission Toronto-based practice serving clients across Canada.
Friday of a long weekend. Yahoo! In the middle of a pandemic. Yuck!
These are weird days, as this pathetic blog chronicles. In the last 24 hours, for example, more evidence some industries are in deep poop (technically speaking) while others are feeding off Covid. Air Canada's revenues have collapsed 89% and its stock is seventy per cent lower than it was in January. These guys are going down without a bailout. It will, of course, materialize. Maybe the Kielburgers can finance it.
"I hope they keep the US border closed a long., long time," Brenda said to Bandit and I while on our morning walk. Most people are repeating that. And the airline is being crushed as a result.
But here's Apple. Stock up 80% in a year, earning over $59 billion in the last three months with revenues smashing analysts' predictions. It's all that CERB cash flying around (and the US equivalent, which ends today) allowing people to snap up new iPhones and iPads as the stay-at-home economy blossoms.
The revolution is in full swing. Physical retailers are being squished, while online sellers blossom. The stay-at-home stocks, companies and enterprises – from Zoom to Apple, Netflix, Etsy, Shopify and Amazon – are exploding higher. Government fiscal stimulus (all those cheques flying around) and central bank monetary stimulus (2% mortgages and bond purchases) have helped propel markets higher. And it's not stopping
Said Fed boss Jerome Powell this week: "The path forward for the economy is extraordinarily uncertain, and will depend in large part on our success in keeping the virus in check. We're not even thinking about thinking about raising rates and it will take continued support for both monetary and fiscal policy."
On balance things are w-a-y better than most people believe. There are solid reasons the S&P 500 is up 48% since March and has a year/year gain of 11%. The Nasdaq, with all those SAH companies in it, has climbed 60% since the virus hit, and has given investors a 31% one-year gain. Bonds prices are higher. Preferreds have revived recently and kick out a solid 5% return. Balanced portfolios have pretty much erased the Covid collapse of 2020, which means investors get to keep all of the 15% (or more) they made last year. And 2021 will probably blow the doors off.
Did you see the latest stats for Canada?
The economy gained about 4.5% in May and it looks like a 5% advance in June. In two months we gained back half the ground lost during the virus disaster in March and April. In short it means the country's total output is running at about 90% of what it was back in February, when everybody was commuting to work instead of wearing sweatpants all day and drinking gin at breakfast.
The swoon Covid caused here was about the same as the damage inflicted in the US. No big surprise. But now it's our turn to shine, and there are many who think the Canadian market could outperform in the rest of 2020. First, we may have an ethically-challenged PM but there won't be a general election in Canada this year causing deep polarization and social unrest. Not so in the States. The November 3rd contest, whether it happens through physical or mail-in balloting, will be a disaster. Whoever wins. Mr. Market may recoil somewhat as that unseemly spectacle unfolds.
Second, the virus. In parts of Canada there is none. Zero. Nada. Nary a single active case. Deaths have diminished. Long-term care homes have been largely restored to safety. No ICU anywhere is overwhelmed. Nobody talks about ventilators. The kids are going back to school. The percentage of the population that was infected, required medical attention, or perished was tiny. The projections made in March by scaremongering politicians (like our health minister – heard from her lately?) that 40% of the country would get Covid now look extreme.
Meanwhile the US has seen 4.5 million cases with 152,000 deaths (about 17 times the number here, with 9 times the population). The virus is still ripping through many areas and it seems reopening the economy was done in haste (politics over science). Says a Bay Street bank economist, correctly: "The good news is that the cautiousness has kept virus cases under control north of the border, suggesting Canada's economy is in a position to outperform that of the US in Q3."
You bet.
Third, as a result of bad choices about the virus, the US economic recovery seems to have stalled. Initial jobless claims this week were 1.43 million, over seven figures for the 19th week running . Not good. Congress adjourned yesterday with the Dems and Republicans reaching a deal on extending supplementary benefits to the unemployed. So those cheques end today. Also not good.
Fourth, Trump. The man used to be a firecracker for markets, with tax cuts, infrastructure spending, regulation expunging and job-fueling protectionism. No more. Covid has hobbled and discredited him in the eyes of many who believe the pandemic was waved off instead of seriously addressed (as here). Now he's a president with 25 million unemployed, a bottomless deficit, a recession, widespread civil unrest and a tone-deaf wife who just announced she's revamping the Rose Garden while the president attacks TikTok. This week Trump Instagrammed a picture of himself golfing, smiling, and was savaged for it. Then he suggested delaying the election (the polls say he's losing) and even his own party bosses laughed. Once again, this presidency will not end well.
So, yes, we have problems. Doesn't everyone? But the facts remain. Markets have plumped. Investors are unscathed. The economy's rebounding. The panic's fading. There's no solid evidence of a second wave or that assets will tumble again.
We should also have learned to ignore politicians. Leaders used to lead. Now they manipulate. So odd what a wee virus can teach.
STAY INFORMED! Receive our Weekly Recap of thought provoking articles, podcasts, and radio delivered to your inbox for FREE! Sign up here for the HoweStreet.com Weekly Recap.