July 25, 2020 | Trading Desk Notes July 25, 2020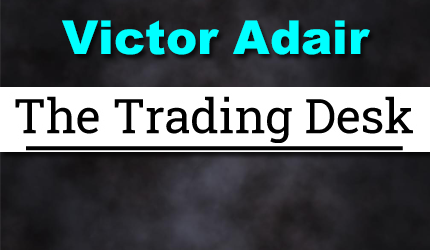 Victor Adair, author of The Trading Desk Notes, began trading penny mining shares while attending the University of Victoria in 1970. He worked in the mining business in Canada and the Western United States for the next several years and also founded a precious metals trading company in 1974. He became a commodity broker in 1977 and a stock broker in 1978. Between 1977 and his retirement from the brokerage business in 2020 Victor held a number of trading, analytical and senior management roles in Canada and the USA. Victor started writing market analysis in the late 1970's and became a widely followed currency analyst in 1983. He started doing frequent media interviews in the early 1980's and started speaking at financial conferences in the 1990's. He actively trades his own accounts from The Trading Desk on Vancouver Island. His personal website is www.VictorAdair.ca.
We look for trading opportunities in exchange listed futures and options. Our time frame is a few days to a few weeks. We believe that net trading profits over time come more from risk management than from trade selection…but a good trade selection process is important. To that end we develop "fundamental" market views and then look to the charts to time our trades.
Trading is not a game of perfect and we miss a lot of opportunities…either because our "fundamental" views are wrong or our risk management stops us from "chasing" trends. For example, we didn't "foresee" the gold rally of the past few weeks (we thought the public had jumped into gold pretty aggressively with gold ETF ownership soaring to All Time Record highs) and we just couldn't "bring ourselves" to buy into the latest rally that has taken gold to 9 year highs…up ~$100 in 6 days.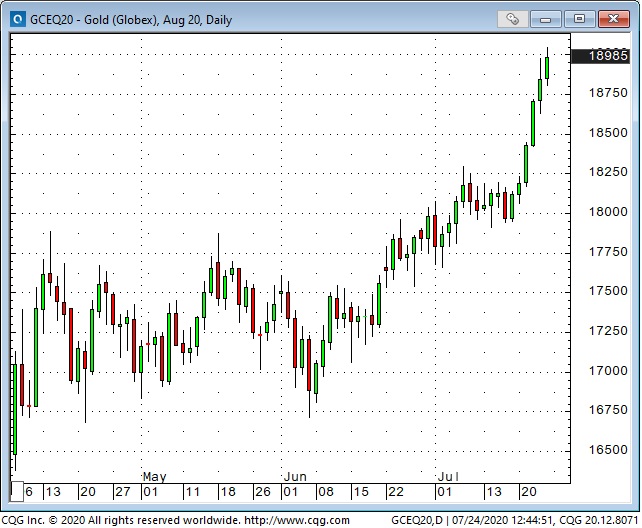 So…we missed an opportunity to make money buying gold. In hindsight it seems like buying gold was a "no-brainer" so it's useful to ask ourselves, "Why did we miss that trade?" (BTW: we missed a thousand other trades in markets that we don't follow very closely…and we don't give those misses a second thought…but gold is a market we've watched/traded for decades and our recent "fundamental" views on gold were clearly out-of-step with market action.)
Our core "fundamental" view over the past couple of months has been that the "risk on" market psychology ignited by massive fiscal and monetary stimulus around the globe was showing multiple signs of getting "giddy"…that people were mistaking momentum for a self-sustaining perpetual rally machine…and placing their bets accordingly. For instance, we've seen massive buying of short dated OTM call options. That's giddy!
We modestly took the other side of some of those "risk on" trades and had a string of small losses. We haven't changed our minds about the "giddy" aspect of market psychology…but our timing was off…being early is the same thing as being wrong to us…so we went to the sidelines…preserved our mental and financial capital…and waited for better opportunities…which showed up this week.
We did not short gold when we were looking to fade the "risk on" market but we didn't buy it either…thinking that the gold rally was (at least in part) just another expression of the "risk on" trade (just as we saw the weaker USD as an expression of "risk on" market psychology.) That may have been a mistake…clearly some folks buying gold were not motivated by the same issues that motivated other folks to buy Tesla!
As traders we truly understand that, "What's done is done," and you have to focus on, "What are you going to do now?" We continue to own a longer dated bearish S+P put spread and a longer dated bearish WTI time spread…this week we added short positions in the S+P and CAD.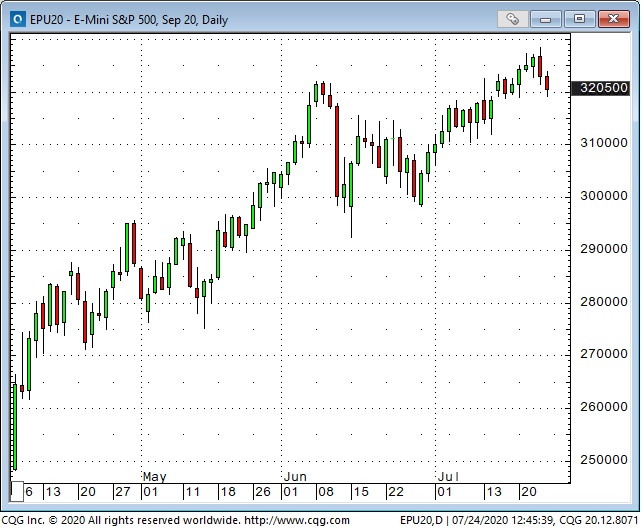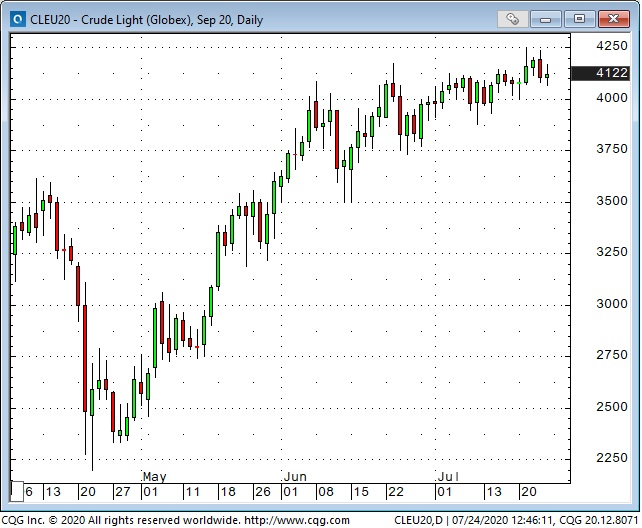 The US Dollar Index fell to near 2 year lows this week…down 6% in just over 2 months…probably over-sold short term…but having traded currencies for many years we know that forex trends often go way further than seems to make any sense.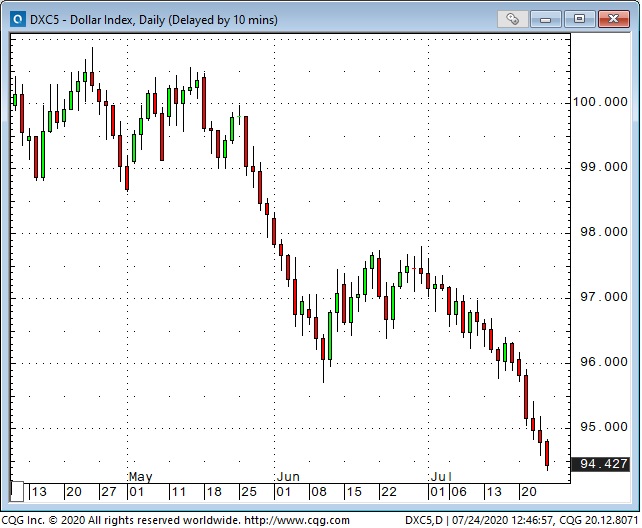 The CAD was up this week as the USD was down against nearly everything…but we notice that CAD seems a bit "tied" to the US stock market lately so we've taken a small short position which could benefit, 1) if the stock market weakens and, 2) if the USD has a bounce back.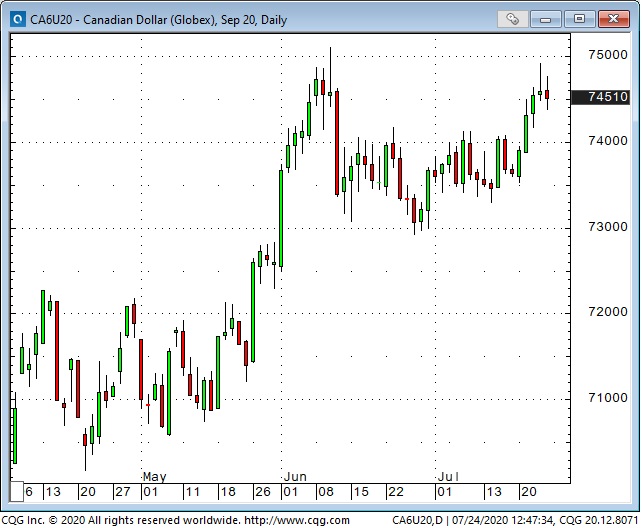 Copper had a strong rally from the March lows but is looking a little tired here.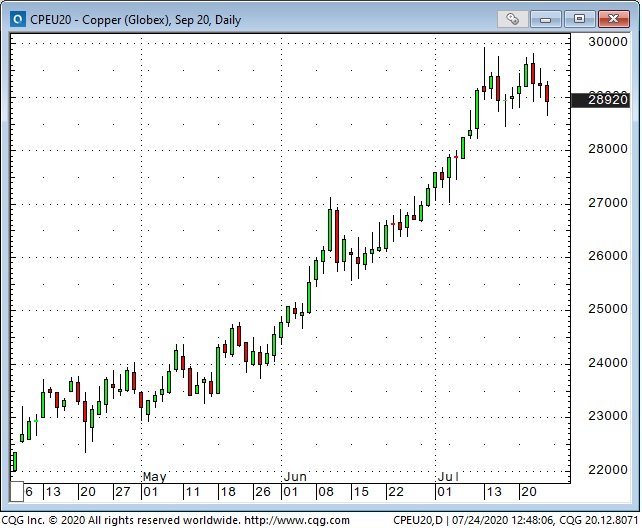 Real yields on 10 Year Treasuries hit record lows this week (negative 0.90.) The continuing decline in real yields has been highly correlated with the rising gold price but may also signal that the economy is really struggling…and maybe that means that the "divergence" between Wall Street and Main Street is getting too wide. (Rising prices on the TIPS chart = lower yields.)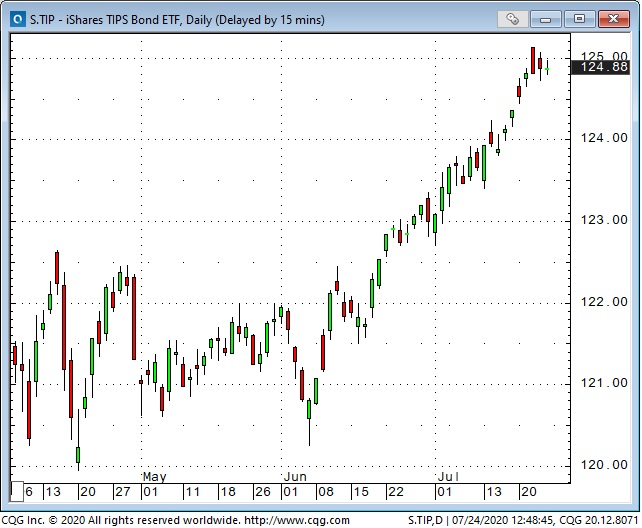 Wrap: we think "risk on" market psychology has been "whistling past the graveyard" on a number of issues…the continuing spread of the Virus, the sputtering economy, Congressional bickering over more stimulus, China tensions, the looming election, the amazing concentration in the stock market…and that IF some catalyst was to spark a pivot to "risk off" we could see a swift and substantial reversal across a number of markets.
If you'd like to know more about using the futures and options market to trade currencies, metals, interest rates, stock indices, energy and other commodities please contact Drew Zimmerman at PI Financial Corp in Vancouver.
PI Financial Corp. is a Member of the Canadian Investor Protection Fund. The risk of loss in trading commodity interests can be substantial. You should therefore carefully consider whether such trading is suitable for you in light of your financial condition. In considering whether to trade or the authorize someone else to trade for you, you should be aware of the following. If you purchase a commodity option you may sustain a total loss of the premium and of all transaction costs. If you purchase or sell a commodity futures contract or sell a commodity option or engage in off-exchange foreign currency trading you may sustain a total loss of the initial margin funds or security deposit and any additional fund that you deposit with your broker to establish or maintain your position. You may be called upon by your broker to deposit a substantial amount of additional margin funds, on short notice, in order to maintain your position. If you do not provide the requested funds within the prescribe time, your position may be liquidated at a loss, and you will be liable for any resulting deficit in your account. Under certain market conditions, you may find it difficult to impossible to liquidate a position. This is intended for distribution in those jurisdictions where PI Financial Corp. is registered as an advisor or a dealer in securities and/or futures and options. Any distribution or dissemination of this in any other jurisdiction is strictly prohibited. Past performance is not necessarily indicative of future results
STAY INFORMED! Receive our Weekly Recap of thought provoking articles, podcasts, and radio delivered to your inbox for FREE! Sign up here for the HoweStreet.com Weekly Recap.