July 19, 2020 | This Time, the Shoeshine Boy Is an Actual Player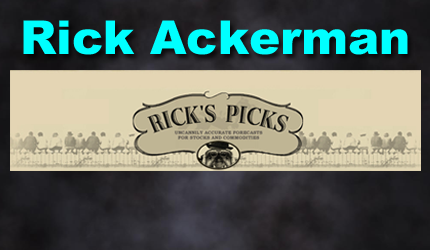 Rick Ackerman is the editor of Rick's Picks, an online service geared to traders of stocks, options, index futures and commodities. His detailed trading strategies have appeared since the early 1990s in Black Box Forecasts, a newsletter he founded that originally was geared to professional option traders. Barron's once labeled him an "intrepid trader" in a headline that alluded to his key role in solving a notorious pill-tampering case. He received a $200,000 reward when a conviction resulted, and the story was retold on TV's FBI: The Untold Story. His professional background includes 12 years as a market maker in the pits of the Pacific Coast Exchange, three as an investigator with renowned San Francisco private eye Hal Lipset, seven as a reporter and newspaper editor, three as a columnist for the Sunday San Francisco Examiner, and two decades as a contributor to publications ranging from Barron's to The Antiquarian Bookman to Fleet Street Letter and Utne Reader.
The shoeshine boy is not just giving customers stock tips these days, he is also jumping on hot stocks himself, scalp-trading three or four shares of Tesla, at $1500 a copy, in his Robinhood.com account. That's all the stock these penny-ante schemer-dreamers can afford, and it is why it is not the metaphorical bootblack operating out of his parents' basement who has been driving a handful of stocks moonward, as a story-hungry news media would aver. Even so, the shoeshine boy's gambling jones is having its effect on some big players, who for a dozen good reasons have been shorting stocks like Tesla and Moderna all the way up. Panicky short covering is always the most powerful force that drives rallies, since even a sea of Fed funny money cannot float stocks past resistance peaks and prodigious layers of supply. It takes irrational exuberance and bear panics acting together to accomplish this, but also institutional shareholders who are smart enough to avoid getting in the way.
That's why most of the gains in Tesla, Apple and a few other stocks leading the charge have occurred in the dead of night, when volume is practically nil. AAPL will gap up five wholly undeserved points in the wee hours, creating an additional $20 billion of wealth for size players who can afford to buy-and-hold stocks to satisfy their own easy-money jones. The magical result is that money is created even more efficiently than by the Fed, since no borrowing is involved; instead, the winnings show up instantaneously in traders' accounts. This financial fattening occurs, as all manias do, without any real labor.  Stock-market rallies have become the true source of helicopter money, although they are probably not what Bernanke had in mind when he averred that the Fed could thwart deflation by conjuring up whatever measures were necessary. He didn't know the half of it, since even a guy steeped in Keynesian quackery as he is could not have foreseen just how far the Fed would go to keep its promise of good times forever.
Politicians Are Mum
And so we have a stock market that is rampaging for the most ridiculous and least sustainable reason of all: because…well, because stocks have been rampaging. Nearly every bet these days is a momentum play, since even the crazies understand there are no decent values to be had. There are plenty of indecent ones, though, and the handful of stocks tasked by Trump and Wall Street with making America great again have been climbing so ferociously since March that even the blinkered, benighted hacks who invent the news have begun to routinely question Wall Street's sanity. We hear little from our political leadership about this, however, and even Biden has not tried to make hay with the argument that the stock market's steep rally is the last reason you should want to vote for Trump, let alone take as a sign that the economy is returning to health. There are of course millionaires on both sides of the Congressional aisle, and for all we know they are closet momentum players too. Unsurprisingly, there will always be a few high-profile idiots shilling the case that Tesla is worth nearly $300 billion because sales are improving.  But it doesn't take shills to push scratch-off plays like Moderna, since, as we all know, an effective vaccine is just months away.  More immediately, earnings are due out this week for some biggies, including Tesla and Microsoft. Not that the ginned-up  data, no matter how discouraging, will matter.
As an aside, let me mention that Microsoft, for all the hubris touting the company's technological prowess, is ultimately just a corporate rat's ass, ahead of even Google and Facebook in that category. I've spent 70 hours over the last month attempting to remedy a catastrophic error committed by one of their front-line techs. All I had asked him to do was free up some space on my hard drive, but he inadvertently moved my Windows 10 operating system to an external drive, where it functions like a bivalve immersed in cheese grits. The thing is, the next two techs who worked fruitlessly on the problem didn't even realize that the operating system had been moved. My 'ex', meanwhile, is at three weeks and counting, trying to re-open an Amazon account with a hold on it that none of their customer support geniuses can figure out. I have seen the digital future and it doesn't work. It is just Blade Runner and Brazil, with more than just a touch of Idiocracy. Celebrating our already fatally dysfunctional, digital future with outlandish stock valuations for the biggest players is one of the great follies of this age.
STAY INFORMED! Receive our Weekly Recap of thought provoking articles, podcasts, and radio delivered to your inbox for FREE! Sign up here for the HoweStreet.com Weekly Recap.