July 14, 2020 | The 'Fear Factor' in Stocks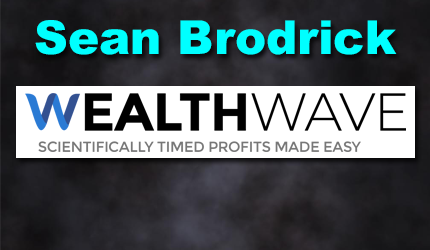 Sean is the natural resource analyst for Weiss Ratings. You can read his thoughts on gold, oil, cannabis, uranium and other natural resources at Wealth-Wave.com
In "The Fourth Turning", authors William Strauss and Neil Howe paint a picture of economic cycles of approximately 100 years ending in major upheavals. Here's a quote from this prophetic work:
Sometime before the year 2025, America will pass through a great gate in history, commensurate with the American Revolution, Civil War and twin emergencies of the Great Depression and World War II.
Well …
Prediction No. 1: COVID-19 has sent us into another depression.

Prediction No. 2: You only need to watch the news to know we have another revolution on our hands.

Prediction No. 3: World War III could be just around the corner.
But let's stick with economics for now …
Why the heck are stocks going up in the midst of a global depression?
And why have brokerages reported a swell of new accounts as much of the world went into lockdown? Several factors may explain the surge of new traders:
•  Buying and selling securities has never been easier, with trading apps just a download away …

•  A price war between companies like Charles Schwab and Robinhood drove commissions to zero …

•  Interest rates have plunged as central banks scramble to keep their economies going. With so little to be made on bonds, stocks seem like the only way to go …

•  Many investors saw the March crash as their chance to get stocks on the cheap, and …

•  Bored gamblers — with little access to sports betting thanks to social distancing — are turning to trading stocks.
And then we have a dollar — steadily weakening since the early 1980s — that's now falling again. That makes American assets — including stocks — cheaper for foreign investors. Plus, analysts predict the greenback may fall by more than 20% from its peak earlier this year.
But DriveWealth CEO Robert Cortright, a former foreign-exchange trader, thinks "globalized investing" is the biggest culprit.
American brands are well known around the world, and the U.S. equity market is the most liquid in the world. Cortright's company is adding around 100,000 new brokerage accounts per week … about 45% of those from overseas.
And this makes sense if you know what happened during the Great Depression of the 1930's …
As the stock market bottomed out early in 1932, western economies were on life support.
Investors like J. Paul Getty knew what it meant: There would be a TON of "fear money" — especially from Europe — looking for somewhere to go.
They knew it wouldn't go into U.S. bonds. Although the U.S. government was solvent, all government bond markets were coming under suspicion.
They knew it couldn't all go into gold and commodities. Then, as now, these markets were too small to absorb that much capital.
So, the only place left was the U.S. stock market.
And despite the fact that the economy was in the tank, there were still a lot of American companies in decent shape. Yet most analysts on Wall Street — and most American investors — wouldn't touch stocks with a 10-foot pole.
Yet stocks began moving up. First the Dow hit 50. Then 60. Then 75.
So-called experts said it couldn't be a genuine market rally. After all, the economy was in a depression!
But the Dow Industrials soared like a rocket … gaining an eye-popping 382% by March 1937.
All in the middle of the worst depression in our nation's history.
You see, no matter what state the world is in, there are ALWAYS people with large amounts of capital to invest. And that capital will ALWAYS flow towards the safest, best returns possible … no matter where they are.
And it appears that's precisely what's happening today.
Foreign investors swooped in as the COVID-19 pandemic triggered the fastest fire sale in stock market history, buying $187 billion in U.S. equities in the first quarter alone.
They now hold 16% of the U.S. equity market and they're expected to buy a total of $300 billion worth by the end of the year … replacing corporations as the largest source of equity demand.
For another prime example of this trend, foreign investors are pouring more into U.S. markets. Just look at the performance of the S&P 500 compared to the iShares MSCI EAFE ETF (NYSE: EFA, Rated D), which tracks large- and mid-cap stocks in developed markets, excluding the U.S. and Canada …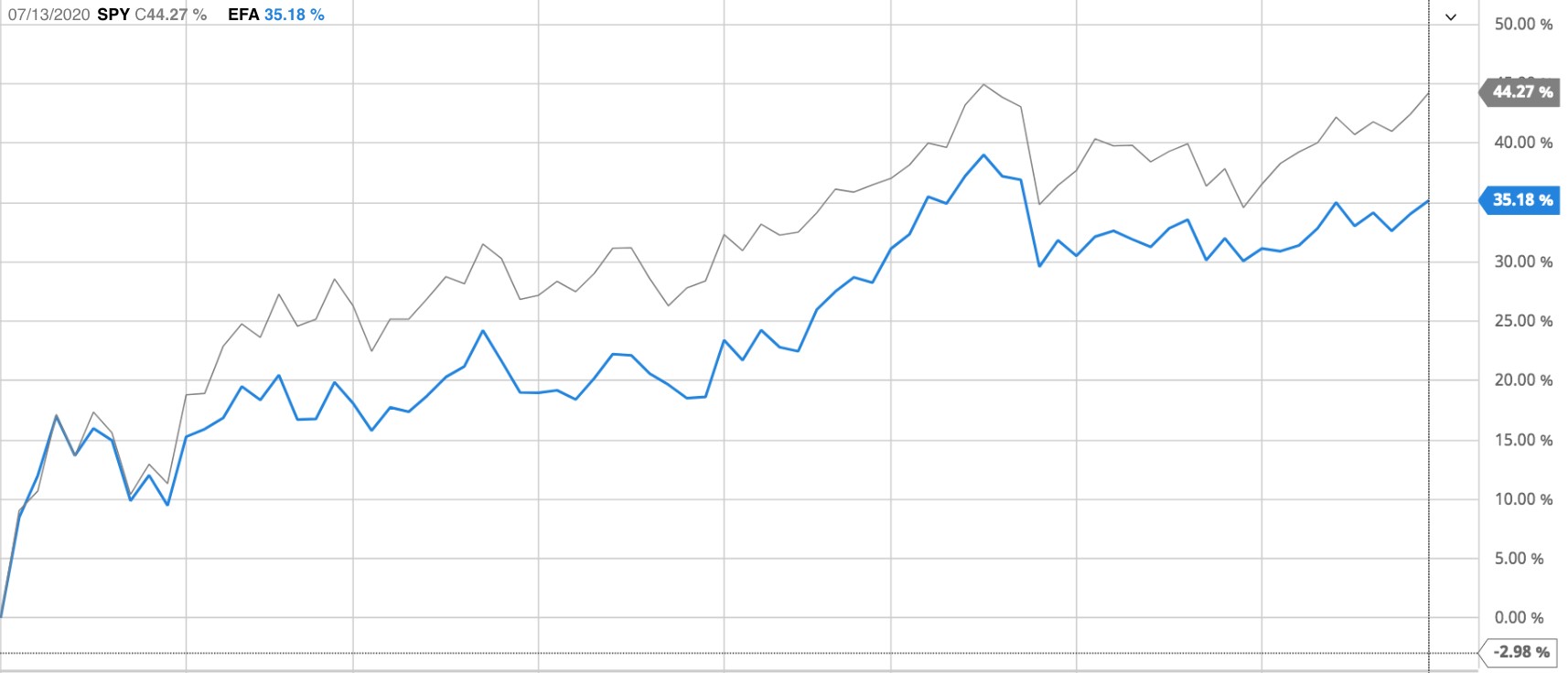 Source: Barchart.com
From the March lows, SPY has outperformed EFA by nearly 9%.
Now, I'm not saying you should immediately load up on American companies today. We could see another leg down as the market panics over another spike in COVID-19 … or some other crisis.
I still think 2020 will turn out to be 1929 all over again.
But longer term, we could see the Dow hit new highs …
… especially if global conflict erupts again, as my War Cycles predict.
That will drive a mother lode of cash into the U.S. stock market as the "fear factor" goes through the roof.
All the best,
Sean
STAY INFORMED! Receive our Weekly Recap of thought provoking articles, podcasts, and radio delivered to your inbox for FREE! Sign up here for the HoweStreet.com Weekly Recap.