July 11, 2020 | Ted Butler: The Silver Pressure Cooker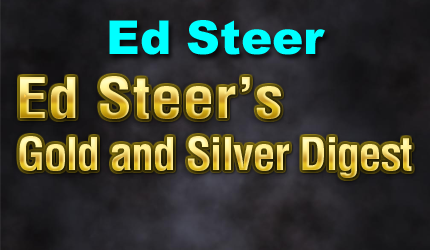 "Ed wrote the daily precious metal commentary for Casey Research starting in 2008. His stand-alone column became their most highly-rated blog [either free or paid] almost from the outset—and remained that way until he started his own subscription-based website in June of 2015."
11 July 2020 — Saturday
YESTERDAY in GOLD, SILVER, PLATINUM and PALLADIUM
The gold price trended mostly unevenly lower in Far East trading on their Friday, with its Far East low coming at 2 p.m. China Standard Time on their Friday afternoon.  From there it didn't do much until shortly after the London open — and at that point, the dollar index began to head lower.  The gold price rallied until the 10:30 a.m. BST morning gold fix — then it traded unevenly sideways, with the high tick of the day coming a few minutes after 8:30 a.m. in New York.  It was sold quietly lower from there — and the low tick was set around 12:40 p.m. EDT.  It was allowed to rally a bit from there, but the moment it poked its nose back above $1,800 spot, there was someone there to make sure it didn't close above it — and it trended a few dollars lower until the market closed at 5:00 p.m. EDT.
The high and low ticks, both occurring in the COMEX trading session in New York, were recorded by the CME Group as $1,817.00 and $1,796.50 in the August contract.  The July/August price spread differential at the close on Friday was $3.70… August/October was $13.70 — and October/December was $15.70.
Gold was closed in New York on Friday afternoon at $1,798.60 spot, down $3.90 from Thursday.  Net volume was very decent at 172,000 contracts — and there was 48,000 contracts worth of roll-over/switch volume out of August and into future months…mostly December and October, although there continues to be very decent roll-over/activity out into 2021.
The silver price crept a few pennies higher until shortly before 1 p.m. China Standard Time on their Friday afternoon — and was also sold lower until exactly 2:00 p.m. CST.  It also began to head higher starting shortly after the London open — and that lasted until the noon silver fix over there.  It was quietly and unevenly down hill from that point until minutes after 10 a.m. in New York.  It was only allowed to recover a few pennies from that juncture — and then it didn't do much for the remainder of the Friday session.
The low and high ticks were reported as $18.91 and $19.195 in the September contract.  The August/September price spread differential in silver at the close yesterday was 7.0 cents — and September/December was 17.8 cents.
Silver was closed on Friday afternoon in New York at $18.68 spot, up 4 cents on the day.  Net volume was on the heavier side at a bit under 58,000 contracts — and there was about 3,400 contracts worth of roll-over/switch volume on top of that, most of which ended up in December.
The platinum price jumped up a bit in very early morning trading in the Far East — and then crept lower until shortly before 1 p.m. CST and, like the other three precious metals, was sold down until exactly 2:00 p.m. CST.  It headed unevenly higher from there until a few minutes before the 11 a.m. EDT Zurich close — and then was sold quietly lower until the 1:30 p.m. COMEX close.  It shed a few more dollars in after-hours trading.  Platinum was closed at $812 spot, down 6 dollars on the day — and 32 bucks off its Kitco-recorded high tick of the day.
The palladium price jumped quietly around the unchanged mark right up until 9 a.m. in New York.  It headed higher from there until it ran into 'something' at the 11 a.m. EDT Zurich close — and from there it traded quietly and unevenly sideways until trading ended at 5:00 p.m. EDT.  Palladium finished the Friday session at $1,916 spot, up 34 dollars from its close on Thursday — and back above its 200-day moving average.
---
The gold stocks jumped up a bit at the 9:30 a.m. open in New York on Friday morning — and then traded quietly and unevenly lower until 1 p.m. EDT.  Then they began to head a bit higher, but weren't allowed to close in positive territory, as the HUI finished down 0.49 percent on the day.
Computing the above index manually showed that it closed up 1.02 percent.
---
Here are the usual three charts that show up in every Saturday missive.  The first one shows the changes in gold, silver, platinum and palladium for the past trading week, in both percent and dollar and cents terms, as of their Friday closes in New York – along with the changes in the HUI and the Silver 7 Index.
Although no one is happy about the underperformance of the precious metal equities, it's my opinion that the worst is behind us — even if we get another engineered price decline in the near or intermediate future.
As per the COT and Days to Cover discussion a bit further down, the Big 8 traders are still mega short gold in the COMEX futures market, but enough has now been brought into the COMEX that they could cover by physical delivery if that becomes necessary.  But they still remain trapped in silver, with no obvious way out — and the potential for a JPMorgan double cross of the Big 8 traders is still very much alive.
---
So far in July, there have been 6,974 gold contracts issued/reissued and stopped — and that number in silver is 13,903 contracts.
And just for information purposes, on First Day Notice for July deliveries in gold back on 29 June, there were only 3,316 contracts open, so about 3,650 contracts have been added to July gold deliveries since that date.  That's a lot — and unprecedented.
---
Month-to-date the mint has sold 9,000 troy ounces of gold eagles — 5,000 one-ounce 24K gold buffaloes — and zero silver eagles.
---
---
They arrived at that number by reducing their long position by 3,962 contracts, but they also reduced their short position by 1,594 contracts — and it's the difference between those two numbers that represents their change for the reporting week.
Under the hood in the Disaggregated COT Report, it was the Managed Money Traders and the 'Nonreportable'/small traders that were the buyers during the reporting week, with the former category increasing their net long position by 866 contracts — and the latter by 2,144 contracts.  The traders in the 'Other Reportables' category went the other direction, as they reduced their net long position by 642 contracts.
Doing the math: 866 plus 2,144 minus 642 equals 2,368 COMEX contracts, the change in the Commercial net short position.
The Commercial net short position in silver now stands at 52,642 COMEX contracts, or 263.2 million troy ounces.  The Big 8 traders are short 71,534 COMEX contracts, or 357.6 million troy ounces…about 136 percent of the Commercial net short position.
Ted says that JPMorgan short position in silver remained at zero during the reporting week.
The story in silver continues to be the plight of the Big 8 shorts.  Although most of their losses have been in gold so far to date, the silver price has been quietly sneaking higher — and it's only a matter of time before their losses in this precious metal become far more significant.
---
They arrived at that number by increasing their long position by 1,727 contracts, but also increased their short position by 2,856 contracts — and it's the difference between those two numbers that represents their change for the reporting week.
Under the hood in the Disaggregated COT Report, there's not much to talk about.  Like in silver, all the buying during the reporting week was done by the Managed Money traders and the 'Nonreportable'/small traders.  The former category increased their net long position by 788 contracts — and the latter category by 441 contracts.  The Other Reportables decreased their net long position by 100 contracts.
Doing the math: 788 plus 441 minus 100 equals 1,129 COMEX contracts, the change in the commercial net short position.
The commercial net short position stands at 30.26 million troy ounces of gold — and the Big 8 traders ares short 23.31 million troy ounces…77 percent of that amount.
Ted says that JPMorgan is not short gold, either.
Gold is still the albatross around the Big 8 shorts collective necks.  Ted mentioned on the phone yesterday that their realized and unrealized losses on the their short positions at the close yesterday was a tiny bit under $10 billion.  The lion's share of that is in gold.
---
---
The reason for the difference in those numbers…as it always is…is that Ted's raptors, the 30-odd small commercial traders other than the Big 8, are net long that amount.
As per the first paragraph above, the Big 4 traders in silver are short around 103 days of world silver production in total. That's about 25.75 days of world silver production each, on average…up a tiny amount from last week's report.  The four big traders in the '5 through 8' category are short 50 days of world silver production in total, which is 12.50 days of world silver production each, on average…unchanged from last week.
According to Ted, JPMorgan is neither short nor long the COMEX futures market in gold.
The Big 8 shorts are still hugely exposed in all four precious metal — and JPMorgan can spring the trap on them at a time of their choosing, if that's their plan.
---
[The June Bank Participation Report covers the time period from June 2 to July 7 inclusive.]
Citigroup, HSBC USA and I suspect Goldman Sachs would hold the lion's share of this short position. As to who other U.S. bank might be that is short in this BPR, I haven't a clue, but it's a given that their short position would not be material.
Also in gold, 32 non-U.S. banks are net short 80,523 COMEX gold contracts.  In June's BPR, 32 non-U.S. banks were net short 66,651 COMEX contracts…so the month-over-month change shows a fairly decent increase…13,872 contracts.
But at the low back in the August 2018 BPR…these same non-U.S. banks held a net short position in gold of only 1,960 contacts, so they're back on the short side in a big way.
However, as I always say at this point, I suspect that there's at least two large non-U.S. bank in this group, one of which would be Scotiabank/Scotia Capital.  I'm starting to have suspicions about Dutch Bank ABN Amro, plus Australia's Macquarie as well.  Other than that small handful, the short positions in gold held by the vast majority of non-U.S. banks are immaterial.
As in gold, the three biggest short holders in silver of the four U.S. banks in total, would be Citigroup, HSBC USA — and perhaps Goldman in No. 3 spot — and whoever the remaining U.S. bank may be, their short position, like the short position of the smallest U.S. bank in gold, would be immaterial in the grand scheme of things.
Also in platinum, 17 non-U.S. banks are net short 1,659 COMEX contracts in the July BPR, which is down substantially [52%] from the 3,460 COMEX contracts that these same 17 non-U.S. banks were net short in the June BPR.
[Note: Back at the July 2018 low, these same non-U.S. banks were net short only 1,192 COMEX contracts — and they're almost back at that number.]
So, for the fifth month in a row, the world's banks are no longer involved in the palladium market in a material way.
Except for palladium, only a small handful of the world's banks still have meaningful short positions in the other three precious metals.
JPMorgan is out of its short positions in both silver and gold — and may be in platinum and palladium as well, but there's no way to know that.
The precious metals are certainly set up for a rocket ride higher if JPMorgan allows it. When it does occur, it will be very much to the detriment of those Big 8 shorts in particular — and the rest of the shorts in general.
I have an average number of stories, articles and videos for you today.  And included in the list are a couple that I've been saving for today's column for length and content reasons.
CRITICAL READS
Wells Fargo Chief Financial Officer John Shrewsberry had alluded to cuts in June.
The news comes as many large employers, from Nike to Boeing, are warning about or implementing job cuts.
---
As the U.S. recovery stalls and the fiscal cliff looms, there are new, troubling signs from America's biggest rental market, as an alarming number of renters haven't paid in months.
Bloomberg, citing a new report via the Community Housing Improvement Program (CHIP), a group that represents landlords, said 25% of New York City's apartment renters haven't paid since March.
And the problem gets worse, that is, because when rental income for landlords collapses, they will experience financial hardships as well, including servicing mortgage payments and inability to cover other building-related expenses (if those are fixed or variable costs).
Another issue developing is the fiscal cliff – and we've noted, direct payments to Americans now make up 25% of all personal income, suggesting when the stimulus runs out, expected at the end of July, the economy/consumption will crater. Couple that with a stalled recovery and surging virus cases around the country, it now makes sense why the Trump administration is requesting round two in the stimulus.
If Congress fails to pass the second stimulus bill – this will prove disasters for landlords as renters will not be able to afford rent through the end of summer. Last month, New York state passed the Tenant Safe Harbor Act, which makes it even harder for landlords to evict.
---
OK, this balance-sheet shrinkage, now in its fourth week, is going faster than I'd expected. Total assets on the Fed's balance sheet for the week ended July 8, released this afternoon, dropped by -$85 billion, the fourth week in a row of declines. This brought the four-week total drop to -$248 billion:
By peak QE in early June, the Fed had increased its assets by $2.86 trillion. It has since then whittled this increase down by $248 billion. Note the systematic front-loading then tapering the asset purchases and letting assets top out at $7.16 trillion, and then letting them decline, now down to $6.92 trillion:
Repo balances dropped by $34 billion, to just $41 billion, the lowest since the Fed starting ramping up repos. Repurchase agreements are on the way out. There were zero overnight repos on the balance sheet, and only some older term repos that hadn't unwound yet.
The Fed made repos less attractive over time. On June 16, it raised the bid rate, and for market participants there are now better deals available in the repo market. The Fed is still offering theoretically huge amounts of repurchase agreements every day, but there are no longer any takers.
---
It is a central tenet of Credit Bubble analysis that things turn "Crazy" near the end of cycles. And with the thesis that we're in the concluding ("terminal") phase of a multi-decade, super-cycle global Bubble, there's been every reason to foresee Utmost Craziness.
In the most simplified terms, Bubbles inherently gather momentum and inflate to dangerous extremes. Mounting fragilities ensure policymakers employ the increasingly outrageous measures demanded to hold collapse at bay. Craziness is cultivated by a confluence of late-cycle intense monetary inflation (i.e. QE and speculative leverage) and deeply ingrained speculative impulses.
The bigger the Bubble, the more intense the speculative fervor; the greater the attendant government intervention; and the more convinced market participants become that officials won't allow a bust. Throw Trillions at systems already acutely prone to Bubble excess and you're courting disaster (that's you, Washington and Beijing).
The global nature of Bubble Dynamics makes this period unique. And while Europe, Japan and EM are important contributors, the global Bubble is foremost underpinned by historic U.S. and Chinese monetary inflation. That these two countries are increasingly bitter rivals adds unique challenges to Bubble analysis.
The irony of it all: China's communist party readily promoting the stock market. Do they have much choice? The Federal Reserve over three decades shifted away from the traditional model of affecting bank lending – elevating the financial markets to the primary policy stimulus mechanism. Instead of measured interest-rate reductions, on the margin, stimulating bank lending, the Fed has resorted to Trillions of securities purchases (QE) and zero rates to directly trigger market speculation and asset inflation. This model proved an absolute boon to U.S. markets, the economic expansion, the dollar and broader U.S. global influence. To compete, Beijing knew what it had to do.
---
U.S. President Donald Trump has imposed a 25 percent import duty on French goods in an effort to scuttle the country's digital services tax – making it clear that Paris has several months to rethink cutting into Big Tech's profits.
The Trump administration has been threatening Paris with fiscal retaliation for months over its digital services tax – ever since France floated the idea of taxing some of the U.S.' most profitable corporations. While the ultimate value of the products affected by Friday's tariff is significantly less than the $2.4 billion in goods the administration had initially threatened in January, which included iconic French products such as cheese and champagne, it runs contrary to a reported promise between Trump and French President Emmanuel Macron to postpone any potential trade war until the end of 2020.
It's clear why Washington doesn't want France to move forward with the tech tax, given that several other countries, from the U.K. to Italy, Turkey, and Russia, are mulling similar measures.
The E.U. as well has attempted to pass bloc-wide efforts to tax Big Tech, though none have yet been successful; however, the body floated the idea again in May as a possible way to close the budget shortfalls created by the economic crash that accompanied the Covid-19 pandemic.
These nations are likely watching France anxiously to see what kind of punishment the U.S. metes out in return for what would be an unprecedented attempt at reining in those American firms with more resources and power than most of the world's countries.
---
For more than three years I've tried to explain that President Trump's foreign policy was having the exact opposite effect of its intended purpose.
Trump, under the advice of people like John Bolton, Secretary of State Mike Pompeo, Israeli Prime Minister Benjamin Netanyahu and Saudi Crown Prince Mohammed bin Salman (MBS) has pursued a maximum pressure campaign against Iran in the hopes of the regime either crumbling or suing for peace.
Trump was warned by both Chinese Premier Xi Jinping and Russian President Vladimir Putin that Iran would 'rather eat dirt' than submit to him on nuclear weapons, support for Hezbollah, Iraq and President Bashar al-Assad in Syria.
In effect, Trump and Pompeo have argued for Iran to give up its sovereignty to appease the fears of Netanyahu in Israel, and they have steadfastly told Bibi and The Donald to go pound sand.
Every six months or so, depending on the state of domestic affairs, tensions with Iran ratchet up another notch. Over the past couple of weeks a series of explosions at key Iranian military facilities occurred with fingerprints of Israel striking deep into Iran to cripple strategic targets.
Trump, distracted by the domestic insurrection against him, has left foreign policy strictly to Pompeo who is avidly pursuing a 'have his cake and eat it too moment,' trying to extend the weapons embargo against Iran at the United Nations while still claiming the unilateral right to leave the JCPOA without further consequences.
In a word, Russia, China and Europe are telling him, "No."
And now we know why. China and Iran just inked a 25-year, game-changing strategic deal covering everything from oil sales, contract bids and massive upgrades to Iran's anti-air capabilities as well as its domestic air force.
---
Now that he's apologized for three-decades of climate alarmism, Forbes has now blocked Shellenberger's article without explanation.  So, here it is:
---
Silver's role as a valued investment was broadly on display during the first half of 2020, as investors actively accumulated silver in the first six months of the year, leading to a 10 percent gain in investment demand. Paving the way was remarkably strong growth in silver-backed exchange-traded products (ETPs), which have posted successive all-time highs this year, together with solid silver coin and bar investment.
The silver price averaged US$16.65 through to the end of June. Having fallen sharply in mid-March, the silver price has since recovered strongly, rising by 56 percent to reach US$17.84 at end-June; it has since broken through the US$18 barrier. The gold:silver ratio – the quantity of silver ounces needed to buy an ounce of gold – fell since its multi-decade high of 127 in March, and at end-June stood at 97.8, which is still very high by historical standards, and may signal that silver is undervalued relative to gold.
Retail and institutional inflows into silver ETPs have been impressive this year. As of June 30, global holdings reached a fresh all-time high of 925 million ounces (Moz), which is roughly 14 months of mine supply. The ETP growth in the first half 2020 of 196 Moz comfortably surpassed the highest annual inflow of 149 Moz set in 2009. North American listed funds accounted for some 90% of the ETP inflows since March.
Retail bullion coin sales jumped by an estimated 60 percent year-on-year. Silver bar and coin sales surged in response to a deteriorating economic outlook linked to the global COVID-19 pandemic, leading to some supply-chain disruptions. This saw dealer stocks for several silver investment products quickly depleted, resulting in extended delivery lead times and higher premiums.
---
The silver market appears ready to blow its top, much like a pressure cooker whose relief valve stopped functioning even as the heat and pressure continued to build. The gold market is also likely to overheat, but at least in gold, its relief valve – the price of gold – appears to be functioning somewhat and has bled off much of the pressure. After all, the price of gold is up substantially on a year-to-date basis and is not that far from all-time highs. While gold looks poised for further gains, perhaps substantial, its price relief valve has allowed much pressure to be released.
It's quite different in silver, since prices are barely changed on a year-to-date basis and current prices are still close to 65% below the highs registered, both 40 years ago and again 9 years ago. Nothing could demonstrate the malfunctioning of silver's price relief valve relative to gold than the recent 5000 year undervaluation of silver to gold.
As for why silver's price relief valve has ceased to function (and gold's valve is somewhat sticky), that's obvious – the release mechanism was gummed up due to concentrated short selling on the COMEX. For years the concentrated short selling was led by JPMorgan, but the bank has recently abandoned the short side, leaving 8 other big shorts to deal with a mess when the lid blows off.
The PHOTOS and the FUNNIES
STAY INFORMED! Receive our Weekly Recap of thought provoking articles, podcasts, and radio delivered to your inbox for FREE! Sign up here for the HoweStreet.com Weekly Recap.