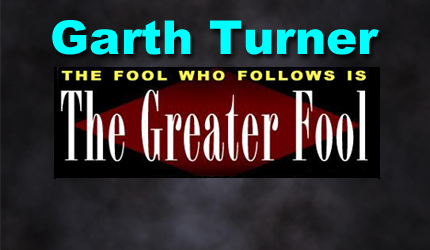 A best-selling Canadian author of 14 books on economic trends, real estate, the financial crisis, personal finance strategies, taxation and politics. Nationally-known speaker and lecturer on macroeconomics, the housing market and investment techniques. He is a licensed Investment Advisor with a fee-based, no-commission Toronto-based practice serving clients across Canada.
By now you know the news. Red ink and guts everywhere in Ottawa. Harper's $56 billion credit crisis deficit was just a warm up for Trudeau's $343 billion pandemic hole. The last time the feds spent like this we were in World War 2. We've just seen the first credit downgrade in 25 years. And no other country in the world is facing a reversal of fiscal fortunes like ours – a 1,000% deficit increase over the forecast of a few months ago.
A third of the workforce has been idled. The jobless rate will (as this blog told you) still be 10% at Christmas and close to that level in 2021. Revenues have cratered by over $100 billion. The economy in 2020 will shrink almost 7%. In the Great Depression the decline was 10%. Close enough.
So, Canada will soon have a $1.2 trillion national debt. Without a shadow of a doubt, this means higher personal and business tax rates. A hike in the HST. The seeds sown for wealth and inheritances taxes. And a bad time to have a professional corporation.
Covid's cost has been stunning, no doubt. The pandemic has also increased the scope and reach of government in a way that was unimaginable a year or two ago. Now with eight million people on the federal dole, there's the expectation this level of support will continue. Face it – most Canadians like getting CERB and kiddie support deposits in their bank accounts. So the next stop is the UBI – universal basic income. After Finance Minister Bill Morneau's little talk on Wednesday, there's little doubt this is the agenda.
No point debating if this was the correct path. It's history. Trudeau's 74% approval rating shows it was political gold. Giving people $200 billion in direct payments over four months sure changes the polling numbers fast. If the virus continues to dissipate, we may be looking at an autumn budget and a spring election. Peter McKay better have some rabbits in his hat and horseshoes exiting his bottom, or this one's already a lock.
What comes after CERB? More Herculean heaps of borrowed money?
This week the Parliamentary Budget Officer, that indie and sincere soul, said giving everybody income support until next spring would cost another $48 billion, or maybe $98 billion. It depends if the support would be reduced by 50 cents for every dollar earned, or a lesser amount – 15 cents. Annualized income would be about $17,000 for a single and $24,000 for a couple. This would allow about $15 billion in existing spending to be folded into the new program, but the cost would still be extreme.
The question, starkly, is how to ever turn off a tap that's been opened? Trudeau already found he couldn't end the CERB after 16 weeks. It was extended until October. Now it's clear the program will morph into something else. The wage subsidy, Morneau announced, will be extended by another $50 billion. And so Canada seriously widens the tax gap with the US.
Well, get used to it. For example, the coming budget is likely to increase the capital gains inclusion rate (to 75%, if the NDP gets its way), which means you'd be wise to lock in some gains before that happens. We might well see a new tax bracket created to further ensnare and drive off the 1%ers. Self-employed who pay themselves exclusively through dividend income, rather than salary, might come to regret that choice.  Or there could be a lifetime cap placed on TFSA contributions or (more draconian) on accumulated tax-free balances. The feds could simply decide – since we don't have enough rich people – to shift more tax from income to consumption, and bring the sales tax back up to pre-Harper levels.
Details to follow. This is just the warm-up. The government may not have had much choice but to subsidize a nation of over-extended, leveraged, indebted housing-lusty citizens who were completely vulnerable to economic shock. Letting them flounder would turn recession into something worse. But now, in hock to our necks, we need a plan. And an opposition.
By the way, Dorothy and I both received $300 direct-deposit payments into our joint chequing account on Wednesday morning, labelled 'Canada Fed.'
Coincidence?
I think not.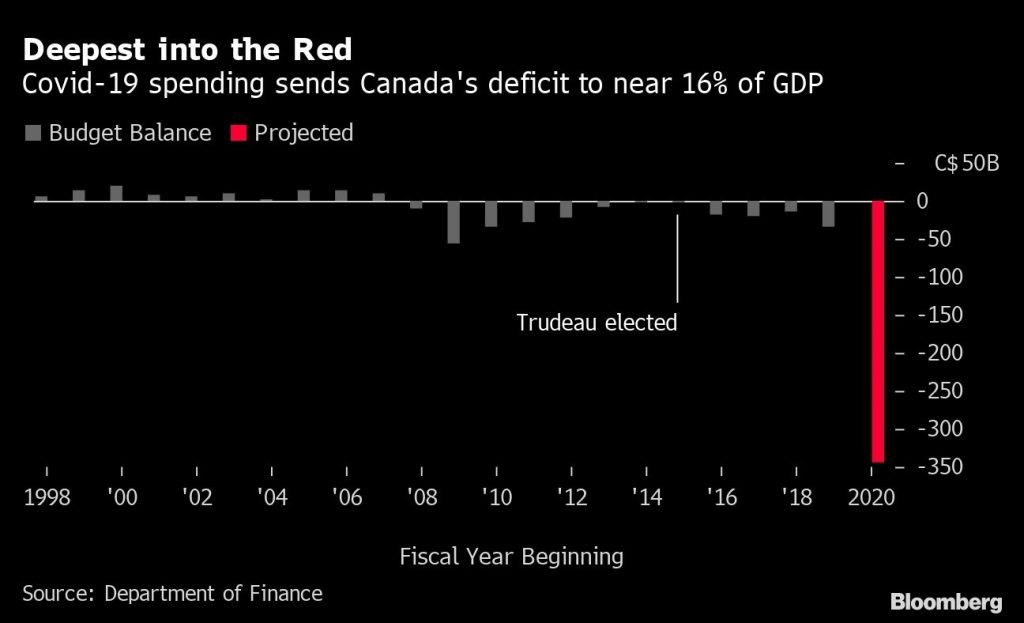 STAY INFORMED! Receive our Weekly Recap of thought provoking articles, podcasts, and radio delivered to your inbox for FREE! Sign up here for the HoweStreet.com Weekly Recap.