July 29, 2020 | Deeper & Deeper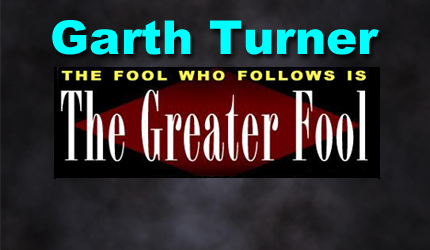 A best-selling Canadian author of 14 books on economic trends, real estate, the financial crisis, personal finance strategies, taxation and politics. Nationally-known speaker and lecturer on macroeconomics, the housing market and investment techniques. He is a licensed Investment Advisor with a fee-based, no-commission Toronto-based practice serving clients across Canada.
Did you think it would take this long? Me neither.
The hammer came down mid-March. Now it's August, almost. Yesterday Scotiabank says it  decided few, if any, workers would return to its gleaming, 68-storey Toronto head office tower at King & Bay Streets in 2020. In the spring. Perhaps. Google announced a few days ago its people are gone until next summer. It's a long list of companies gathering.
Schools may or may not reopen in September, depending on where you are. Some will be in shifts. There's big doubt it can even work, with kids in masks, six feet apart. A few sniffles and the place will be an evac zone.
Well, the economic implications cannot be overstated. Social distancing and employers running from risk mean we're staring at uncertainty, unemployment and financial stress for months to come. Maybe two years, until that mythical vax hits your arm. To date about $60 billion in income loss has been made up in CERB payments while employers flow through even more in payroll subsidies. Monthly obligations have been waived through large-scale payment deferrals.
The question: how long can this last?
When it comes to mortgages the answer seems to be another 120 days. As of now about 800,000 households have stopped making payments. Those who quit in March are set to resume in September. Many will. Many won't. Many can't. Canada is a nation of debtors with families carrying $1.6 trillion in mortgage loans, more than $180 billion worth not currently being serviced. Debt has spiked in the past year, mostly because all the missed mortgage payments are being added to the amount owing. Folks wo think this is a 'mortgage holiday' were not paying attention.
So what comes next?
Australia may give us a clue. That, too, is a land of unfettered real estate lust and widespread house horniness. Property speculation is a national pastime, and politicians have shamelessly pandered to it. As a result, big Aussie cities have (like Toronto and Vancouver) insane housing prices and an economy way, way, way too dependent on citizens flogging houses to each other. (The Australian GDP is just a little smaller than ours and 15% of it is real estate-driven. Yeah, like us.)
We have 37 million people. They have 25 million. We both have 800,000 people not paying their home loans. And everybody's worried.
Like ours, the Aussie government facilitated a six-month mortgage deferral period, and in recent days this has been extended by another four. But it is not automatic. The extension will be granted only to those who are in financial difficulty, find it impossible to make mortgage payments, and can prove it. Those who cannot establish hardship will be expected to resume payments, or to sell their real estate. As for the others: "Customers will be expected to work with their bank, during this extra time, to find the best solution for them," says the Australian Banking Association. "It is in their interest to repay debt sooner."
You betcha. Because every missed payment means borrowers owe more. Real estate equity is diminished. Financial positions are weakened. Net worth affected. Credit tarnished.
(By the way in the UK, where almost two million people deferred mortgage payments, there are media reports banks have been given the green light to deny renewals or new financings to people who took the loan holiday. A survey of brokers found 59% have had clients rejected due to a loan deferral or the fact they've been receiving a support cheque – like the CERB. It is folly to think lenders in Canada aren't keeping the same records, nor that consequences won't flow.)
So, what next here?
Soon, in the next week or two, CMHC will tell the mortgage deadbeats what their options are. Yes, an extension will be offered and, yup, probably four months – no payments until January of 2021. But this time will not be like last time, when everybody and his cat got approved for a deferral. As this pathetic blog reported then, lenders were absolutely besieged with requests (many from people perfectly able to pay but who didn't want to, or were scared) and rejected nobody.
The missed payments are being capitalized – added to the principal, then amortized. Borrowers owe more. Monthly payments will rise. But the no-pay party will still come to an end for a boatload of people come the autumn. Only those folks who might quickly slide into default will be thrown a new lifeline.
That will come in the form of more months of deferral, but only when the lender (not the government) determines the homeowner doesn't have the resources to pay; an extended amortization of the outstanding loan, reducing future payments but increasing accrued interest;  a negotiated restructuring; or further capitalization of future payments. In all of these instances, be aware that your credit will be impacted – whatever codswallop you might have read about deferrals being risk-free.
And what happens if tens or hundreds of thousands of people with mortgages still can't pay when the winter comes?
Well, let's see what Finance Minister Chrystia has to say then.
STAY INFORMED! Receive our Weekly Recap of thought provoking articles, podcasts, and radio delivered to your inbox for FREE! Sign up here for the HoweStreet.com Weekly Recap.