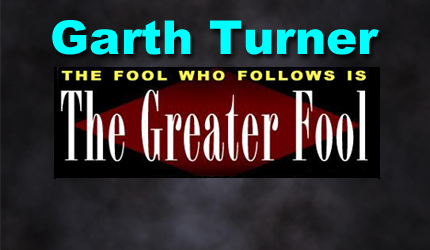 A best-selling Canadian author of 14 books on economic trends, real estate, the financial crisis, personal finance strategies, taxation and politics. Nationally-known speaker and lecturer on macroeconomics, the housing market and investment techniques. He is a licensed Investment Advisor with a fee-based, no-commission Toronto-based practice serving clients across Canada.
Blog dog Dan has way too much time on his hands.  Must be a teacher. "With the help of a javascript and a perl script," he writes, "I extracted these stats from the comment section of greaterfool for the entire month of June, 2020. Yep, it includes every posted comment for the entire 30 days. It never ceases to amaze me the amount of blather you must weed though daily."
So last month, Dan discovered, there were 5,366 comments posted on this pathetic blog by 1,204 unique users. (Consistently about 1% of visitors leave comments. The rest know better.) That chewed up just under 3 million bytes (and hours of my life, gone forever). Here are the top 10 posters, by number of comments:
235, Sail Away
165, crowdedelevatorfartz
127, IHCTD9
121, TurnerNation
117, Faron
95, Ponzius Pilatus
78, Nonplused
65, Howard
65, Flop…
58, Wrk.dover
And by the amount of space consumed, the wordiest five (byte count): Sail Away (117,261), Crowdedelevatorfartz (93,243) IHCTD9 (73,431), TurnerNation (71,430) and Ponzius Pilatus (63,922).
Okay, so now we have a better idea of the readers who jobless, unemployable, retired, socially shunned or whose family moved out in disgust. As mentioned here last week, before I went on strike for the weekend, this site's steerage section has been a cacophonous swamp in recent months, a condition rendered worse by that damn bug.
And that segues into the latest set of predictions. Six of them. These appear to be the defining characteristics of the period lying ahead which, it now appears, could be a lot longer than any of us thought when the snow was still around.
Jobs are easier to erase than create.
It will take years, a decade maybe, before employment returns to the level of February, 2020. Standard and Poors says Canada's economy will be considerably reduced even after Covid is gone (if that ever happens). In the US, a key Washington agency states unemployment will stay elevated into the 2030s. Yeah, ten years. This blog estimated weeks ago the rate would be above 10% at Christmas. That may be optimistic. The implications for housing are very real. Ditto for Trump.
Rates will be in the ditch for ages.
The big banks have five-year mortgage rates down to barely above 2% now. But inflation keeps falling and the economy shrank 12% in a single month (the decline in 1931 was 10%). It now appears US rates will not rise about their current near-zero level for five years Maybe six. Our guys won't dare change the cost of money here before the Americans do. So while house loans stay cheap (but credit will be tighter), this crushes savers. HISA accounts, GICs and bond yields will pay nothing, so risk-averse people better hope they already have a huge pile of dough or risk running out of it.
The virus has legs.
Comparatively speaking, Canada has done well. But reopening is slow, cautious, tentative and far too slow to gas the economy or restore small business. Social distancing is becoming the norm. Mandatory face coverings are coming into effect in major cities like Toronto and Ottawa. When my corporate partner announced in early April that its Toronto bank tower offices would not reopen until May 31 it looked extreme. Now it's July. Still empty. Getting half the people back by September seems a stretch. And what if the schools stay shut? Globally Covid is getting worse, not better. The economic cooling is unprecedented. This is the time to stay liquid and flexible. Above all, eschew debt.
Trump's toast.
So the latest surveys suggest. As the virus rips through red states, the president's approval rating declines. His weird, hellfire, us-vs-them speeches surrounding July 4 didn't help much. Now his son's GF is infected. A Pew poll found people in counties (Florida, Texas, Arizona – Republican fortresses) where the virus is spreading are 50% less like to vote for Trump. Older voters, 65+, are the same, saying by a wide margin Washington should prioritize protecting people instead of reopening the economy. That's the opposite of what Trump's been doing. So as the virus leaves big blue cities (NY, Boston, Chicago) and assaults the Sunbelt and rural US, it's bad news for the president. Can he survive the triple threats of a public health, record jobless numbers and civil unrest? Unlikely. But it's four months until election day. Things change.
Real estate is for greater fools.
Low mortgage rates fuel real estate. Unemployment kills it. This is the battle to be waged over the coming months. Big banks have deferred $180 billion in mortgages, but that will end and listings increase. Credit is being tightened. CERB money will peter out. Realtors will coo over surging sales, but this is in comparison to the disaster that was April. In reality, things are more dire. Accepted offers last month in Vancouver were the lowest in 15 years at just 560. Contrast that to over 800 last June, or 1,500 the same month four years ago. "Into 2021 a whole new kind of methodology will prevail," says analyst Dane Eitel, "the fear of overpaying for a depreciating asset."
Money's pumping into financials.
How can stock markets jump more than 40% from March when the virus-whacked economy sucks? This mystifies many people who point to lower corporate earnings, laid-off workers, weak export demand and soggy consumer spending. But it continues. The principal reason is simple: money is flowing where it has the best chance of a return. With interest rates in the ditch, and likely staying there for half a decade, fixed income assets pay diddly. But the pandemic will eventually subside, economic activity will rebound and traditional growth assets will grow again. It seems like a safe bet, despite inevitable volatility. Massive government and CB stimulus will continue. Trump will do anything to win. If you don't have enough put away to retire on, saving won't get you there with 0% rates. What choice, but to invest in the financial markets? More gains ahead.
Well, there you go. The future in 730 words. No need to blather. It's a lock.
STAY INFORMED! Receive our Weekly Recap of thought provoking articles, podcasts, and radio delivered to your inbox for FREE! Sign up here for the HoweStreet.com Weekly Recap.