June 12, 2020 | Men in Tights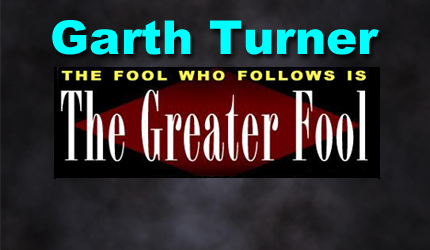 A best-selling Canadian author of 14 books on economic trends, real estate, the financial crisis, personal finance strategies, taxation and politics. Nationally-known speaker and lecturer on macroeconomics, the housing market and investment techniques. He is a licensed Investment Advisor with a fee-based, no-commission Toronto-based practice serving clients across Canada.
Wall Street laid an egg one day this week. Bay Street had a cow. After surging more than 40% in history's giddiest 50-day rally, stock markets gave back about 7% of that in a single day, before stabilizing.
What to do?
Easy. Ignore it. A feature of the Covid world we've been in since mid-March has been big swings in financial markets and, for a while, a huge spike in volatility. But investors with balanced & diversified portfolios have seen their wealth restored after being robbed. The reasons have been repeatedly probed here – fiscal and monetary stimulus, crashed interest rates, the expectation of recovery, rivers of public money and the knowledge that pandemics always pass. People who went to cash when the virus hit, or sat on the sidelines for three months, missed the ride up. So, simple. Stay invested. The world ain't ending anytime soon.
Having said that, here's why we may have a raucous few weeks or months ahead of us.
First, the bug is not finished. Globally cases continue to escalate. Brazil is a mess. India, too. A complete lack of international coordination to fight a world-wide scourge is vexing humankind. Sometimes nationalism sucks big. This may be such a moment. Until we're clean everywhere global travel and trade will remain crippled.
Second, the whole reopening thing is spotty, uncoordinated, clumsy and confused. In Toronto the transit guys just decided every passenger has to be masked – so they're handing out a million of them. In the East three provinces are forming a 'bubble' but hardening their borders to the rest of the nation. Montreal's still a disaster. Areas outside the GTA have been shut down again. Everybody shopping in every single store needs to wear a face covering. Yet recently we saw ten thousand hipsters sweating together in a Toronto park. Protests marches have clogged the streets. But you have to stay six feet from the guy ahead in the liquor store lineup. Huh?
Third, we should worry about the US. Things are even less coordinated there, thanks to the fragmented power structure of states. Concerns about a second wave are growing in places like Houston. New York may be opening too fast. The BLM movement has thrown hundreds of thousands of people together in a way that has public health officials cringing.
Fourth, big warnings from the International Monetary Fund. And the OECD. Plus the World Health Organization that right-wingers are trying hard to discredit. International bodies say global growth will be far less robust than anticipated and the pandemic's effects may last a few years.
Fifth, Trump. He's losing it. Trailing in the polls, the America president is fighting on three fronts: a public health emergency that has killed over 100,000 people, the greatest economic contraction and jobless rate since the Depression plus a gathering social unrest sparked by the George Floyd death-by-cop. No president in history has faced such a trifecta.
Sixth, Biden. The Trump challenger, some fear, has been co-opted by the leftist fringes of the Dem party, and will turn into a tax-and-spend leader forcing unwanted morality on US corporations, eroding profits and spanking stocks. Voter surveys now give Biden a 54% chance of winning, plus a Democrat-controlled Congress. What does this mean?
"We believe a Biden victory should be a net mild negative for equity prices," says a Pennock Idea Hub report. "Much depends on the degree of control by the Democrats should Biden win the White House. The chance of a Blue Wave sweep is possible, and it would embolden the progressives within the Democratic Party to steer policy further to the left with bearish consequences for the suppliers of capital."
Okay, so outside of asteroids and locusts, these are the main concerns. Should you hide your wealth in a can in the back yard?
Nah. Bad idea.
Simply put, there's no way politicians or central bankers are allowing this market to croak. The Fed indicated this week it'll do whatever it takes to support the economy, barrage Wall Street with capital, ensure credit's in place and create enough liquidity to float bricks. Don't fight the Fed. It's fatal. Meanwhile in Canada the Trudeau Libs have proven they'll spend with whatever recklessness is necessary to paper over unemployment, lockdowns and decline. The Bank of Canada is also into this with both feet, which explains why a five-year mortgage is available for 1.99%.
So, worry if you want but understand this: the gap between Bay Street and Main Street will only grow wider. Investors will trump savers. The wealth divide will increase. Volatility may well spike again and wild days ensue. But the virus will ultimately fade, vaccine or no. Leave trying to time markets over the next year to all those day-trading moist Mills with their Robinhood apps.
The pros need others to feast on. And that is perfect.
STAY INFORMED! Receive our Weekly Recap of thought provoking articles, podcasts, and radio delivered to your inbox for FREE! Sign up here for the HoweStreet.com Weekly Recap.