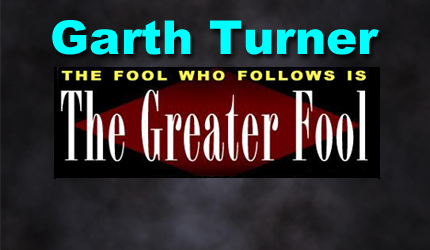 A best-selling Canadian author of 14 books on economic trends, real estate, the financial crisis, personal finance strategies, taxation and politics. Nationally-known speaker and lecturer on macroeconomics, the housing market and investment techniques. He is a licensed Investment Advisor with a fee-based, no-commission Toronto-based practice serving clients across Canada.
"I am stunned by the number of agents who think things will return to normal by year end," says a grizzled old GTA realtor who risks it all by reading this blog. "Condo rentals are everywhere. Some estimates as high as 10,000 for the entire GTA. Needless to say rents are dropping."
Buyers in retreat. Airbnb collapsed. Covid cooties lurking in elevators. Lenders tightening credit. The jobless rate at 13%. CMHC in a funk. Eight million on the dole. A million mortgage deferrals. How can we be surprised?
"The real estate board has a massive online meeting Thursday," he continues. "They will vote to defer the annual dues from June 30 until September 30. The brokers are worried many agents will not renew their membership." By the way, there are 56,000 realtors in Toronto, representing 70% of that entire species in Ontario.
Meanwhile the latest official Frankenumber stats from the nation's largest house-flogging organization are just peachy. Pandemic? What damn pandemic? "On a month-over-month basis, actual and seasonally adjusted May sales were up substantially compared to April," says the real estate board. "Actual May 2020 sales increased by 55.2% compared to April 2020." And here's the report on values: "The average selling price for all home types combined was up by three per cent compared to May 2019 to $863,599. On a seasonally adjusted basis, the average selling price was up by 4.6% month-over-month compared April 2020."
There you go. Sales up 55%. Prices up 4.6%. The market's torrid, baby! And look, the media just fell for it…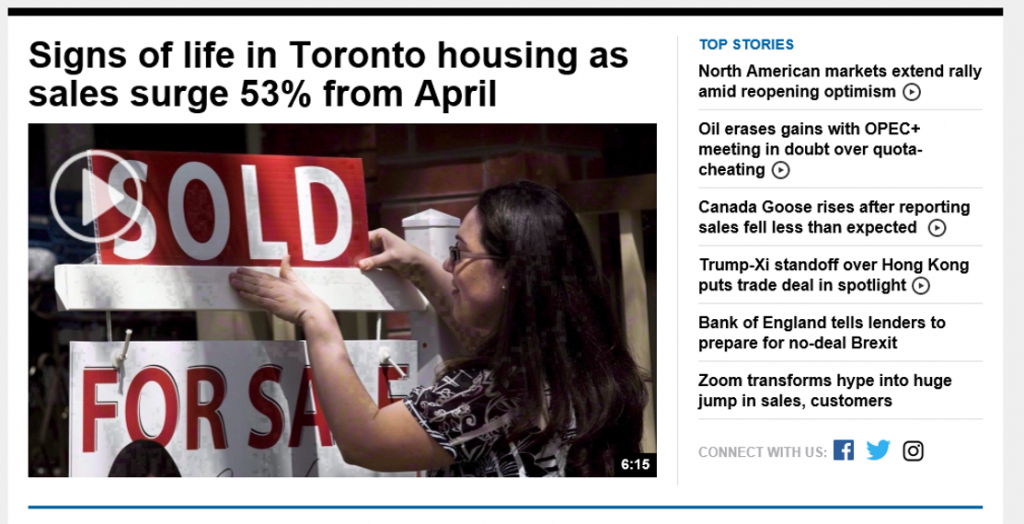 Now the facts. Last month 4,606 sales took place in the GTA. This time last year there were 9,042. Hmm. That appears to be a decline of 4,436, or 49%. As for prices, it's worth remembering the average detached house in 416 – now worth $1.42 million – is selling for $149,000 less than it was three years ago. In fact when you add land transfer cost to the price of a house purchase, then deduct the standard realtor commission for selling, the loss on a SFH in urban Toronto comes to $280, 400, or 17%, over a three-year ownership period. If you bought with 10% down in 2017, then sold in 2020, you'd have to bring a cheque on closing day.
Oh, and add in the property taxes, maintenance, financing charges, insurance and reno bills along the way. Clearly owning a home in Toronto – the premier real estate market in this house-lusty land – was a losing proposition over the last few years, compared to renting. In contrast, a balanced financial portfolio has gained (even with the virus attack and the late-2018 market plop) 16% since 2017. Hmm.
But enough of the immediate past. What about the future? The next year or two? Are all those realtors correct in thinking things will be normal by Christmas? Or are they stoned on hopium?
Economists worried about real estate values have been lining up for a few weeks. This week RBC's Robert Hogue joined CIBC, Moody's, CMHC, Scotia and others in forecasting a tough autumn for house values. Benny Tal at the Commerce says the unemployment rate will be at "recessionary levels" for years. In fact, watch the stats on Friday when US jobless numbers could reach for 20%. We will follow.
Additionally, remember the deferral cliff that federal housing boss Evan Siddall is vexing over. About a million Canadians stopped making payments on $180 billion in residential mortgages in the last 60 days. How are they going to resume when many lack stable income? When the CERB's gone? Meantime CMHC is lobbying the Trudeau cabinet to double the minimum down payment for insured financing to 10%. Imagine the impact.
So here's the prediction: as the lockdown loosens and life creeps back to normal sales volumes will increase. Given low inventory, this will raise prices in June, July and August. The real estate board will have an orgasm, media will trumpet a new housing boom and industry pundits will label Evan Siddall bilious. But it won't last. The Main Street economy's just too hobbled for a sustained real estate recovery to take place.
Too many jobs have been lost. Too many families owe too much with too little in reserve. Too many small businesses have been hollowed. In our post-pandemic world credit will be harder to get, borrowers more scrutinized and lending requirements more stringent. Down payments will likely increase, and so will property taxes and transaction costs. Now that the banks have seen almost a fifth of their borrowers opt out of payments after only two months of income stress, you can be sure lessons were learned.
Of course, that won't stop people from being idiots. But if it did, this blog would end.
STAY INFORMED! Receive our Weekly Recap of thought provoking articles, podcasts, and radio delivered to your inbox for FREE! Sign up here for the HoweStreet.com Weekly Recap.