June 6, 2020 | "An Intent and Deliberateness" in the Precious Metals This Past Week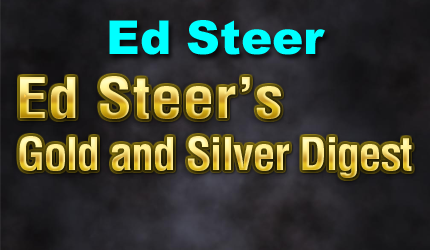 "Ed wrote the daily precious metal commentary for Casey Research starting in 2008. His stand-alone column became their most highly-rated blog [either free or paid] almost from the outset—and remained that way until he started his own subscription-based website in June of 2015."
YESTERDAY in GOLD, SILVER, PLATINUM and PALLADIUM
The gold price was up a small handful of dollar by around 8:30 a.m. China Standard Time on their Friday morning…but then the selling pressure commenced.  It continued quietly lower until it touched the $1,700 spot mark around 11:15 a.m. in London — and then jumped a bit higher at that point. The unbelievable jobs report hit the tape at 8:30 a.m. — and 'da boyz' went to work.  The low tick was set around 10:35 a.m. in New York — and its subsequent rally was cut off at the knees shortly after that.  From that juncture it crept ever-so-quietly higher right into the 5:00 p.m. close.
The high and low ticks in gold were recorded as $1,723.20 and $1,671.70 in the August contract.  At the close, the July/August price differential was $4.50…August/October was $11.10 — and October/December was $7.80.
Gold finished the Friday session in New York at $1,684.00 spot, down $28.90 from its close on Thursday — and about 13 bucks off its low tick of the day — and back below its 50-day moving average by a decent amount.  Net volume was very heavy, relatively speaking, at 253,000 contracts — and there was a bit under 21,500 contracts worth of roll-over/switch volume on top of that.
The high and low ticks in silver were reported by the CME Group as $18.05 and $17.375 in the July contract.  At the close, the June/July spread differential was 3.6 cents…July/September was 18.9 cents — and September/December was 21.7 cents.
Silver finished the Friday session at $17.400 spot, down 32.5 cents from Thursday, but 22 cents off its Kitco-recorded low tick of the day.  Net volume was pretty heavy at a bit under 68,500 contracts — and there was a hair under 22,000 contracts worth of roll-over/switch volume out of July and into future months….mostly September and December.
The price pattern in platinum was very similar to what happened in gold, so I'll spare you the play-by-play.  Its engineered low was set shortly before the Zurich close — and it rallied a decent amount from that point until around 2:25 p.m. in after-hours trading.  It didn't do much after that.  Platinum was closed at $810 spot, down 15 dollars from Thursday.
Palladium had a bit of an up/down move in mid-morning trading in the Far East — and after that it didn't do much until Zurich opened.  It edged quietly lower from there until minutes after 12 o'clock noon in London — and then rallied a decent amount until it ran into 'something' a few minutes after 12 o'clock noon in New York.  It was sold down a bunch by 1 p.m. EDT — and didn't do much of anything after that.  Palladium was closed at $1,897 spot, up 25 bucks on the day.
---
Computing the index manually, the change worked out to down 1.63 percent.
---
Here are two of the usual three charts that show up in every Saturday missive.  The first one shows the changes in gold, silver, platinum and palladium for the past trading week, in both percent and dollar and cents terms, as of their Friday closes in New York – along with the changes in the HUI and the Silver 7 Index.
As per the COT and Days to Cover discussion a bit further down, the Big 8 traders are still mega short gold in the COMEX futures market, but some of them appear to be delivering physical metal into their short positions now, rather than covering in the COMEX futures market.  But they still remain trapped in silver.  And as of Tuesday cut-off, JPMorgan is most likely a bit long in gold — and a tiny bit short in silver according to Ted.  The potential for a JPMorgan double cross of the Big 8 traders is not only very much alive, but has already begun…as per Ted's comments to me on the phone a week ago.  It's now unfolding exactly as he said it would — and the bodies are just starting to float to the surface now.  There will be more to come.
---
So far in June, there have been an eye-watering 47,123 gold contracts issued/reissued and stopped — and that number in silver is 404 contracts.
---
So far in June the mint has sold 2,500 troy ounces of gold eagles — 450,000 silver eagles — and 500 one-ounce 24K gold buffaloes.
---
---
---
They arrived at that number by increasing their long position by 3,927 contracts, but they also increased their short position by 7,282 contracts — and it's the difference between those two numbers that represents their change for the reporting week.
Under the hood in the Disaggregated COT Report, the Managed Money and 'Other Reportables' didn't do much…the former increasing their net long position by only 611 contracts — and the latter decreased their net long position by only 576 contracts.  The big activity was in the 'Nonreportable'/small trader category, as the increased their net long position by a very hefty 3,320 contracts.
Doing the math: 3,320 plus 611 minus 576 equals 3,355 contracts…the change in the Commercial net short position.
The Commercial net short position in silver is now sitting at 53,947 COMEX contracts…269.7 million troy ounces.  The Big 8 traders are short 78,726 COMEX contracts, or 393.6 million troy ounces, or 146 percent of the Commercial net short position…which is preposterous, but that percentage has been dropping steadily over the last few weeks.  At their most outlandish, the Big 8 were short a bit over 200 percent of the Commercial net short position.  More on this on the Days to Cover data further down.
As of the Tuesday cut-off, Ted puts JPMorgan's short position at around 5,000 contracts, up a couple of thousand from last week's report.
Of course, things have changed materially since the Tuesday cut-off — and Friday's COT Report is very much "yesterday's news".  But if one could see a COT Report as of yesterday's close, it would show a fairly significant reduction in the Commercial net short position in silver — and that JPMorgan had covered all of their current short contracts.
---
They arrived at that number by reducing their long position by 23,323 contracts, but they also reduced their short position by 41,022 contracts — and it's the difference between those two numbers that represents their change for the reporting week.
Under the hood in the Disaggregated Report, it was all Managed Money and 'Other Reportables' that accounted for the change.  the Managed Money traders decreased their net long position by 12,726 contracts — and the 'Other Reportables' by 6,154 contracts.  The traders in the 'Nonreportable'/small trader category went the other way…increasing their net long position by 1,181 contracts.
Doing the math: 12,726 plus 6,154 minus 1,181 equals 17,699 contracts…the change in the commercial net short position.
Ted was of the opinion yesterday [his first reaction] that this sizeable reduction in net long positions by the non-technical Managed Money and Other Reportables traders was due to the fact that physical deliveries were made in these two categories during the reporting week, as the price change over that period would have never have resulted in such large position changes on their own.  Some, but certainly not all, of the Big 8 were covering short positions [at a huge loss] by delivering physical metal, rather than buying long contracts in the COMEX futures market and driving the price higher in the process.
He's going to sleep on all this overnight — and I'll certainly be looking forward to reading is thoughts in his weekly review this afternoon.
The commercial net short position in gold is now down to 25.66 million troy ounces — and of that amount, the Big are short 20.74 million troy ounces…down from 24.9 million troy ounces the previous week.  That's a big decline.  There certainly didn't appear to be much paper short covering — as almost all of that was a reduction in short position because it looked like they were delivering into them, which is the other way of extinguishing a short contract.
Ted was also of the opinion that JPMorgan may actually be net long the COMEX futures market in gold by around 5,000 contracts as of the Tuesday cut-off.
This COT Report in gold is just as much "yesterday's news" as it is for silver — and what has happened since the Tuesday cut-off won't be known until next Friday report which, as I've stated before, is a lifetime in this current situation.
---
---
In the COT Report above, the Commercial net short position in silver was reported by the CME Group as 270 million troy ounces.  As mentioned in the previous paragraph, the short position of the Big 8 traders is around 394 million troy ounces.  So the short position of the Big 8 traders is larger than the total Commercial net short position by about 394-270=124 million troy ounces…which is down about 10 million ounces from last week's report.
The reason for the difference in those numbers…as it always is…is that Ted's raptors, the 26-odd small commercial traders other than the Big 8, are net long that amount.  JPMorgan is still in this raptor category along with the other small commercial traders — and that's despite the smallish increase in their short position during this latest reporting week.
As per the first paragraph above, the Big 4 traders in silver are short around 121 days of world silver production in total. That's 30.25 days of world silver production each, on average…up from 29.75 days in last week's report.  The four big traders in the '5 through 8' category are short 48 days of world silver production in total, which is 12 days of world silver production each, on average…up a tiny amount from last week.
JPMorgan is no longer in the Big 8 category and, according to Ted, are net long gold by a bit in the COMEX futures market…and are now one of the raptors, just like they are in silver.
---
[The June Bank Participation Report covers the time period from May 6 to June 2 inclusive.]
With JPMorgan now a bit long the COMEX futures market in gold, Citigroup, HSBC USA and I suspect Goldman Sachs would hold the lion's share of this short position. As to who other U.S. bank might be that is short in this BPR, I haven't a clue, but it's a given that their short position would not be material.
Also in gold, 32 non-U.S. banks are net short 66,651 COMEX gold contracts.  In May's BPR, 31 non-U.S. banks were net short 81,098 COMEX contracts…so the month-over-month change shows a big decrease as well…14,447 contracts.  The last time the non U.S. banks were short this small of an amount was back in May of 2019.
But at the low back in the August 2018 BPR…these same non-U.S. banks held a net short position in gold of only 1,960 contacts!
However, as I always say at this point, I suspect that there's at least two large non-U.S. bank in this group, one of which would include Scotiabank and maybe the BIS.  I'm starting to have suspicions about Dutch Bank ABN Amro, plus Australia's Macquarie as well.  Other than that small handful, the short positions in gold held by the vast majority of non-U.S. banks are immaterial.
As in gold, the three biggest short holders in silver of the four U.S. banks in total, would be Citigroup, HSBC USA — and perhaps Goldman in No. 3 spot — and whoever the remaining U.S. bank may be, their short position, like the short position of the smallest U.S. bank in gold, would be immaterial in the grand scheme of things.
Also in platinum, 17 non-U.S. banks are net short 3,460 COMEX contracts in the June BPR, which is up a bit from the 1,741 COMEX contracts that these same 17 non-U.S. banks were net short in the May BPR.
[Note: Back at the July 2018 low, these same non-U.S. banks were net short only 1,192 COMEX contracts — and they're almost back at that number.]
Also in palladium, 8 or more non-U.S. banks are net long 597 COMEX contracts-compared to the 807 COMEX contracts that 11 or less non-U.S. banks were net long in the May BPR.
Except for palladium, only a small handful of the world's banks still have meaningful short positions in the other three precious metals.
JPMorgan is a tiny bit net short in silver — and a bit net long in gold in the COMEX futures market as of Tuesday's cut-off — and may be the same in platinum and palladium, but there's no way to tell that.  It's negligible in palladium for sure, but not so in platinum, if they're still short in that market.
However, since the Tuesday cut-off for the above COT and Bank Participation Reports, there have certainly been some material changes – and all of them positive.  I suspect that JPMorgan is out of its tiny short position in silver — and may be net long.  I also suspect that they're even longer in gold now than they were on Tuesday.
I have a very decent number of stories, articles and videos for you today.
CRITICAL READS
America's labor market defied forecasts for a Depression-style surge in unemployment, signaling the economy is picking up faster than anticipated from the coronavirus-inflicted recession amid reopenings and government stimulus.
A broad gauge of payrolls rose by 2.5 million in May, trouncing forecasts for a sharp decline following a 20.7 million tumble the prior month that was the largest in records back to 1939, according to Labor Department data Friday. The jobless rate fell to 13.3% from 14.7%.
While the overall picture improved, there are still major caveats: 21 million Americans remain unemployed with a jobless rate higher than any other time since 1940, indicating a full recovery remains far off with many likely to suffer for some time.
And the return to work is uneven, with unemployment ticking up among African Americans to 16.8%, matching the highest since 1984, even as unemployment rates declined among white and Hispanic Americans. That comes amid nationwide protests over police mistreatment of African-Americans, which have drawn renewed attention to race-based inequality.
---
The company was $932m (£740m) in the red for the three months to May, compared with a profit of $227m in the same period last year.
It comes as Gap wrote off the value of the goods it holds by more than a quarter of a billion dollars.
Retailers of non-essential goods, especially clothing, have been hit hard by restrictions aimed to help slow the spread of Covid-19.
Shops have been shut across much of the world as retailers were forced to limit their businesses to online operations.
San Francisco-based Gap, which operates almost 2,800 stores in North America, said that more than half of its company-operated stores in the U.S. have now reopened.
Separately, Gap is is being sued by America's largest shopping mall operator for refusing to pay rent for stores temporarily closed during the coronavirus pandemic.
---
Now, thanks to the latest consumer credit data released by the Fed, we know what much of that saving went to: paying down debt.
Just like March, the bulk of the credit repayment took place in revolving credit although to a far greater degree as Americans repaid a record $58 billion on their credit card bills as U.S. consumer society literally went into reverse and instead of spending wildly as it does every other month, usually spending what it can't afford, U.S. consumers repaid the most on their credit cards ever.
What we find most surprising, however, is that in this day and age when the Fed has effectively institutionalized moral hazard and where failure is no longer punished as capitalism is now officially dead and zombie existence is rewarded, Americans still care enough about their credit rating to pay down their own debt even as corporations and the country go on a historic debt issuance spree which everyone knows will never be repaid.
Our advice to Americans with credit cards: go crazy, after all if everyone defaults it's the same as nobody defaulting.
---
American cities are burning, there's a lethal pandemic and we're in a new Great Depression.
Other than that, everything's fine.
People often ask me when things will "get back to normal." Well, the answer could be never (or at least not for a long time).
Germany was not "normal" from 1914-54, for example. Social disorder is like a virus; it goes away eventually but not necessarily soon.
Meanwhile, we're now in our third month of a national lock-down, with perhaps another month to go, depending on your locality.
Some states and cities are beginning to reopen, but they're doing it in "phases," so maybe your hair stylist reopened last week and your favorite restaurant will reopen next week.
The lock-down has certainly been painful for many. Even under the best of circumstances, anxiety levels went up, patience wore thin and tempers flared at trivial things. Cabin fever is a real disease.
Was it all worth it?
---
One country. Two systems.
One financial. One economic.
One for Wall Street. One for Main Street.
One for the elite. One for everyone else.
One fraudulent. The other just a rip-off.
To make a long story precariously short (and deliberately provocative), the "rich" got some of their wealth honestly.
The rest they got by ripping off the poor and middle classes, using their fake-money system.
In effect, after 2008, they had access to an almost unlimited amount of credit priced at artificially low rates, giving them a greater and greater share of the nation's real wealth.
And who noticed? They said the Federal Reserve was "stimulating" the economy.
But the two-system system is now wreaking havoc on our economy, our society, and our government… and driving the whole kit and caboodle to a disaster.
---
U.S. equity prices are near or at all-time highs at a time of unprecedented economic collapse, a festering main street Depression, unemployment way higher than in the 1930s, with no prospect for a V-shaped recovery, only its illusion.
The Wall Street owned and controlled Fed is responsible for the extraordinary melt-up in stock valuations, money printing madness to blame – saving the stock market at the expense of the economy and welfare of ordinary Americans.
For the first time in U.S. history, the Fed's balance sheet exceeds $7 trillion.
It's up from around $250 billion in the late 1980s and $750 billion in late December 2007, the onset of the 2008-09 financial crisis – a colossal example of mismanagement, an eventual price to pay for what's going on.
From mid-September 2019 to late January, the Fed already "had made $6.6 trillion cumulatively in emergency revolving repo loans to Wall Street" – even though the first US COVID-19 death didn't occur until February 28.
Flooding the market with liquidity at near-zero percent interest is a virtual open sesame to unrestrained speculation for easy profits – no matter the extraordinary divergence between equity valuations and intrinsic value.
---
I try to stay laser-focused on the analysis, conscious not to stray into the conspiracy realm. The Fed may buy S&P futures contracts at key market junctures and the government might at times fudge the numbers. I don't know, and I'm not going there. Some will question the veracity of Friday's payrolls data. [No!…really??? – Ed]
Securities markets are indeed on a moonshot; the real economy not so much. The 2016 election cycle was nothing short of unbelievable. We're now only five months from what is poised to be a historic election. The President has stumbled in a most challenging backdrop – and is down in the polls. With the pandemic, economic turmoil, protests and riots, it's a surreal environment. We should expect things to turn even crazier in the months heading into voting. It was as if the presidential campaign finale officially commenced, buoyed by a stunningly better-than-expected employment report.
We're witnessing final convulsions from a historic global speculative Bubble. Markets enjoy unparalleled support from the President and Federal Reserve, along with central bankers and other policymakers spanning the globe.
Keep in mind, the Fed began aggressively expanding its balance sheet – injecting marketplace liquidity – back in September in response to heightened repo market strain. So-called "insurance" policy measures were adopted: apply stimulus measures early and aggressively to ward off potential instability.
Employing liquidity injections in an environment of record securities prices significantly exacerbated speculative excess. Bubble markets could not have been in a more vulnerable state when the pandemic hit. As powerful self-reinforcing de-risking/deleveraging took hold, Bubbles were bursting in synchronized fashion. Dislocating markets were swiftly pushing global finance to the precipice. The upshot: global stimulus measures were taken to a whole new level, including an additional $3.0 TN of support from the Federal Reserve.
Prospective U.S. economic fundamentals may no longer prove the "envy of the world." And as crazy as it sounds, perhaps fundamentals including trade and Current Account Deficits, economic structure, debt and deficits actually begin to matter. In a world of "pain trade" proliferation, it doesn't take a wild imagination to envisage the Crowded long dollar trade suffering a bout of discomfort.
---
Despite the recent consolidation in gold, the yellow metal is predicted to stay bullish in the second half of this year, with additional gains not off the table.
---
If there's anything out there that demonstrates the continuing momentum which will likely drive gold to new heights, and drag silver up with it too, it is the continuing flow of gold and silver into their respective metal-related ETFs.  Those of you who read my article of Wednesday –  Unsustainable equity markets. All the more reason to invest in gold and silver – should hopefully have taken notice of the comment about the huge inflows into U.S. gold and silver ETFs in May and the first couple of days of June.  Now the World Gold Council (WGC) has released a report citing the exceptional level of inflows into global gold ETFs in May – inflows which have continued so far almost every working day in the current month.
According to the WGC gold-backed ETFs added 154 tonnes – net inflows of US$8.5 billion (+4.3%) – across all regions in May, boosting global holdings to a new all-time high of 3,510 tonnes. Year-to-date, inflows (623 tonnes, $33.7 billion) have now already exceeded the highest level of annual inflows (591 tonnes) recorded back in 2009.  And, as we pointed out in Wednesday's article, recent silver flows into ETFs have probably been even more spectacular.  All this increase has happened despite some fairly volatile movement in the gold price which, at one time even spent much of the first half of May back below the $1,700 level, which many had reckoned to be the new base price for the yellow metal.  This volatility has continued into the current month with the gold price being driven down to around $1,680 yesterday, before recovering back to around $1,720 as I write.
Despite the pressure under which gold and silver prices currently find themselves we think the momentum generated by the enormous flood of money going into the precious metals ETFs is indicative of things to come for the sector.  We suspect that the $1,750 current ceiling for gold will be breached comprehensively by the northern hemisphere fall and $2,000 gold will not be too far behind, although there will be periods of resistance along the way.  Anecdotal reports suggest that demand in China and India, the two leading gold consumers, is beginning to to turn up again, while global new mined gold production seems at last to be beginning to fall, both because of coronavirus related production losses and through other factors as we are already seeing in Australia, the world's No.2 gold mining nation and as we have been seeing in China, the world No.1, for several years already.  With the accelerating gold-related ETF rises worldwide, and as the world comes out of the coronavirus lock-downs, gold's supply/demand fundamentals may be improving. While what we expect to be a severe equities plunge, coupled with perhaps a declining dollar index, should further enhance gold's appeal as the ultimate safe haven investment – which should drag silver up with it.  In our view the prospects look positive for both principal precious metals.
---
He's one of the few financiers in the "Master of the Universe" class that understands gold and economics. Frank knows what he's talking about. I suggest you read this closely.
In the last cycle, it was QE. It wasn't printing money; it was QE because it sounded better. It was much more calming and elegant to call it that. It almost rolled off your tongue.
They will never call it money printing.
The new and popular handle is Modern Monetary Theory. But it's the same old Ponzi scheme. It's still plain old money printing.
---
I have a lot of sympathy in these conversations. The fact that people don't know much about gold today is not exactly their fault. The economics establishment of policymakers, academics and central bankers have closed ranks around the idea that gold is a taboo subject.
You can teach it in mining colleges, but don't dare teach it in economics departments. If you have a kind word for gold in a monetary context, you are immediately labeled a "gold nut," "gold bug," "Neanderthal" or something worse. You are excluded from the conversation. Case closed.
It wasn't always this way. I was a graduate student in international economics in 1973-1974. Many observers believe that the gold standard "ended" on August 15, 1971 when President Nixon suspended the redemption of dollars for gold by foreign trading partners. That's not exactly what happened.
I was able to confirm this plan with two of Nixon's advisors who were with him at Camp David in 1971 when he made the announcement. I spoke to Kenneth Dam (an executive branch lawyer) and Paul Volcker (at the time, the Deputy Secretary of the Treasury). They both confirmed that the suspension of gold redemptions was meant to be temporary, and the goal was to return to gold at new prices.
The PHOTOS and the FUNNIES
STAY INFORMED! Receive our Weekly Recap of thought provoking articles, podcasts, and radio delivered to your inbox for FREE! Sign up here for the HoweStreet.com Weekly Recap.