June 17, 2020 | A 'V' Recovery is Not Possible! Why?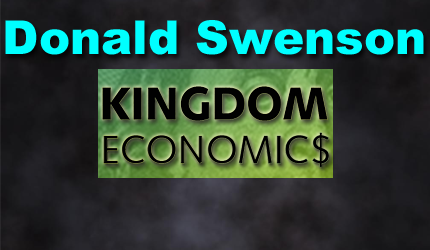 Donald B. Swenson: Born January 24, 1943, Roseau, Minnesota. Graduated H.S. 1961, Moorhead High, Minnesota. Graduated College 1968, Moorhead State University, Minnesota. Designated member of Appraisal Institute (MAI), 1974. Employed with Western Life Insurance Company, 1968 – 71; Iowa Securities Company, 1971 – 73; American Appraisal Company, 1974 – 81. Part-time teacher/valuation consultant/bartender, 1979 – 2008 (taught workshops at Waukesha County Technical Institute, Wi. and Madison Area Technical College, Wi.). Retired 2008 (part time teacher/blogger), AZ. Self educated economist/philosopher/theologian: http://kingdomecon.wordpress.com.
The 'V' economic recovery is distorted as our media plays up our 'virtual' stock market as the reference point for this recovery. But what does our REAL economy reveal?
The Trump administration along with his economic advisors continue to claim that our economy will explode upward giving us a 'V' recovery. Mr. Trump claims that a 'rocket ship' recovery is in progress. What is reality and what is myth. Let's think about our REAL economy (ignoring the manipulated stock markets). These virtual stock markets do not tell the full story.
First of all, there are many positives in motion as I write. Our Gross National Product is now going up (slowly). Real estate values have not collapsed as yet (for residential properties). Warehouse space is in high demand as more people buy their needs on-line. Auto sales have started to pick up (slightly). But let's also look at the negatives which are growing and hindering this 'V' recovery.
1. The leisure industry is in collapse mode. Hotels are laying off employees and New York plans to close some 20% of all their hotel rooms. Occupancy rates are much below break-even and this spells bankruptcy for many.
2. The airline industry has a major problem which is unlikely to be solved quickly. Major airlines are in survival mode and small carriers have insufficient resources to grow or expand.
3. Manufacturing is shrinking and with leisure and airlines in trouble this industry can not fully recover. China is also in trouble as their exports are down.
4. Consumer spending (which makes up some 67% of our GDP) is down across all industries (globally). Credit card debt is now declining for the first time since the 2008 financial crisis. Only groceries and on-line food products are growing. This spells trouble for any 'V' recovery prognosis.
5. The percentage of consumers who are late in their auto payments has risen to its highest level in eight years. Also, millions of homeowners are delaying their mortgage payments. This must end prior to any real 'V' recovery.
6. Valuations of commercial real estate have declined precipitously since March of 2020. Vacant office, retail, and industrial space means that new construction can not occur until vacancy rates decline substantially. This is unlikely to occur in 2020.
7. Finally, this Covid-19 virus is not being solved (in any permanent manner). Record spikes in new coronavirus cases reported in six U.S. states. Nine states hit new record highs even as our esteemed Vice President claims there will be no 2nd wave. U.S. deaths are now at 119,000 (739 new deaths as I write). Will this issue die in 2020? I say, unlikely!

Conclusion: It appears that our International Monetary Fund (IMF) economists could be correct. The economic recovery is far from happening in any meaningful manner. Our stock markets are also decoupled from the reality of our REAL economy and this deceives many. These virtual indices can go UP and UP even as our real economy suffers further declines. Have you noticed how these virtual markets ignore any negative news? This happens as our trading algorithms can pump up these indices even as our real economy declines.
Our Fed will attempt to 'back-stop' all our bankrupt industries but this will get old as this economic downturn develops further. All the stimulus has hidden the real problems (temporarily) but this will change as the year continues. You can follow some of the numbers for our economy here: http://www.usdebtclock.org. This website gets updated regularly and if a major change in trends were to develop, I will report this change.
As I write, the issues are confusing as our markets are totally distorted with news stories which reflect only the special positives that develop. If retail sales go up from a bottom collapse number this is reported as a 'V' recovery issue. All this media distortion gives many thinkers a false confidence…as the real issues are ignored. As I write we are in a recession for the world economy and this is likely to turn into a depression by the end of 2020.
I don't think our central planners can reverse the trends so that a new 'V' recovery develops. But I will watch the rhetoric of Mr. Trump and his economic advisors for leading clues as to what might happen going forward. Also the rhetoric of Mr. Powell could change events going forward. All is confusing as our virtual markets are mostly 'imaginary'. I now experience our financial affairs within my inner 'consciousness'. Amazing change since 2008!
Have a great day as you do your own thinking on all these issues. I am: https://kingdomecon.wordpress.com.
STAY INFORMED! Receive our Weekly Recap of thought provoking articles, podcasts, and radio delivered to your inbox for FREE! Sign up here for the HoweStreet.com Weekly Recap.