May 29, 2020 | Who's Getting The Biggest Bail-Out? Believe It Or Not, It's The Gold Miners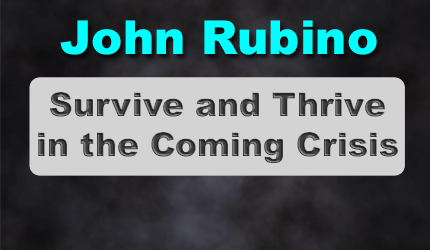 John Rubino is a former Wall Street financial analyst and author or co-author of five books, including The Money Bubble: What To Do Before It Pops and Clean Money: Picking Winners in the Green-Tech Boom. He founded the popular financial website DollarCollapse.com in 2004 and sold it in 2022.
With the exception of Amazon and Netflix, pretty much every big financial entity out there is lining up for a bailout. And governments everywhere are obliging. The European Union's latest "relief" package totals nearly $1 trillion. Japan's is even bigger, at $1.1 trillion. Even the Swiss National Bank is adding to its tech stock portfolio (which — because such buying weakens the Swiss franc — is a bailout for that country's exporters)
The money thus created is being spread around pretty widely. But the biggest benefit, believe it or not, is going to the gold miners because they get a cut of everyone else's bailout. Consider:
When the airline industry gets its $50 or so billion, the world thinks two thoughts: 1) "That'll keep Delta, United et al flying for a while so at least they won't go bankrupt right away," and 2) "So the Fed is going to print another $50 billion. That's kind of scary."
The first thought changes with the entity being saved. But the second adds to a generalized sense of dread about the impact of rampant currency creation on today's backed-by-nothing, conjured-out-of-thin-air dollars, euros and yen.
And the more persistent this worry, the more interested everyone – central banks, hedge funds, individuals – becomes in finding a place to hide out against a possible currency crisis.
In other words, each new bailout strengthens the case for history's go-to safe-haven asset, gold.
This explains why, in the midst of a potential tsunami of deflationary defaults, the gold price is now at record levels nearly everywhere and is knocking on that door in the remaining exceptions like the US and Switzerland.
A rising gold price increases the miners' revenue while operating costs (mainly labor and fuel) are flat to falling. The result? Widening profit margins at a time when other sectors from transport to hospitality to real estate are seeing profits evaporate.
So gold miners win twice, once in nominal terms as their earnings rise, and once in relative terms as their earnings outperform everyone else's.
When the media figures this out, the coverage will be catchy. Here's a very early and relatively staid example:
Newmont, the world's largest gold miner, reported a more than ninefold rise in earnings in the first quarter thanks to higher gold prices and increased production from newly acquired mines.

The Colorado-based company said net income had risen to $822m in the three months to March 31, from $87m in the same period a year earlier.

The gold price is up 12 per cent since the start of the year as investors seek haven assets while the coronavirus crisis wreaks havoc in other markets.

Revenues in the quarter rose 43 per cent to $2.58bn. The company said the average realized price for its gold had risen by $291 an ounce from a year earlier to $1,591 a troy ounce.

Shares in Newmont have risen 40 per cent this year to trade at $58.32 on the New York Stock Exchange.
Now contrast Newmont's blockbuster results with the vast bulk of upcoming earnings reports, which will look like this:
Macy's said Thursday it expects first-quarter sales to fall by as much as 45%, and it could report a loss of more than $1 billion, largely because of the Covid-19 crisis.

Macy's has said it doesn't expect to report fiscal first-quarter earnings until July 1 because of disruptions stemming from the pandemic.

But the worst is not behind it. The company is expecting profits during the second quarter to be pressured even more than during the first quarter, management said Thursday morning during a virtual fireside chat with J.P. Morgan analyst Matt Boss. Promotional activity is going to be heightened to try to sell stale merchandise, it said.
The result? Gold mining's Holy Grail, "generalist money," is pouring in from people who don't normally pay attention to precious metals or the companies that mine them. This money is less discriminating and much, much bigger than what the miners are used to seeing. So the effect on their share prices could be spectacular.
STAY INFORMED! Receive our Weekly Recap of thought provoking articles, podcasts, and radio delivered to your inbox for FREE! Sign up here for the HoweStreet.com Weekly Recap.