May 23, 2020 | Trading Desk Notes May 23, 2020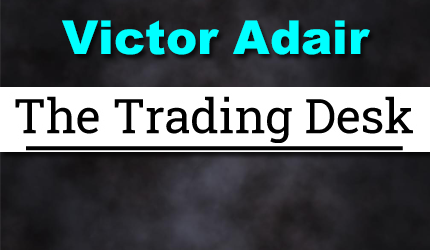 Victor Adair, author of The Trading Desk Notes, began trading penny mining shares while attending the University of Victoria in 1970. He worked in the mining business in Canada and the Western United States for the next several years and also founded a precious metals trading company in 1974. He became a commodity broker in 1977 and a stock broker in 1978. Between 1977 and his retirement from the brokerage business in 2020 Victor held a number of trading, analytical and senior management roles in Canada and the USA. Victor started writing market analysis in the late 1970's and became a widely followed currency analyst in 1983. He started doing frequent media interviews in the early 1980's and started speaking at financial conferences in the 1990's. He actively trades his own accounts from The Trading Desk on Vancouver Island. His personal website is www.VictorAdair.ca.
I've been trading small size with tight stops. Choppy price action keeps my conviction level low. My bias is that demand destruction has been incredible…with a good chance that it gets worse before it gets better…so I think this is bear market rally…but I have to respect the fact that risk assets won't break down.
This may be another Wile E. Coyote moment in stock market history…if bullish enthusiasm has taken prices to the point where they are vulnerable to a "news item" setting off a cascade of selling…or prices may be just reflecting our new reality where massive government and central bank stimulus more than offsets the economic destruction caused by the virus and the lock downs.
My gut feeling is that this virus/lockdown thing is really BIG…that it's not going away…and it will precipitate major transitions not just in markets but in society too. Major transitions will produce major trading opportunities if I can keep an open mind to what is happening.
I think it's easy to imagine that consumer spending won't quickly go back to pre-virus levels…but what about consumer savings? Will the psychological effects of the virus/lockdown cause some consumers to try to "save" more? Will they turn their backs of the marketing machine that sucked them into more and more monthly payments just so that they could have more "stuff?"
The head of the IMF has called for all banks to stop buybacks and dividends. The IMF is anticipating a nasty recession for 2020 and only a partial recovery in 2021 and is calling for banks to retain earnings to build capital in the system. If banks don't voluntarily stop buybacks and dividends then, "Supervisors should take the decision for them."
The US Dollar really illustrates the choppy price action of the past couple of months. In general terms the USD has been bid as a "safe haven" when the market has the jitters and its offered when market psychology goes risk on.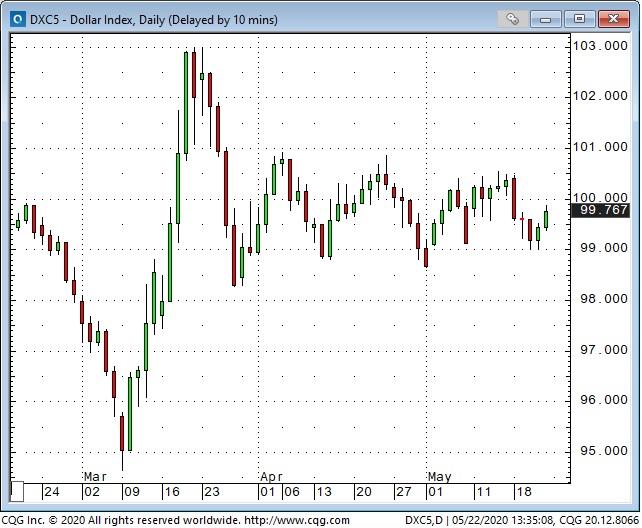 The "Internet stocks" have been the big winners since the March lows: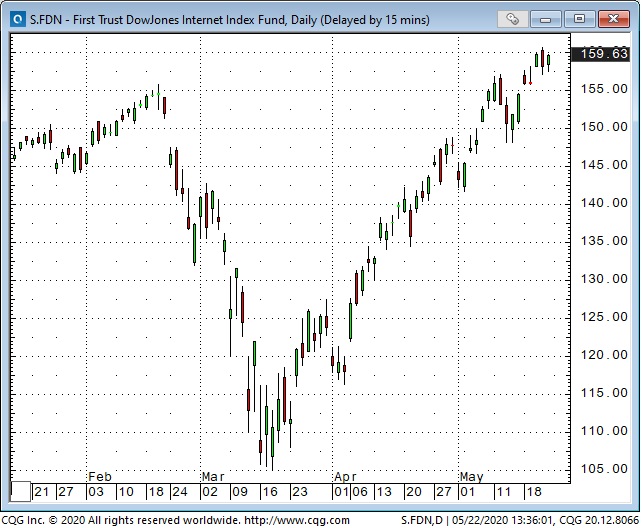 The financial sector has drifted sideways after recovering from the March lows. Ultra-low interest rates and flat yield curves are not a great thing for the banking sector: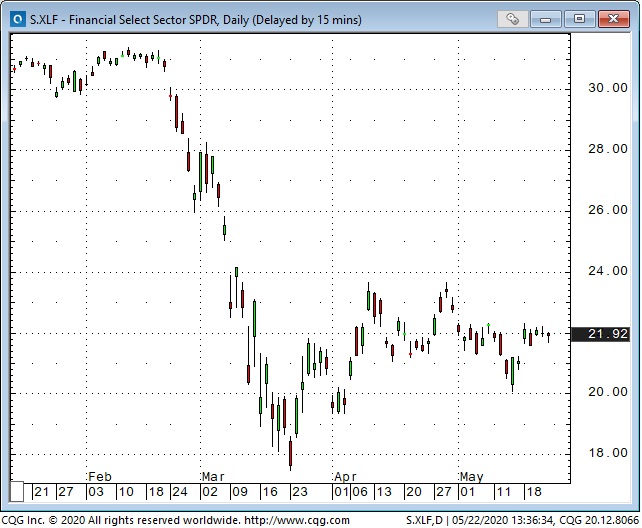 The S+P 500 had its best weekly close in over 2 months. A market that closes the week strong ahead of a long weekend is clearly not worried!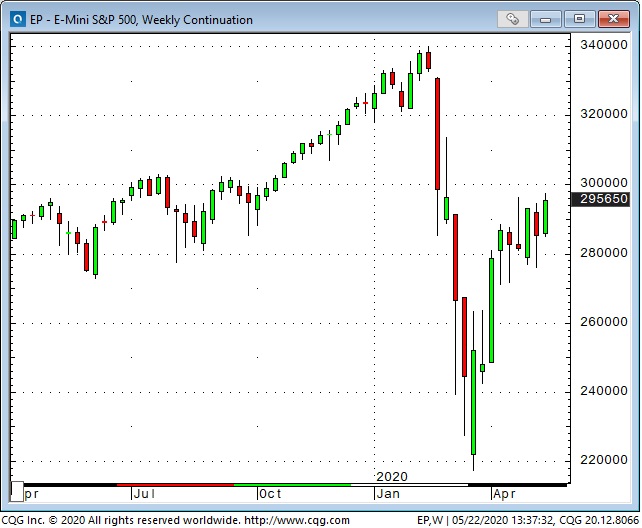 The bond market has gone broadly sideways the past couple of months…with yields near All Time Lows…even though the government will be issuing a tsunami of debt: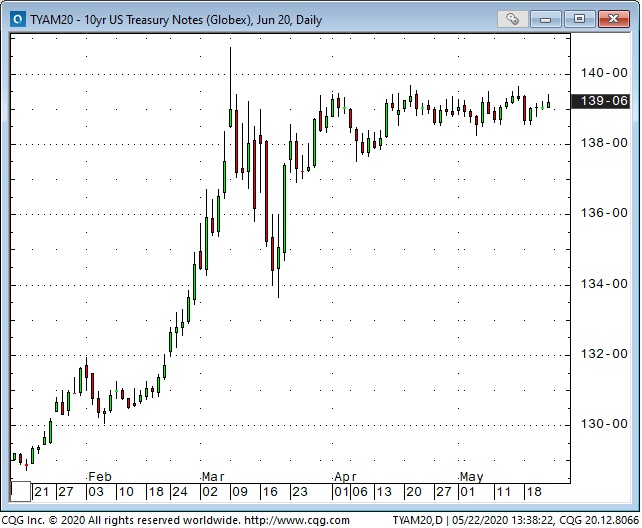 Crude oil has had a strong rally ever since the market briefly plunged into negative prices a month ago. Supply has been reduced with production cutbacks and global demand has picked up…while the existential worries about lack of storage have faded.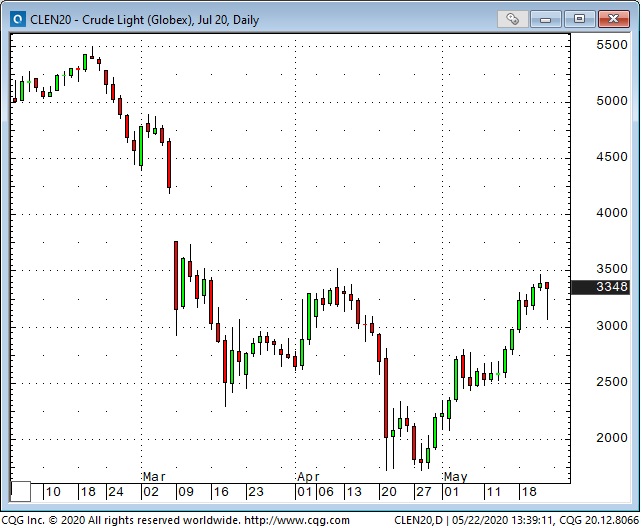 Gold has also had very choppy price action but has stayed near its recent 8 year highs.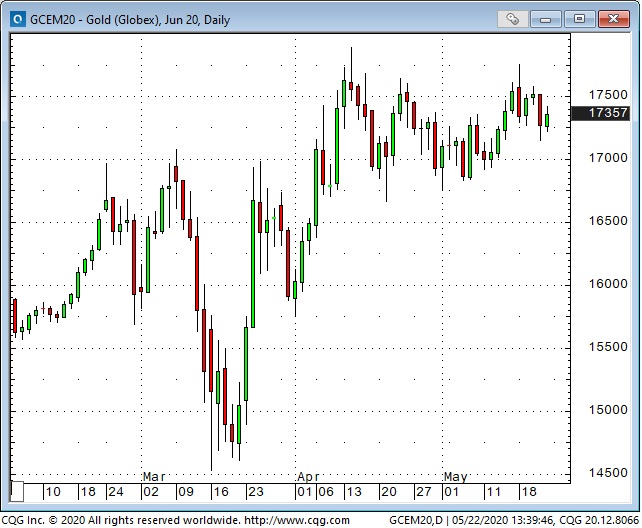 My short term trading: I bought MEX last week…it had an interesting wedge pattern and I thought it might rally with the stock market. It did and I closed out the trade for a profit mid-week when I thought  risk on sentiment was fading. I gave those profits back, and more, shorting the Russell. I ended the week flat.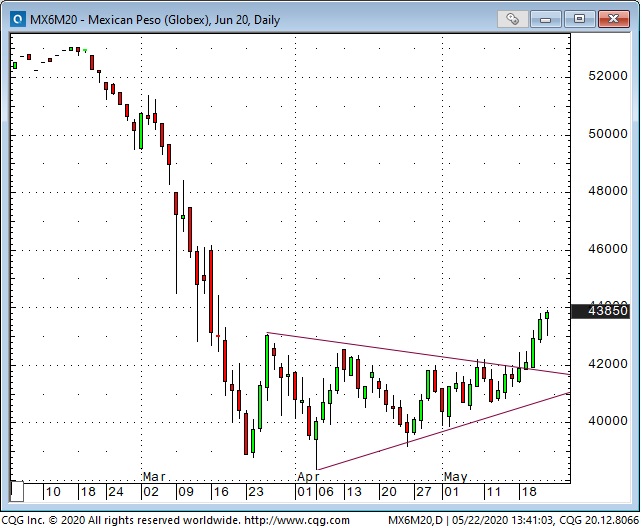 My son Drew Zimmerman and I use the futures market to trade currencies, metals, interest rates, stock indices, energy and other commodities. Please give us a call or send us an email if you'd like to know more about trading futures.
Victor Adair
SVP and Derivatives Portfolio Manager
PI Financial Corp
Canada
PI Financial Corp. is a Member of the Canadian Investor Protection Fund. The risk of loss in trading commodity interests can be substantial. You should therefore carefully consider whether such trading is suitable for you in light of your financial condition. In considering whether to trade or the authorize someone else to trade for you, you should be aware of the following. If you purchase a commodity option you may sustain a total loss of the premium and of all transaction costs. If you purchase or sell a commodity futures contract or sell a commodity option or engage in off-exchange foreign currency trading you may sustain a total loss of the initial margin funds or security deposit and any additional fund that you deposit with your broker to establish or maintain your position. You may be called upon by your broker to deposit a substantial amount of additional margin funds, on short notice, in order to maintain your position. If you do not provide the requested funds within the prescribe time, your position may be liquidated at a loss, and you will be liable for any resulting deficit in your account. Under certain market conditions, you may find it difficult to impossible to liquidate a position. This is intended for distribution in those jurisdictions where PI Financial Corp. is registered as an advisor or a dealer in securities and/or futures and options. Any distribution or dissemination of this in any other jurisdiction is strictly prohibited. Past performance is not necessarily indicative of future results
STAY INFORMED! Receive our Weekly Recap of thought provoking articles, podcasts, and radio delivered to your inbox for FREE! Sign up here for the HoweStreet.com Weekly Recap.