May 3, 2020 | The Next Big Bullish Force in Gold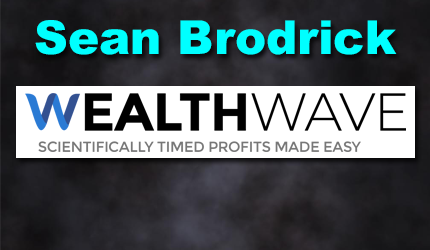 Sean is the natural resource analyst for Weiss Ratings. You can read his thoughts on gold, oil, cannabis, uranium and other natural resources at Wealth-Wave.com
Gold gave back some gains this week. The reasons are threefold, and I'll talk about each of them in a bit.
But there's a force lining up to push gold much higher, and you need to know about that, too.
So why did gold drop this week? Well, firstly, nothing travels in a straight line. Even the most bully of bull markets need to rest.
Secondly, there is promising news on a COVID-19 treatment from Gilead Sciences (NYSE: GILD). My Wealth Megatrends subscribers were way ahead of the market on this; on Friday, we banked nice gains on half the position. Note that Gilead's drug, Remdesivir, is not a cure or even a vaccine. But studies show it does ease COVID-19 symptoms.
Thirdly, more and more countries around the world — and states in the U.S. — are easing their pandemic restrictions. In fact, Denmark has been gradually easing restrictions since mid-April. More importantly, there HASN'T been a surge in new cases in Denmark afterward. Britain, Italy, France and Germany are all planning on easing restrictions very soon, too.
Here in the U.S., one state after another is finding ways to get businesses back open and employees back to work.
These last two factors ease some investors' fears about the global economy. And so, they are less likely to put money in safe havens — like gold.
Mind you, I think such optimism is really premature for several reasons. For starters, we know that the White House is getting ready to slap punitive measures on China for its role in the spread of the virus.
And we're currently facing a global economy that is in shambles.  Here in America, we have soaring unemployment, plunging home sales, major companies considering bankruptcy one after another and more.
Now let me show you two charts that are very interesting.
Pandemic Fueled Investor Surge into Gold
The first quarter of the year saw investors catch gold fever. That's according to the World Gold Council. Total gold investment demand climbed by 80% year-over-year to a four-year high of 539.6 metric tons in the first quarter.
That 539.6 metric tons of total investment demand included inflows of 298 metric tons for gold-backed ETFs to record-high holdings of 3,185 metric tons for the quarter. Total global first-quarter gold demand was at 1,083.8 metric tons, up 1% from the same period last year.
Take a look at this chart of gold buying in the first quarter of 2020 compared to the first quarter of last year …
You can see how gold buying shifted. Most notably, gold jewelry purchases fell a lot. That's no surprise because most gold jewelry purchases are a luxury made in person. Coronavirus restrictions have made that impossible.
But even as jewelry demand dipped, ETF demand for gold surged! See how the blue bar on the chart went from skinny to fat? That's investors charging in.
If restrictions are lifted, we're likely to see a lot of consumer demand for gold come back into the market and that could push gold prices higher going forward.
But that's not the only big force I'm talking about today. I have another chart for you …
Negative-Yielding Debt Is Rising Again
In 2018, we saw total negative-yielding debt around the world surge higher. This was due to strains on the financial system, even on central banks. And as you can see, that rise in negative-yielding debt sparked higher gold prices as investors sought safety.
There's another reason the amount of negative-yielding debt impacted the price of gold: It levels the playing field. One of the arguments that the bears like to make about gold is it pays no interest. Well, when government debt has a negative yield, gold shines by comparison.
The negative-yielding debt crisis peaked in 2019 when it went up to more than $16 trillion! That caused another rally in the gold price. I wrote about it at the time.
The crisis passed, and the amount of negative-yielding debt fell hard earlier this year. Gold prices pulled back a bit, but not much. Gold's strength was due to other bullish forces I've covered in other columns.
Now, though, the amount of negative-yielding debt is starting to rise sharply again. What do you think happens next? If history is a guide, gold is going much higher.
There are many ways to play this. Miners are leveraged to the underlying metal, so I'd recommend buying good quality miners even more than I would recommend gold itself.
If you don't want to research individual stocks, you can always buy the VanEck Vectors Gold Miners ETF (NYSE: GDX). The next surge higher is likely around the corner.
All the best,
Sean
STAY INFORMED! Receive our Weekly Recap of thought provoking articles, podcasts, and radio delivered to your inbox for FREE! Sign up here for the HoweStreet.com Weekly Recap.