May 4, 2020 | The Bull Trap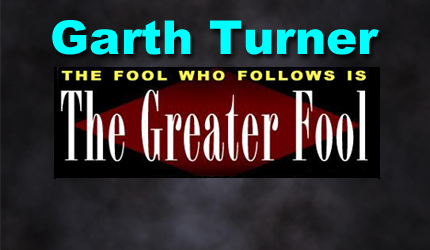 A best-selling Canadian author of 14 books on economic trends, real estate, the financial crisis, personal finance strategies, taxation and politics. Nationally-known speaker and lecturer on macroeconomics, the housing market and investment techniques. He is a licensed Investment Advisor with a fee-based, no-commission Toronto-based practice serving clients across Canada.
Do you agree with the following?
Virus spending's off the charts. Governments can't just borrow the money from the Bank of Canada, which creates it out of faerie dust and unicorn flatulence (as the Mills believe). So taxes are going up. A lot.
Interest rates have collapsed (look at bond yields – incredible). Mortgages are dropping. This is the sign of an unhealthy economy.
Recovery will come. The sun will shine again. Companies will make money and hire people back. But it will take ages. Air Canada (earnings off 90%) says three years to restore its business. Ouch.
We're in the process of creative destruction. Much will change. People will piddle away less money on vacations and bamboo flooring. Consumer spending will fall. Employers will get lean. More will work remotely. Many unemployed will not be employed again.
The fact 720,000 families couldn't make mortgage payments and asked for six months of forbearance is significant. Borrowed time. It ends in September.
Cities are stressed. Condos are unappealing now. Public transit is a costly sinkhole. Vast sporting arenas and convention centres will be empty for a long time. Real estate revenues down, costs up. Property taxes and utility costs will have to rise. Defined-benefit pensions will have to be reviewed.
Unemployment was a bit over 5% in February, then 7.8% in March. On Friday we will hear it was 18% or more in April. About five million just lost their jobs in a month. And it will take maybe five years before all those positions are restored. Look at this:
Click to enlarge: it's ugly.
If you think the above is realistic, you know we're closer than ever to a real estate reset in Canada. Yes, markets will bubble higher this summer as restrictions are eased and pent-up demand unleashed. Realtors will crow and mince around cockily. But it's impossible to have a vibrant property scene when (a) the jobless rate is in double-digits, (b) income stress is everywhere, (c) taxes are increasing, (d) mortgage deferrals are ending and (e) governments fear a second Covid wave, keep social distancing in place and continue to terrify people.
The summer housing rally will be a bull trap.
This week we're getting the latest stats out of Canada's two bellwether markets. We know sales of condos in Toronto just declined 81% and detached deals were off 69%. And in Vancouver realtors report a 56% reduction in overall deals last month while the days-on-market number explodes more than 85%.
But will prices follow the sales numbers down?
Vancouver analyst Dane Eitel is warning his clients that a drop of $100,000 in average detached prices last month is just the start. Do not buy, he warns.
Don't try to catch this falling knife. Prices are down over $230,000 from the peak which is good. It will become even more attractive with time. As prices decline to 1.40 Million that will exemplify a discount of $430,000 to the market from the peak. There is no rush to enter this market, we suggest patience.
As social distancing is eased, inventories will rise. As mortgage deferrals end, more cash-stressed households will list. "With few options remaining, selling real estate will become an unfortunate necessity. Which will inevitably lead to foreclosures coming to the market as well. None of which puts pressure on the buyers," he says. "If selling, take the hit early before the knockout punch is landed."
*     *     *
Ben works in SF for one of those fancy new-age, digital, collaborative tech outfits. "For the first time, I feel compelled to write in and challenge something you wrote," he says. And he quotes me as stating: "The jobless crisis didn't happen because the economy choked on its own (as in 2008) but because politicians choked it off. The public health emergency has been unique in our lifetimes and deliberately gutting the GDP to stop it was an exercise never before tried in modern times, or on a global scale."
Here is his letter. Bears passing on to you…
So, I'm here in San Francisco, the first North American municipality to go shelter-in-place. I can tell you that before government action, the area's biggest employers had already made steps to protect their employees: letting them work from home, in many cases mandatory. My employer did the same: a week before shelter-in-place was instituted, everyone was forced home. At the time there were only like 50 confirmed cases in the region.

During this period the city was quickly becoming a ghost town. Less people on the street, less people on public transit; the city's white collar workforce staying at home. Coffee shops, restaurants, caterers, etc. were already feeling the pinch.

Even now with governments starting to ease up, the big employers are not going to race back to the way it was. Salesforce, Facebook, Google – they're going to keep their 100,000s of employees at home, and local business will struggle to resume. Government has nothing to do with it.

This virus was going to impact us one way or another economically. I agree that government action exacerbated the situation, but your comments read like they're the singular cause, and it hurts the rest of your writing that I've really come to enjoy over the years. Hope these anecdotes have some measure of influence on what you write next.
Good points. Indeed these corporations were leaders in social distancing and remote working. But governments have been directly responsible for ordering many businesses shut. Hairdressers, retailers, landscapers, dentists, cleaners, chiropractors, chefs, pilots, waiters and fabricators don't have the luxury of working from a keyboard at home, keeping their incomes. In large part unemployment – and the massive cost of supporting those workers – has been the direct result of political decisions. And now governments find it's a lot harder to turn stuff back on than it was choking it off. Most tragically, it's the low-wage earners – not the six-figure Google kids – getting whacked by this.
We all see through our own lens, Ben. Sometimes clearly. Often not.
STAY INFORMED! Receive our Weekly Recap of thought provoking articles, podcasts, and radio delivered to your inbox for FREE! Sign up here for the HoweStreet.com Weekly Recap.