May 3, 2020 | The Big Unlock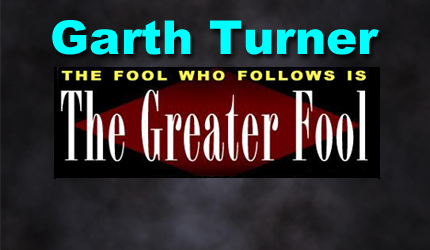 A best-selling Canadian author of 14 books on economic trends, real estate, the financial crisis, personal finance strategies, taxation and politics. Nationally-known speaker and lecturer on macroeconomics, the housing market and investment techniques. He is a licensed Investment Advisor with a fee-based, no-commission Toronto-based practice serving clients across Canada.
Alex asked a simple question of me on the weekend:
Should we make some low ball offers on houses that have been on the market for a while (given current state of market and low level of competition) while this pandemic is still going on? Or should we wait a bit, once it becomes apparent that real estate has jumped the shark, sellers get desperate/insolvent and listings start to pile up?

We have some flexibility in timing for buying a house, and don't want to catch a falling knife… So I guess my question is: is it a good time to buy? 😉
Sadly I must utter the three words that pain me the most. I don't know.
There, I've said it. Judge me. But first an explanation why this blog (or anyone else) won't have the foggiest about what comes next until this week has ended. Or beyond. Here's why…
The jobs massacre.
Friday will be epic. Historic. Remember that day since it's unlikely you'll see this again: a jobs report telling us 5 million Canadians have lost their incomes and the unemployment is 20%. Actually Scotiabank economist Derek Holt says the jobless level would be an unbelievable 35%, were it not that four million people have given up looking for work.
Remember the unemployment level hovered near 5% a few months ago. Thus, we have the largest, fastest, ugliest spike in history.
Ditto in the States. Poor Trump. In one month all the jobs – 23 million of them – created in the last ten years vanished. Thirty million are on the dole there and eight million here. This is the worst performance since the 1930s and ten times the drop at the end of WW2 when the economy demobilized from its war-time high. The US rate will travel from 3% pre-virus to 16% now. Ouch.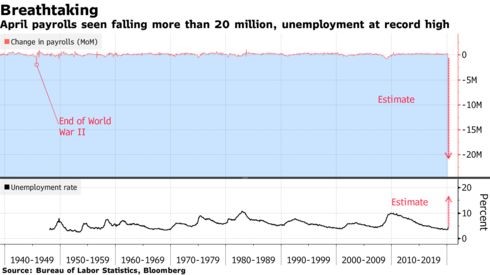 But it's all temporary, right?
Yeah. It is. The jobless crisis didn't happen because the economy choked on its own (as in 2008) but because politicians choked it off. The public health emergency has been unique in our lifetimes and deliberately gutting the GDP to stop it was an exercise never before tried in modern times, or on a global scale.
So what happens when it gets turned back on? How fast will the rebound be? How much pent-up demand? Will consumers burst out of lockdown and swarm stores, take vacations and buy cars – or not?
This, Alex, is what we don't yet understand. Consumer sentiment is key to where real estate (and the whole economy) goes in the coming months. Polls show media and governments have done a bang-up job scaring the crap out of people. Most Canadians think they'll probably get the bug and, if they do, die. The stats tell us under 1% are infected and 96% of those have mild symptoms. But no matter. We're terrified. This is why Warren Buffet dumped $6.5 billion in airline stock. You should pay attention to that. Turning on the economy will be a lot harder than turning it off. And the longer this takes, the poorer the outcome for real estate, hospitality, travel, tourism, oil and Alberta.
So people have lots to spook them.
Car sales were down across Canada 74% in April. There are now 720,000 families who have asked for mortgage deferrals, or 15% of all those with home loans. A record, of course. This is twice the number that requested help in the US (7%). Obviously too many folks own real estate they can't afford, and lenders have a lot of 'splaining to do.
Major real estate boards (Toronto, Montreal, Vancouver) report their April numbers this week. They will be a disaster. Big headlines. As of last week there was a decline of 81% in condo sales across the GTA and a 79% dip in 416. Detached sales were down 69% in Toronto. Showings/appointments are averaging 30 a day, compared to a normal 130. But broker Stephen Glaysher says, optimistically, "We have reached the bottom of the market."
Not so in Calgary. This is what the realtor's in-house economist there says:
"COVID-19 changed everything. Our city and province face the additional challenge of the dramatic shift occurring in the energy sector. The uncertainty in the market is expected to cause a dramatic decline in housing demand over the second quarter. With social distancing expected to soften by the third quarter, the pace of the decline in sales will ease by the third and fourth quarter. However, a turnaround in sales is not expected by the end of the year, as the financial implications for many households will have lingering effects."
Exactly. Lingering effects. Collateral damage. Wounded consumer confidence. How much, and how deep?
Conclusion:
Canadians are cocooning, frightened, with millions living off government handouts and bombarded with negative news. Unprecedented fiscal and monetary stimulus has resurrected financial markets, but the future now hangs on consumer confidence. Key is the ability of governments to unlock the lockdown without a surge in new cases – and the economy functioning in an age of social distancing with realtors in nitrile gloves and little blue masks.
So, Alex, this much is clear: people listing houses now have to sell. Otherwise they wouldn't. They're motivated and ripe for a lowball offer. Second, once the restrictions ease expect a flood of new listings – maybe more supply than demand in some markets. Prices will be unrealistic, as sellers try to exit at early-March levels. Wait them out. Because the real gush of listings comes when the six-month mortgage deferrals run out – September. Meanwhile the unemployment rate of 20% or higher now is not going back down to 5% any time soon. Widespread income loss and social distancing are negatives for houses. Plus we're being told to expect a Covid-19 rerun (of some kind) in the autumn.
So if there's a property on the market you like now, give it a shot. If not, wait for the fall surge amid a new spate of scary headlines. Then strike.
I guess I knew after all. How reassuring is that?
STAY INFORMED! Receive our Weekly Recap of thought provoking articles, podcasts, and radio delivered to your inbox for FREE! Sign up here for the HoweStreet.com Weekly Recap.