May 31, 2020 | After the Handouts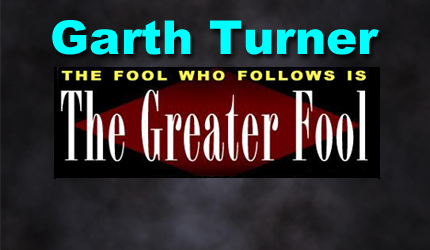 A best-selling Canadian author of 14 books on economic trends, real estate, the financial crisis, personal finance strategies, taxation and politics. Nationally-known speaker and lecturer on macroeconomics, the housing market and investment techniques. He is a licensed Investment Advisor with a fee-based, no-commission Toronto-based practice serving clients across Canada.
"I'm a fan of yours," Barry says, guaranteeing my fatuous attention. "I'd like to know your thoughts on what might the Canadian economy do once CERB runs out."
And he nails it. That's the question. The pandemic will end. The virus will leave town. A vaccine/therapy will be found. We'll have a long time to decide if the medicine matched the ailment. Was this a public health triumph which saved millions of lives? Or a Biblical overreaction lasting years which savaged a perfectly good economy?
Beats me. We'll know in a decade. Meanwhile, to Barry's point, how much of a mess are we walking into as the torrent of government money ends?
In case you missed some of the $300 billion in federal largesse, here's a little reminder of what the federal government has done (with money it didn't have). The Liberals have just taken a disturbing deficit run up by overspending in good economic times, and multiplied it ten-fold in a crisis. Yes, that's what governments are supposed to do. But paying people not to work after you've told them they can't be employed is a new thing. Will they want to work again, with the right to refuse? What about the jobs that are gone, gone? How does this fire hose of public cash get cranked off?
These are the major giveaways, now in full effect but scheduled to end.
The CERB. Two grand a month to anyone claiming (but not proving) they lost income because of the virus. Job loss or reduction, illness, quarantine, lockdown, disruption, fear of sickness, caring for a spouse, child or parent – it all qualifies. It started in March and ends in October and between those dates people can collect a total of $8,000, no tax deducted. Money can be received retroactively if applied for by December 2. Even earning just $1,000 a month working, qualifies for twice that amount if leaving that job. Once CERB ends, people can go on EI. Benefits are taxed as income.
Seniors get extra cash. If you're over 65 the OAS received is topped up by $300. People on GIS get an extra two hundred. Plus withdrawals from RRIFs and pension plans will be taxed 25% less this year.
Students receive $1,250 a month if the virus affected them in any way by cancelling classes or making a summer job scarce. If they held part-time employment, they can claim the CERB. Kids with disabilities get $2,000 monthly until August. People who volunteer will receive up to $5,000 more.
Employers are being paid money to give to employees for not working. The Canada Emergency Wage Subsidy (CEWS) covers up to 75% of payrolls, maxing at $847 per week per person. To qualify businesses must prove a 15% drop in revenues in March and 30% in May. There's also a wage subsidy program for non-qualifying businesses. Employees who share jobs can collect wages and also EI at the same time, for 76 weeks.
There's rent relief for businesses, too. The Canada Emergency Commercial Rent Assistance provides forgivable loans to cover 50% of three monthly rent payments during April, May and June. The mortgaged property owner must agree to reduce the tenant's rent by at least 75% under a rent forgiveness agreement, which will include a pledge not to evict the tenant while the deal's in place. The business covers only up to 25% of the rent.
Don't forget the loans. The feds put $65 billion into a fund (CEBA) to give businesses $40,000 each, of which ten grand is a gift. This is for companies with or without employees (including sole props), with other loan programs available to help major corporations.
Got kids? The T2 gang is sending you an extra $300 per child in CCB payments this month. The average family will collect $550. No tax. GST credit payments are being increased by $400 for singles and $600 for couples. And nobody needs to pay any income taxes owing for 2019 until the beginning of September.
In addition, people with mortgages can defer payments for six months. Astonishingly, 20% of everyone with a home loan is expected to ask for forbearance, which will ultimately increase their debt and payments. Renters are being subsidized by some provinces (like BC) while in most places governments have outlawed evictions, giving tenants the ability to live rent-free if they so choose.
The federal benefits will amount to between $250 and $300 billion. The mortgage forbearance is worth $4.2 billion. Nothing approaching this level of household, employee or business support has ever occurred in Canada. During the height of the 2008-9 financial crisis Ottawa shelled out a little more than $50 billion. That amount is now being spent monthly.
So what happens when it stops?
"I think if there's a vaccine that is widely believed in and Canadians have widely received it, that's a potential catalyst that could help, but by no means does that resolve all the challenges that may be experienced as a result of this," says Bay Street economist Craig Alexander (I respect him). "I think ahead of that, it's going to be really hard to see if we're getting anywhere close to where we were pre-pandemic."
Unemployment will be 15% or so by the end of the summer. A million families will have to make mortgage payments again. Five million folks will stop getting $2,000 in CERB each month. Small businesses will have to earn money to pay the rent, or fold. The economic numbers will be dramatically better, but only in comparison to the lockdown.
Barry, expect structural unemployment with double-digit joblessness well into next year. Government deficits will be obscene for a decade. Tax increases in the 2021 budget (following the election that Trudeau wins) could be stiff. Some form of UBI is likely. One viable airline, if we're lucky. Real estate will pop back to satisfy pent-up demand, then plunge. GICs, bonds and cash will pay nothing. Tourism, hotels, eateries, sports, concerts, conventions, food courts, festivals – kaput for a year or two. Big flow into equities. The wealth gap will widen. It's a recipe for social unrest and political activism. Look at Saturday night in America.
The virus turned out to be a killer. With accomplices.
About the picture: "I am a long time reader of your blog, and am in the construction business," says Don, in Vancouver. "I am currently at project on Vancouver Island. On out-of-town projects tradesmen often bring their dogs to the sites, and they are accustomed to handouts from the lunch buckets we pack. I took this photo to show my wife and she suggested that I send it to you, for possible use."
STAY INFORMED! Receive our Weekly Recap of thought provoking articles, podcasts, and radio delivered to your inbox for FREE! Sign up here for the HoweStreet.com Weekly Recap.