May 9, 2020 | A Very Constructive COT Report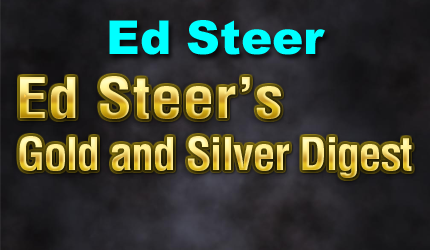 "Ed wrote the daily precious metal commentary for Casey Research starting in 2008. His stand-alone column became their most highly-rated blog [either free or paid] almost from the outset—and remained that way until he started his own subscription-based website in June of 2015."
 09 May 2020 — Saturday
YESTERDAY in GOLD, SILVER, PLATINUM and PALLADIUM
The gold price traded unevenly sideways to a bit lower until shortly before 1 p.m. China Standard Time on their Friday afternoon.  It crept a bit higher from there until the high tick of the day was set at, or just before, the 10:30 a.m. BST morning gold fix in London.  It was sold back to about the unchanged mark by the COMEX open in New York — and it then had a down/up move between then and around 10:35 a.m. EDT.  It was quietly down hill from there — and gold was closed close to its low tick of the day.
The high and low ticks were reported as $1,735.50 and $1,703.10 in the June contract.  The May/June spread differential was 4 dollars — and June/August was a bit under 13 bucks.
Gold was closed in New York on Friday afternoon at $1,702.90 spot, down $15.10 from Thursday — and about 24 dollars off its Kitco-recorded high of the day.  Net HFT gold volume was pretty light [but heavier than usual] at 173,000 contracts — and there was a bit over 71,000 contracts worth of roll-over/switch volume out of June and into future months in this precious metal.
The silver price had a bit of a down/up move starting 6:00 p.m. EDT in New York on Thursday evening — and from around 9:15 a.m. China Standard Time on their Friday morning, it really didn't do much of anything until it ticked higher about 1 p.m. BST in London, which was twenty minutes before the COMEX open.  It was sold lower even before the COMEX open — and the low tick was set around 8:50 a.m. in New York trading.  It rallied a decent amount over the next two hours, but 'da boyz' showed up to cap the price and turn it lower at 10:50 a.m. EDT.  It was sold lower until 12:15 p.m. EDT — and it crept a few pennies higher until trading ended at 5:00 p.m.
The low and high ticks in silver were recorded by the CME Group as $15.98 and $15.505 in the July contract.  The May/July spread differential was a tad under 4 cents — and July/September was a hair under 6 cents.
Silver was closed in New York on Friday afternoon at $15.475 spot, up 11.5 cents on the day — and 32.5 cents off its Kitco-recorded high tick of the day.  Net volume was nothing special, but higher than 'normal' at a hair over 54,000 contracts — and there was about 5,500 contracts worth of roll-over/switch volume on top of that.
The platinum price struggled higher until minutes before 12 o'clock noon in Zurich — and was then sold lower until 9 a.m. in New York. The ensuing rally was capped and turned lower around 10:25 a.m. EST — and it was all down hill until shortly after the COMEX close.  It added a few dollars in after-hours trading.  Platinum finished the Friday session in New York at $767 spot, up 6 bucks from its close on Thursday — and 14 dollars off its high tick of the day.
Palladium wandered very unevenly higher until the 2:15 p.m. afternoon gold fix in Shanghai on their Friday afternoon.  It was sold lower until shortly before 1 p.m. in New York, but from there it wandered quietly higher until the market closed at 5:15 p.m. EDT.  Palladium finished the day at exactly $1,800 spot, up 9 dollars from its Thursday close.
---
That precipitous decline in the dollar index between 10:05 and 10:55 a.m. in New York appeared to have no impact on the prices of either silver or gold.
I computed this index manually once again — and my calculations agreed exactly with that number.
---
Here are the usual three charts that show up in my Saturday missive.  The first one shows the changes in gold, silver, platinum and palladium for the past trading week, in both percent and dollar and cents terms, as of their Friday closes in New York – along with the changes in the HUI and the Silver 7 Index.
As per the COT and Days to Cover discussion a bit further down, the Big 8 traders are still mega short both gold and silver in the COMEX futures market…particularly in silver.  JPMorgan is out of its short positions in both — and is actually long the COMEX futures market in silver by 3,000+ contracts according to Ted.
---
Month-to-date there have been an astonishing 6,281 gold contracts issued/reissued and stopped…which is amazing considering that this is not a regular delivery month for gold.  There have been 8,569 silver contracts issued/reissued and stopped so far this month as well.
---
Month-to-date the mint has sold 7,000 troy ounces of gold eagles — and that is all.
---
---
They arrived at that number by reducing their long position by 1,964 contracts, but they also reduced their short position by 4,873 contracts — and it's the difference between those two numbers that represents their change for the reporting week.
Under the hood in the Disaggregated COT Report it was all Managed Money traders and then some, as the decreased their net long position by 4,022 contracts.  The traders in the 'Other Reportables' category increased their net long position by 1,432 contracts — and the 'Nonreportable'/small traders decreased their net long position by a smallish 319 contracts.
Doing the math:  4,022 minus 1,432 plus 319 equals 2,909 contracts…the change in the Commercial net short position.
The Commercial net short position in silver is now down to 33,948 contracts, or 169.7 million troy ounces.
The Big 4 traders are short 264.5 million troy ounces — and the Big 5 through 8 large traders are short another 104.0 million troy ounces on top of that, for a total of 368.5 million troy ounces held short by the Big 8 traders…217 percent of the Commercial net short position — and the CFTC and the miners do nothing!   As I stated last week in this space, this grotesque short position is the sole reason the the price of silver is sitting where it is.
With the new Bank Participation Report in hand, Ted has recalibrated JPMorgan's long position in silver to only 3,000 contracts…which is down from the 7-10,000 contracts that he thought they might be long in last week's COT Report.
Since the Tuesday cut-off, there certainly has been an increase in the Commercial net short position in silver, as its 50-day moving average was broken to the upside, as Ted figured the that Managed Money traders were going long in a big way…which means the Big 8 traders were increasing their short positions even further.
---
They arrived at that number by increasing their long position by 5,143 contracts — and the also reduced their short position by 6,850 contracts.  It's the sum of those two numbers that represents their change for the reporting week.
Under the hood in the Disaggregated COT Report, it was all Managed Money traders, plus a bunch more, as they reduced their net long position by 13,165 contracts.  The traders in the other two categories didn't do much.  The 'Other Reportables' increased their net long position by a scant 440 contracts — and the 'Nonreportable'/small traders increased their net long position by 732 contracts.
Doing the math:  13,165 minus 440 minus 732 equals 11,993 contracts, the change in the commercial net short position, which it must do.
The commercial net short position in gold is back down to 28.16 million troy ounces, as this week's numbers in gold pretty much reversed the deterioration that was in last week's COT Report.
The Big 8 traders are short 25.45 million troy ounces…a hair over 90 percent of the total commercial net short position in gold.
Ted says that JPMorgan is neither long nor short the COMEX futures market in gold.
The COT Report for both gold and silver is as washed out to the downside as it's possibly going to get, as the Managed Money traders have shown no signs whatsoever of going back to being mega-short either gold or silver in the COMEX futures market.  And since they aren't about to, that means that the Big 8 traders in both silver and gold are trapped on the short side…unless they can engineer the Mother of all price declines to to the tune of $400 or so in gold — and more than 3 bucks in silver.  That ain't going to happen in this environment.
---
---
The reason for the difference in those numbers…as it always is…is that Ted's raptors, the 33-odd small commercial traders other than the Big 8, are net long that amount.  And as mentioned in my discussions on the COT Report previously, JPMorgan is now in this raptor category along with the other small commercial traders.
As per the first paragraph above, the Big 4 traders in silver are short around 113 days of world silver production in total. That's 28.25 days of world silver production each, on average…down 1.25 days from last week's report.  The four traders in the '5 through 8' category are short 45 days of world silver production in total, which is about 11.25 days of world silver production each, on average…up from 10.50 days last week.
And don't forget that not only is JPMorgan no longer in the Big 8 category…they are out of their short position in gold entirely.
And as Ted has been pointing out for years now — and I mentioned in other words in my COT discussion above, JPMorgan is, as always, in a position to double cross the other commercial traders at any time and walk away smelling like that proverbial rose.  We're just waiting for that day.
---
[The May Bank Participation Report covers the time period from April 8 to May 5 inclusive.]
With JPMorgan now neutral the COMEX futures market in gold, Citigroup, HSBC USA and I suspect Goldman Sachs would hold the lion's share of this short position. As to who other U.S. bank might be that is short in this BPR, I haven't a clue, but it's a given that their short position would not be material.
Also in gold, 31 non-U.S. banks are net short 81,098 COMEX gold contracts.  In April's BPR, 28 non-U.S. banks were net short 78,985 COMEX contracts…so the month-over-month change shows a smallish increase of 2,113 contracts…also immaterial.
At the low back in the August 2018 BPR…these same non-U.S. banks held a net short position in gold of only 1,960 contacts!
However, as I always say at this point, I suspect that there's at least two large non-U.S. bank in this group, one of which would include Scotiabank and maybe the BIS.  I'm starting to have suspicions about Dutch Bank ABN Amro, plus Australia's Macquarie as well.  Other than that small handful, the short positions in gold held by the vast majority of non-U.S. banks are immaterial.
As in gold, the three biggest short holders in silver of the four U.S. banks in total, would be Citigroup, HSBC USA — and perhaps Goldman in No. 3 spot — and whoever the remaining U.S. bank may be, their short position, like the short position of the smallest U.S. bank in gold, would be immaterial in the grand scheme of things.
Also in platinum, 17 non-U.S. banks are net short 1,741 COMEX contracts in the May BPR, which is down huge [for the third month in a row] from the 4,228 COMEX contracts that 18 non-U.S. banks were net short in the April BPR.  That's a 59 percent decline in just one month. [It declined 70 percent in the April BPR — and 44 percent in March]
[Note: Back at the July 2018 low, these same non-U.S. banks were net short only 1,192 COMEX contracts — and they're almost back to that number.]
Also in palladium, 11 or more non-U.S. banks are now net long 807 COMEX contracts-compared to the 668 COMEX contracts that these same non-U.S. banks were net long in the April BPR.
Except for palladium, only a small handful of the world's banks…and mostly all U.S. banks…still have meaningful short positions in the other three precious metals.
JPMorgan is neutral to net long in both gold and silver in the COMEX futures market — and may be the same in platinum and palladium, but there's no way to tell that.  It's negligible in palladium for sure, but not so in platinum, if they're still short in that market.
I have a lot of stories, articles and videos for you today.
CRITICAL READS
It took just one month for the labor market in the world's largest economy to capsize. It will take longer for the damage to be fully realized.
In the harshest downturn for American workers in history, employers cut an unprecedented 20.5 million jobs in April, tripling the unemployment rate to 14.7%, the highest since the Great Depression era of the 1930s. And it's only set to worsen in May, as cuts spread further into white-collar work.
With a steep recession underway, the destruction of jobs heaps election-year pressure on President Donald Trump to restart the economy and show results by November. But with little containment of a contagious disease that's killed 75,000 Americans and counting, business is returning unevenly and slowly if at all, and signs are mounting that many employers will be forced to make the cuts permanent.
---
Things could get worse for cyclicals, which are more dependent on the economy, according to Citigroup Inc. strategist Robert Buckland. He expects global EPS to fall at least 50% this year, split between cyclicals down 65% and defensives 10% to 15% lower.
Overall, investors' reactions to earnings misses have been relatively muted, according to Barclays Plc strategist Emmanuel Cau, adding that the low positioning has likely helped, but then so has the ubiquitous Powell Put.
With futures forecasting The Fed to cut rates to minus-40bps in Dec 2020, is it any surprise that analysts are pushing off recovery hopes?
If the market is expecting rates to be cut that low (and most critically negative) how can stocks be where they are now…?
---
It used to be a running joke among traders that when markets crash, central banks step in – either directly or in the case of the Fed indirectly via Citadel – and buy stocks to prop up the market and shore up confidence. That joke is now the truth.
Now that the Fed is openly buying corporate bonds and fallen angels, what was once absurd humor has become sad reality. And while we wait for the Fed to admit it too will be buying stocks soon – we just need that pesky next crash before Powell commits – other central banks have no such qualms.
Take the SNB.
We previously reported that the hedge fund that is not only publicly traded, but also moonlights as the Swiss central bank, which allows it to print money and effectively purchase any security it wishes with a zero cost basis suffered its biggest loss in history, reporting a loss of $32.7 billion on its massive equity portfolio. Yes, the SNB along with the BOJ, is unique in that it does not pretend to not buy stocks, and does so quite openly.
What about in the first quarter of 2020 when after hitting an all time high, stocks crashed in March?
As one can see in the chart above, the total value of SNB stock holdings barely budged from Q4 2019 to Q1 2020 despite the 30% crash in the market in March.
How is that possible? Simple: after the SNB kept its total holdings relatively flat for the past year, conserving its dry powder for just the right occasion, said occasion materialized in March, and the Swiss National Bank went on a buying spree as markets crashed, adding roughly 22% (on average) to its top positions.
… even as even Warren Buffett sat on the sidelines waiting for the other shoe to drop, now you know and all you need to replicate the SNB's performance and buy FAAMGs without a care in the world, is your own (legal) printing press to print digital money out of ones and zero and buy anything and everything in the name of preventing the system from collapsing.
---
SocGen's resident perma-bear (… for stocks, and perma-bull for bonds) Albert Edwards has seen it too, and he too is stunned by the ludicrous gap between reality and expectation, which he has been tracking for decades but never has it gotten as wide as it is now, because as he writes in his latest global strategy weekly:
[But] to Edwards the real show-stopper is a different chart, one which shows on one hand the continued Ice Age slump in analysts' collective expectations for long-term EPS growth, and on the other the soaring PE ratio. The combination of the two is what is also known as the PEG, or Price to Earnings Growth, ratio.
Considering that Albert wrote this just hours before we got the first ever fed funds futures pricing above par, implying a negative interest rate as soon as Nov 2020 means the SocGen strategist is entitled to a victory lap. In fact, he will be making many of those in the coming months as the entire system, which central banks have kept alive with duct tape and superglue, finally starts to fall apart.
---
Money-market mutual funds, the ultimate havens for investors looking to preserve capital, once again are trying to maneuver in a zero interest-rate environment. The problem this time? They're sitting on twice as much cash.
Assets in money-market funds have soared to a record $4.77 trillion amid a flight to safety by investors this year. More than three-quarters of that is parked in Treasury-only and other government funds perceived to be the least risky, Investment Company Institute data show, in part because of regulatory reforms in 2016 that triggered an exodus from prime funds.
Giants of the industry like Vanguard Group and Fidelity Investments already have done what's known as "soft closes," or shutting down some funds to new investors. Speculation is swirling that management fees may be waived eventually by some companies in the industry. And managers are getting creative with their investments. It's all an effort to preserve some sort of positive return for clients, a task that may get more difficult as traders start to bet on a negative Federal Reserve benchmark rate.
The U.S. Treasury has issued more than $1.5 trillion of bills in order to fund its stimulus programs and plug the hole in tax receipts amid the economic fallout from efforts to contain the coronavirus. While this has provided a much-needed supply of assets for money funds to buy, yields are razor thin and the Federal Reserve's benchmark rate is anchored near 0% for the foreseeable future.
---
We live in extraordinary, unprecedented times. The timing of the COVID-19 pandemic – on the heels of an unparalleled period of synchronized global economic growth, a record-setting U.S. economic expansion, and worldwide financial and asset price booms – ensures far-reaching financial, economic, social, political and geopolitical ramifications. COVID Strikes Mercilessly at Peak Fragility.
Fragilities have been mounting across economic and financial systems – at home and abroad. The pandemic is pushing many over the edge. Not only are central banks and governments fighting the effects of the coronavirus, they are these days in epic battle against Business Cycle Dynamics. In particular, bursting Bubbles have central banks more determined than ever to do "whatever it takes" to fulfill their so-called "price stability" mandate.
The Federal Reserve has essentially employed highly accommodative monetary policy for the past thirty years. After beginning the nineties at about 450, the Nasdaq Composite traded this past February to an all-time high 9,838 (closing Friday at 9,121). Except for a few fleeting periods of instability, free-flowing finance has supported ("cluster" upon historic "cluster" of) innovation. The Credit expansion has been unrelenting, with Non-Financial Debt surging from $10.5 TN to begin the nineties to today's $55 TN.
Central bankers are these days keener than ever to fixate on their inflation mandate and targets. That inflation dynamics have evolved profoundly over recent decades is apparently not worthy of discussion. The impetus is to stimulate more aggressively than ever.
With global Bubbles bursting, there will be associated downward pressures on some price levels (i.e. energy and commodities). Demand will wane for many products and services. Yet broken supply chains are pushing some prices higher. Meanwhile, the world is afflicted by unprecedented debt burdens.
Central bankers are fully committed to doing "whatever it takes" to drive aggregate consumer inflation up to target. The nature of inflation has evolved profoundly, yet central banks adhere to the doctrine of a general price level that they can manipulate higher through monetary stimulus.
This capacity for policy measures to inflate THE general price level is fundamental to the view that consequences of Credit excess and market Bubbles can be readily mitigated. And this gets the heart of this dangerous flaw in contemporary economic doctrine: that boomtime Credit and financial excess can, for the most part, be disregarded. Asset inflation and Bubbles are to be ignored (promoted?), focusing instead on preparation for aggressive faltering-Bubble reflationary measures.
---
The April 20 historic oil price crash that sent the prompt May WTI contract plunging to the unheard of price of negative $40 per barrel now seems like ancient history with oil back in the $20s (at least until the June contract matures in 10 days) and stocks are delightfully levitating, but to one trader what happened on that fateful Monday will remain a permanent scar of how everything can go terribly wrong in the blink of an eye.
Syed Shah, a 30-year-old day trader, would usually buy and sell stocks and currencies through his Interactive Brokers account, but on April 20 he couldn't resist trying his hand at some oil trading. Shah, working from his house in a Toronto suburb, figured he couldn't lose as he spent $2,400 snapping up crude at $3.30 a barrel, and then 50 cents. Then came what looked like the deal of a lifetime: buying 212 futures contracts on West Texas Intermediate for an astonishing penny each.
As a result, crude was actually trading at a negative $3.70 a barrel when Shah's screen had it at 1 cent; the reason: Interactive Brokers never displayed a subzero price to him as oil kept diving to end the day at minus $37.63 a barrel.
At midnight, Shah some very bad news: he owed Interactive Brokers $9 million. He'd started the day with $77,000 in his account, expecting that his biggest possible loss was 100%, or $77,000.
It turned out to be 116 times that number.
Shah was not alone. Countless investors, especially retail day trades on RobinHood who had followed every tick lower in the USO by buying more of the ETF in hopes of an rebound, had a brutal day on April 20 regardless of what brokerage they had their account in.
---
On the one hand, if you look at something like oil and commodities, generally, we're in a territory we've never been in before. The current demand for oil dropped by 30 million barrels a day, where they used to focus on blips of 400,000 a day, plus or minus.
This last effort to prop up the OPEC cartel is failing very fast. That side of the price index of the market basket is likely to head south very strongly.
On the other hand, supply chains are being disrupted with increasing intensity.
We're looking at these meat processing plants that are being shut down. We're looking at farmers who can't get their products to market, and we'll see more of that as we get into the production season this year. That's just in the food area.
If we look at manufactured goods, China seems to be coming back to life a little bit, but the supply chains between here and there have been disrupted. There are big questions about what-in terms of both necessities and discretionary goods-will be available.
I think you're going to have some prices skyrocketing for things that suddenly become scarce due to supply chain breakdowns.
In contrast, you're going to have other things falling-especially the commodities that are collapsing owing to the drastic, unprecedented collapse in demand.
---
This film is the wake-up call to the reality we are afraid to face: the mainstream environmental movement is pushing lies in the form of various techno-fixes and band-aids – all of which are reliant and use large quantities of fossil fuels and rare earth minerals. Have environmentalists fallen for a "green" illusion? More than any other documentary to date, this film exposes the wholesale fraud behind subsidized industries like biomass fuels, wind turbines, and even not-so 'green' electric car…and that is why Moore's typical leftist cult following has turned on him so aggressively – facts don't fit their narratives and cognitive dissonance is not a safe space.
---
April gold withdrawal figures announced by the Shanghai Gold Exchange (SGE) suggest that gold demand in China may be beginning to pick up as the country exits from the coronavirus-imposed lock-downs.  However the figures for April, just a little over 13.5 tonnes more than in March, continue to suggest that total Chinese annual gold demand will be considerably lower than it has been for the past several years.  Year-to-date gold withdrawals from the SGE are down by over 50% from those for each of the previous six years and while we could see something of a pick-up as the current year continues, we should anticipate total annual gold demand from China coming in at perhaps as low as around only 50-65% of the levels seen only a year ago – which itself was a weak year for Chinese gold demand.  But it is also worth noting that, last year, demand levels did begin to tail off a little in the last eight months of the year, so perhaps the overall fall in Chinese gold demand this year compared with 2019 may not be quite as great as the figures to date suggest.
We have always equated SGE gold withdrawal totals as being a measure of the sum total of Chinese gold consumption, despite this parallel being largely dismissed by the principal global gold analysing consultancies.  In our support we have always been able to point out that SGE gold withdrawal totals come far closer to known gold imports into mainland China plus China's own gold output, plus an allowance for scrap conversion and some other unknown imports, while the major gold consultancies' figures come in at a considerably lower level.  In our view the consultancies are probably not taking into account some sectors of the Chinese gold demand pattern.  Notably, they may not cover gold imported by the Chinese banking sector – or perhaps even by government agencies, but classified as 'non-reportable'.  The known totals suggest that our analysis is far closer to the true figures than the consultancies' calculations.
Assuming we are correct in our forecasting and assume that total Chinese gold demand this year comes in at say 60% of last year's level of 1,642 tonnes it would put China's gold demand total this year at just under 1,000 tonnes – still making the nation the world's largest gold consumer.  This would mean a demand shortfall of around 650 tonnes compared with 2019.
Can this shortfall be made up in other aspects of global gold demand – particularly given Russia is at least temporarily halting gold accumulations by its central bank?
---
Part of the platinum group metals (PGM), rhodium is a silvery-white chemical element coveted for its hard corrosion-resistant properties. Since the beginning of the year, the price of the metal, which is mined as a by-product of platinum and palladium, has surged by nearly 114%.
Around 80-90% of rhodium comes from South African platinum mines, but it typically accounts for around less than 10% of the ounces mined.
Therefore, rhodium price has traditionally only had a limited impact on investment in mining projects, says Neal Brewster, manager of strategic consulting at Roskill.
Depressed platinum prices have suppressed overall investment in new mining projects that are able to supply rhodium, further compounding supply restrictions.
The PHOTOS and the FUNNIES
STAY INFORMED! Receive our Weekly Recap of thought provoking articles, podcasts, and radio delivered to your inbox for FREE! Sign up here for the HoweStreet.com Weekly Recap.