April 4, 2020 | Trading Desk Notes April 4, 2020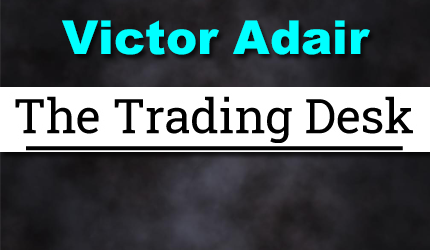 Victor Adair, author of The Trading Desk Notes, began trading penny mining shares while attending the University of Victoria in 1970. He worked in the mining business in Canada and the Western United States for the next several years and also founded a precious metals trading company in 1974. He became a commodity broker in 1977 and a stock broker in 1978. Between 1977 and his retirement from the brokerage business in 2020 Victor held a number of trading, analytical and senior management roles in Canada and the USA. Victor started writing market analysis in the late 1970's and became a widely followed currency analyst in 1983. He started doing frequent media interviews in the early 1980's and started speaking at financial conferences in the 1990's. He actively trades his own accounts from The Trading Desk on Vancouver Island. His personal website is www.VictorAdair.ca.
Has the stock market bottomed? I don't know…but I know why you're asking.
But…but the major indices fell so far so fast…they threw the baby out with the bathwater. This has got to be a once-in-a-lifetime buying opportunity!  Maybe. Markets were over-leveraged / priced for perfection in February and then the virus came along and set the dominos falling. Now we're in the process of trying to find some kind of equilibrium. Volatility has fallen from extremely high levels…but it's still very high.
But all the stimulus…the helicopter money…people have to see that as inflationary and they'll buy stocks. The inflationary effects of the stimulus don't "offset" the deflationary effects of the economic contraction…certainly not in the short term…the stimulus just lessens the blow a bit…maybe keeps a recession from becoming a depression.
But markets are a "discounting mechanism" and have already started pricing in a recovery!! Maybe…maybe not. Right now deflationary pressures are spreading. Leverage is being punished and capital is looking for safety…there's no need to be in a hurry to buy the market.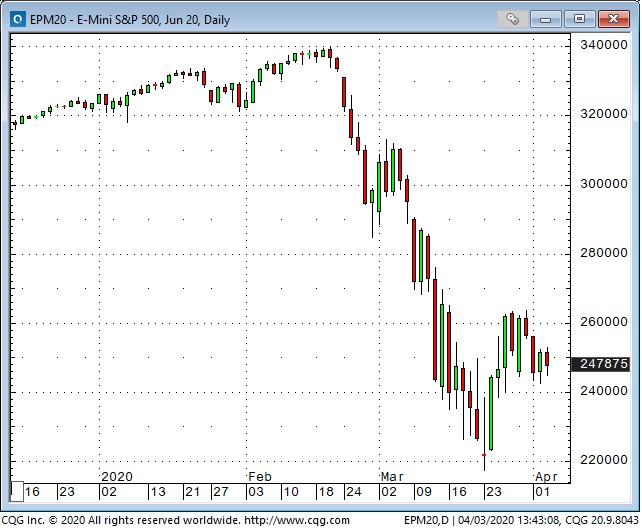 I've been trading for 50 years. I've experienced existential fear...the fall of 2008 comes to mind…when I knew I had "no control" over what was going to happen to "my world." At that time I had massive client positions in the markets…and my previously assessed risk levels had gone out the window.
So for me the most important thing is to know how much risk I'm taking…not how much money I can make. We are in a new world right now.  It's harder to calculate reasonable risk levels in this new world so I'm being more patient than usual…practicing self-forgiveness when I'm wrong on a trade…trading smaller size.
It seems I can't avoid having some "bias"…some thought as to what the market "should" do and I "allow" myself to have those thoughts but I don't use them alone to make a trade. I'm more confident to trade on "price action" especially when price action seems to "undercut" or "go opposite to" the news or consensus bias.
For instance, my bias last week was that the bear market rally from the Mar 23rd lows would "peter out" around month end…possibly coincident with pension fund rebalancing (selling bonds/buying stocks.) That seemed to happen and then Trump's weekend "dire warning" set the stage for a new leg lower. I came into this week short CAD and MEX, long 10Y Treasuries looking for market sentiment to turn "risk off." I took profits on those positions early in the week when market sentiment was negative…but nowhere near as negative as it could have been given Trump's dire warning.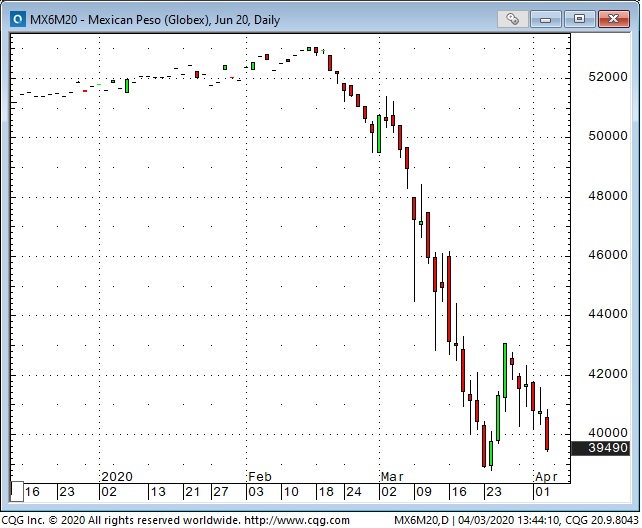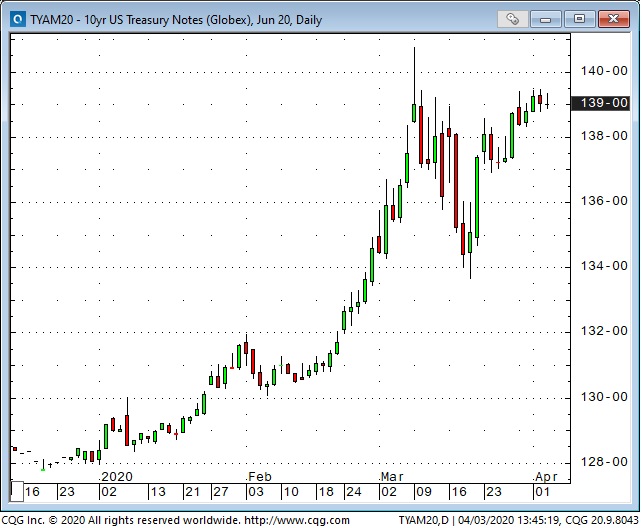 Crude oil sentiment was extremely bearish last week…front month WTI traded below $20 for the first time in 18 years…option volatility was sensationally high…and talk was that within a few weeks all available storage would be full and prices could drop to zero! Forward pricing was in steep contango as the market struggled to price in the supply surge from the Saudi/Russia price war while demand fell off a cliff.
In this blog I asked if Trump would pressure Saudi Arabia to reduce production…he certainly had the leverage. On the Moneytalks weekend radio show I even mused about selling WTI puts. (Woulda/coulda/shoulda but couldn't see how to manage risk on the trade!)
This week crude soared from those hugely over-sold levels on hopes that OPEC plus other producers (Russia? USA? Canada? Other producers???) could agree to production cuts. Saudi has called for a "virtual" emergency OPEC meeting for Monday. Some experts say that current production is ~20 MBD more than current demand so any production cuts will have to be "substantial."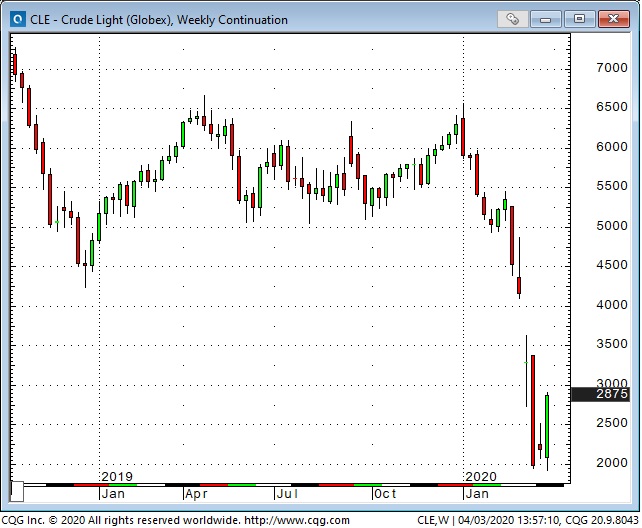 The stock market rally did "peter out" around month end...but didn't fall off a cliff following Trump's warning of "two very painful weeks." Volatility is down from extreme highs, bid/offer spreads are coming in and the market is gingerly coming into equilibrium.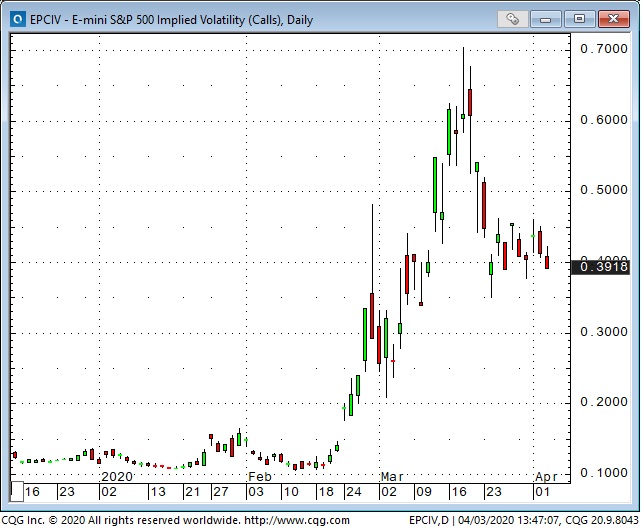 The US Dollar rallied this week after wild swings the past few weeks. On balance the USD has trended higher YTD especially against EM FX as capital seeks safety.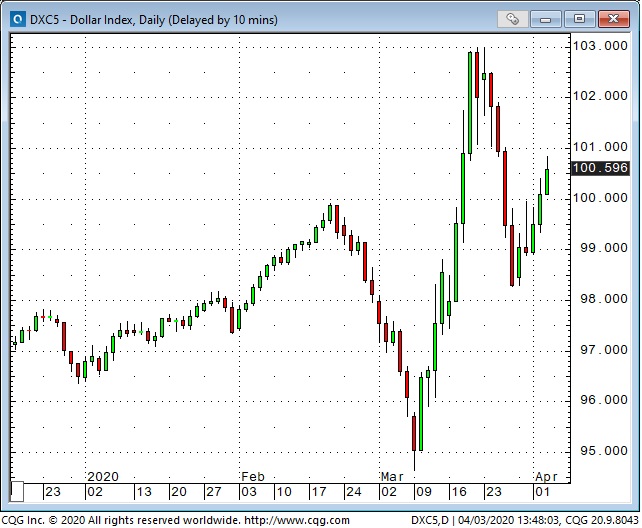 The Canadian Dollar tumbled ~12% from early January to mid-March as the USD soared, crude oil tumbled and the Canadian economy tanked.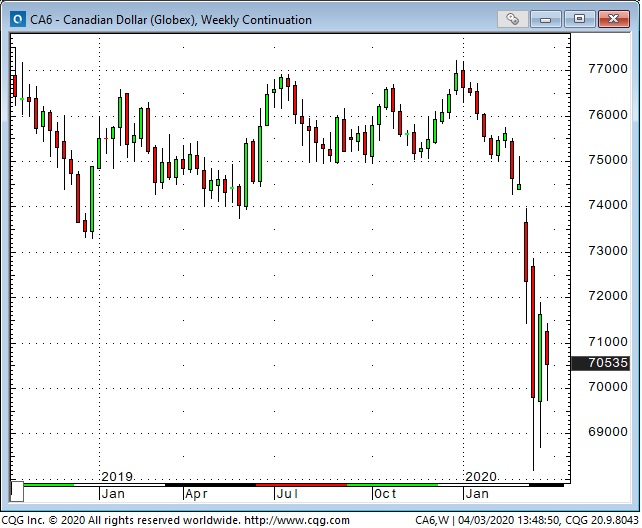 Gold hit 7 year highs over $1700 in early March, tumbled >$200 into mid-March lows (margin call selling?) then rallied back >$200 on the "inflationary aspect" of massive "no limit" monetary and fiscal stimulus…only to fall back > $100 into month end. Gold rallied ~$70 the past 3 days. It's been a very wild ride!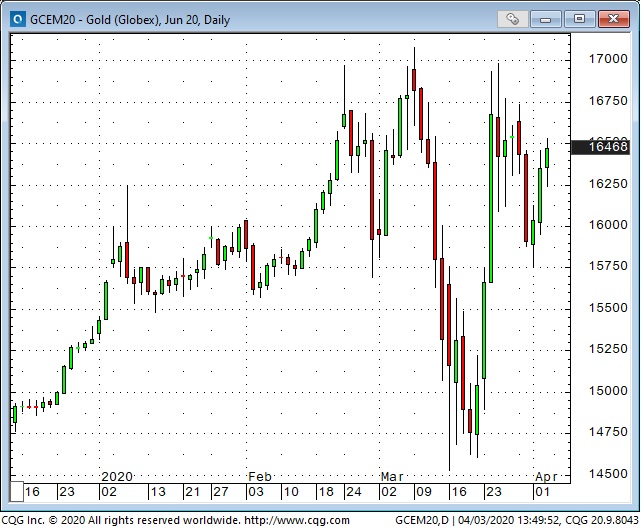 As I noted above we are in a new world right now. It's probably changed more than we've been able to understand or comprehend. How can we "understand" a global pandemic or a "no limit" monetary and fiscal policy…especially when they've come at us so fast. Markets will try to find equilibrium…but this isn't the time for aggressive position taking.
My bias is that as much as we'd like to "get over" the virus it's going to take some time. My bias is that deflationary pressures will prevail for now and that any economic/market recovery will not be "V" shaped. My bias is that we will not quickly return to a time when leverage was readily available and celebrated. But I also believe that big market moves come from "prior conditions" and our new MMT world of "no limit" stimulus is probably setting the stage for huge asset inflation…in the not-too-distant future. It's always about timing. Good luck, and be careful out there!
My son Drew Zimmerman and I use the futures market to trade currencies, metals, interest rates, stock indices, energy and other commodities. Please give us a call or send us an email if you'd like to know more about trading futures.
Victor Adair
SVP and Derivatives Portfolio Manager
PI Financial Corp
Canada
PI Financial Corp. is a Member of the Canadian Investor Protection Fund. The risk of loss in trading commodity interests can be substantial. You should therefore carefully consider whether such trading is suitable for you in light of your financial condition. In considering whether to trade or the authorize someone else to trade for you, you should be aware of the following. If you purchase a commodity option you may sustain a total loss of the premium and of all transaction costs. If you purchase or sell a commodity futures contract or sell a commodity option or engage in off-exchange foreign currency trading you may sustain a total loss of the initial margin funds or security deposit and any additional fund that you deposit with your broker to establish or maintain your position. You may be called upon by your broker to deposit a substantial amount of additional margin funds, on short notice, in order to maintain your position. If you do not provide the requested funds within the prescribe time, your position may be liquidated at a loss, and you will be liable for any resulting deficit in your account. Under certain market conditions, you may find it difficult to impossible to liquidate a position. This is intended for distribution in those jurisdictions where PI Financial Corp. is registered as an advisor or a dealer in securities and/or futures and options. Any distribution or dissemination of this in any other jurisdiction is strictly prohibited. Past performance is not necessarily indicative of future results
STAY INFORMED! Receive our Weekly Recap of thought provoking articles, podcasts, and radio delivered to your inbox for FREE! Sign up here for the HoweStreet.com Weekly Recap.