April 25, 2020 | Trading Desk Notes April 25, 2020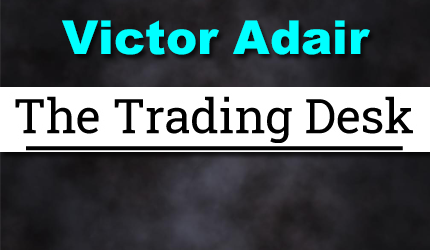 Victor Adair, author of The Trading Desk Notes, began trading penny mining shares while attending the University of Victoria in 1970. He worked in the mining business in Canada and the Western United States for the next several years and also founded a precious metals trading company in 1974. He became a commodity broker in 1977 and a stock broker in 1978. Between 1977 and his retirement from the brokerage business in 2020 Victor held a number of trading, analytical and senior management roles in Canada and the USA. Victor started writing market analysis in the late 1970's and became a widely followed currency analyst in 1983. He started doing frequent media interviews in the early 1980's and started speaking at financial conferences in the 1990's. He actively trades his own accounts from The Trading Desk on Vancouver Island. His personal website is www.VictorAdair.ca.
Massive monetary and fiscal stimulus in March and April will "counter" the deflationary surge to some extent...but it's not a one-for-one "offset"…the deflationary impulse will be sustained…will be pervasive and enduring. For the past 20 years we've been trained to believe that stimulus can "turn things around"…so equity speculators have been BTD lately…but bonds, commodities and FX have been skeptical.
In recent years it was hoped that stimulus would generate inflation (in things other than financial assets) now the hope is that stimulus can keep deflation at bay. Longer term I can imagine inflation…but s/t I think deflation prevails. If I change my mind on that I'll change the way I trade.
I agree with folks who say that the Fed kept monetary policy way too easy for way too long...and that encouraged way too much leverage everywhere. Now leverage is being punished and the Fed is riding to the rescue. My guess is that leverage keeps being punished…keeps being reduced despite the Fed's best efforts.
I think we've seen a bear market rally in the major stock indices since the March 23rd lows…that the economic damage is underestimated at this point and as it becomes more evident we will see a test of the lows.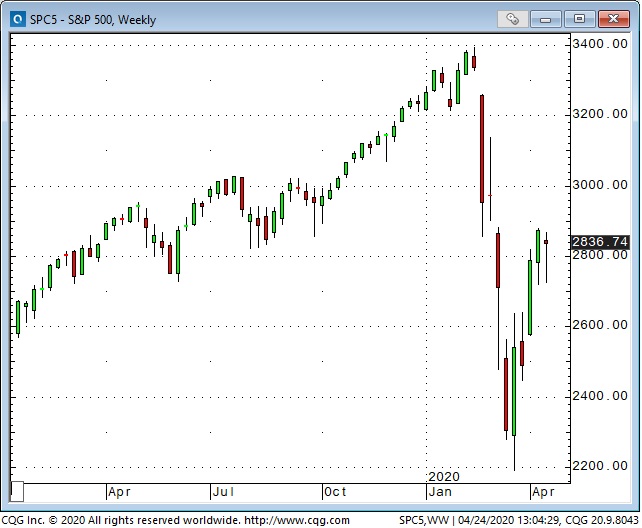 Treasuries have stayed at record low yields even as the equity market has rallied and volatility has quieted down. Money market funds have risen to a record $5.7 Trillion. I think these are signs of caution in the face of the equity market BTD enthusiasm.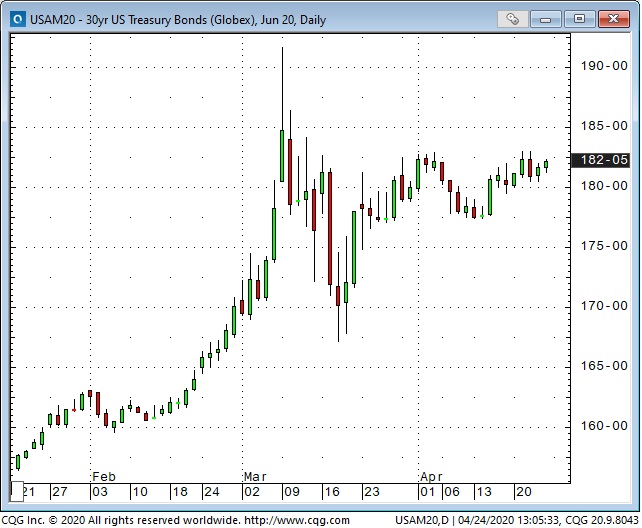 The USD has sustained its uptrend of the past couple of years against DM FX and has been very strong against most emerging market currencies.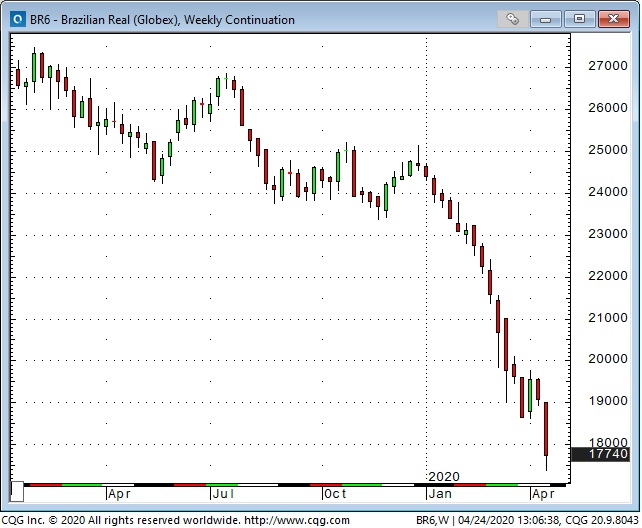 Gold is near 8 year highs Vs. the USD, at record highs against most other currencies, and has skyrocketed Vs. a number of commodities…especially crude oil. It has also been amazingly choppy with each of the last 10 weeks having a trading range of ~$100 or more. The thought that massive stimulus would ignite inflation has helped drive prices higher. I wonder if the deflationary aspects of the virus will reduce buying in India and China…the world's two biggest gold markets.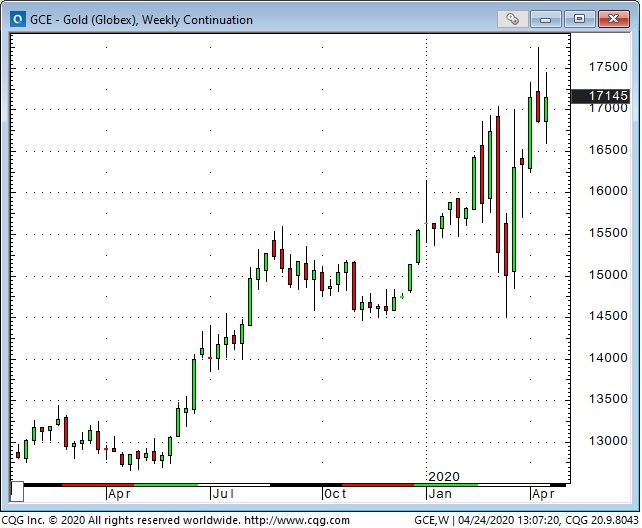 Front month May WTI traded deeply negative (-$40) on Monday prior to Tuesday expiry. Implied Vol on crude oil options went insane but seems to be sustained above 200%. Many commodity brokerage firms have limited or blocked clients from trading nearby months in WTI and related markets. By allowing a physically settled contract to trade negative the CME opened up  a whole new definition of risk for participants who used to think zero was the absolute bottom.  It has been amazing to watch "retail" buying "crude oil" in different forms…looking to profit from a "bounce." Dec WTI is already trading at an annualized 24% premium to June.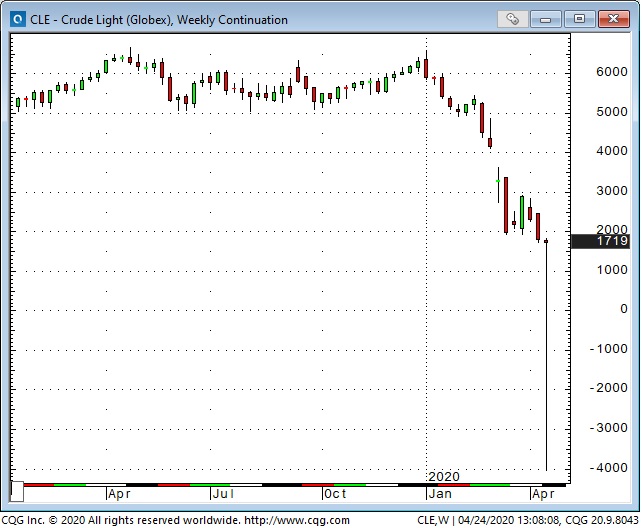 My short term trading: I've been thinking that the stock market rally off the March lows might roll over so I've looked to the charts for confirmation. I got short an initial position but was stopped on the Friday rally. Maybe just as well. If the market wants to close green going into the weekend that's a s/t bullish sign.
I've been thinking that the CAD would weaken as a "shock absorber" for Canada's troubles, not the least of which is ultra-low oil prices. The failed rally after the fall from the recent 72 cent level gave me a good spot to get short.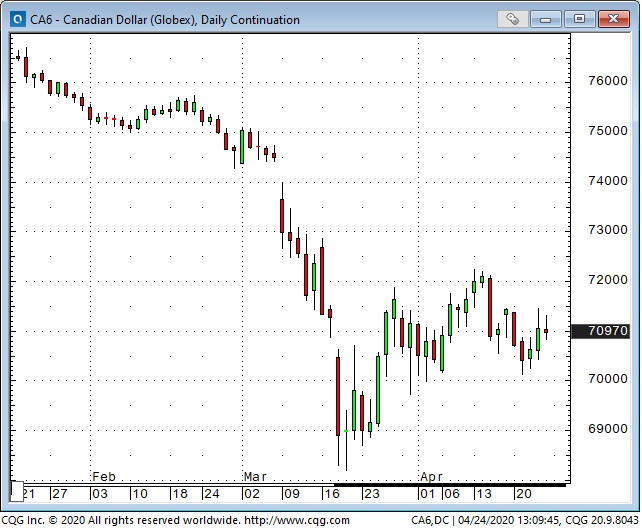 I've thought gold may have rallied too hard on the "massive stimulus is inflationary" idea (shortages in the physical market due to virus related supply chain breakdowns were also a bullish influence) and looked to the charts for confirmation. The highs Thursday and Friday this week might be a "lower high – double top" against the 8 year highs made April 14. I'm short with a stop in the machine. If gold drops through $1700 without making new highs I might sell more.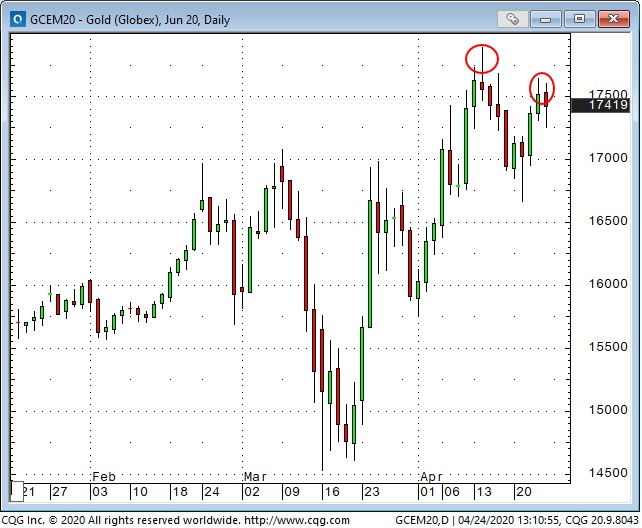 The charts gave me a green light to get short MEX this week but I moved a trailing stop too close and got stopped with only a very small profit.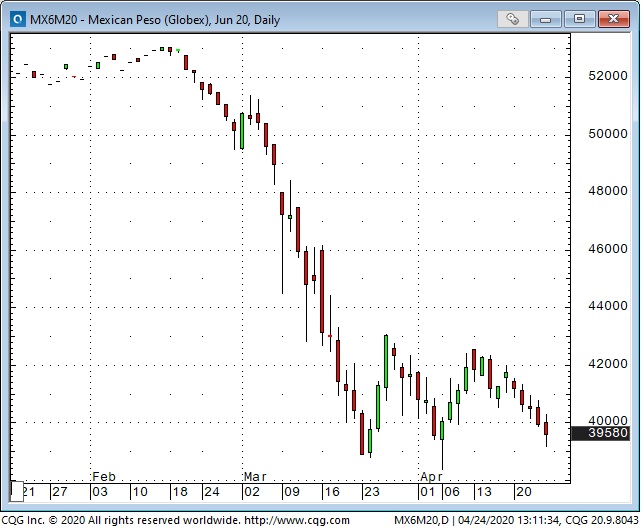 My son Drew Zimmerman and I use the futures market to trade currencies, metals, interest rates, stock indices, energy and other commodities. Please give us a call or send us an email if you'd like to know more about trading futures.
Victor Adair
SVP and Derivatives Portfolio Manager
PI Financial Corp
Canada
PI Financial Corp. is a Member of the Canadian Investor Protection Fund. The risk of loss in trading commodity interests can be substantial. You should therefore carefully consider whether such trading is suitable for you in light of your financial condition. In considering whether to trade or the authorize someone else to trade for you, you should be aware of the following. If you purchase a commodity option you may sustain a total loss of the premium and of all transaction costs. If you purchase or sell a commodity futures contract or sell a commodity option or engage in off-exchange foreign currency trading you may sustain a total loss of the initial margin funds or security deposit and any additional fund that you deposit with your broker to establish or maintain your position. You may be called upon by your broker to deposit a substantial amount of additional margin funds, on short notice, in order to maintain your position. If you do not provide the requested funds within the prescribe time, your position may be liquidated at a loss, and you will be liable for any resulting deficit in your account. Under certain market conditions, you may find it difficult to impossible to liquidate a position. This is intended for distribution in those jurisdictions where PI Financial Corp. is registered as an advisor or a dealer in securities and/or futures and options. Any distribution or dissemination of this in any other jurisdiction is strictly prohibited. Past performance is not necessarily indicative of future results
STAY INFORMED! Receive our Weekly Recap of thought provoking articles, podcasts, and radio delivered to your inbox for FREE! Sign up here for the HoweStreet.com Weekly Recap.