April 17, 2020 | Too Easy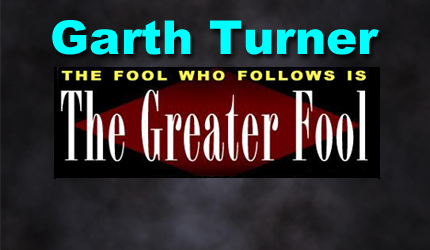 A best-selling Canadian author of 14 books on economic trends, real estate, the financial crisis, personal finance strategies, taxation and politics. Nationally-known speaker and lecturer on macroeconomics, the housing market and investment techniques. He is a licensed Investment Advisor with a fee-based, no-commission Toronto-based practice serving clients across Canada.
First they came for the baristas. The unemployed. And that was okay.
Then they came for the hotel workers, the idled factory serfs and the retailers. We nodded.
Then they came for the contractors, the gig people and the self-employed. We watched.
Next they came for the small business payrolls. Then the mega corps. We wondered a little.
They came then for the seasonal workers, the voluntarily jobless and the kids. We saw that.
They came for the entrepreneurs with free loans. We wondered.
This week they came for the store landlords. We raised a brow.
Finally, as the oilpatch received its cash, the farmers asked, what about us?
Soon they'll be in, too.
In a single month Ottawa dished out $16 billion to support people who are not working. As noted, 6.2 million Canadians, a third of the workforce, are now on the dole. Mortgagees won't be paying for months. Unknown numbers of renters have stopped writing cheques to landlords. Income taxes, GST payments, property taxes and more have been pushed into the future. Low-income folks are getting another five billion in sales tax credits. Businesses are taking $72 billion to subsidize payrolls. By June the cash outlaw will be $107 billion. Plus $155 billion in deferred revenue. This is, by far, the largest Canadian stimulus program since Pamela Anderson defected. It also shows we're a nation of citizens apparently without cash flow, reserves, savings, resources or resilience.
So how can you fault anyone for sticking their hand out, when three clicks on a government site gets you cash?
Answer: you cannot, thanks to the spendiest prime minister in national history.
So, here are the food producers, standing with cap in hand. "We do not mean to create panic," says the head of the ag federation, creating panic. "At the same time, it would be irresponsible not to sound the alarm about the realities Canadian farmers are facing."
Without their own subsidy, farmers are threatening not to plant a crop this year, leave the fields fallow and watch all the facemaskers in Sobey's freak out. They want an emergency fund and guaranteed financial backstop in case the virus disrupts operations, prevents harvesting or whacks migrant pickers. The federal minister says: "Of course, we recognize that our government has more work to do."
Ka-ching.
Jennifer and her squeeze run a consulting company in southern BC. Business is pooched. They have bills and little revenue, and were prepared to tough things out – until the prime minister offered loans of $40,000 at 0% interest with ten grand coming as a grant. Free money.
"So we applied online," she says. "It was a total of three questions, plus our bank account number. No call. Seven days later we had $40,000. Yes, we need the money to keep clients in place, but why was this so easy? Too easy?"
The next day Jen added this:
Follow up on our too easy loan. Our bank just sent a link to print loan terms (you know if we wanted to.) Bizarre. As responsible biz owners we took time to look at numbers/forecasting, talked w/clients, subs and CA before applying and had all info normally req'd ready. We fully expected a call to screen for qualifying so shocked when funds just showed up in biz acct. We're not complaining but why so easy?

My heart goes to those most effected worldwide and in true need of help but does what's now playing out in Cda justify the costs? Reminds me of key pass on cruises, just swipe to pay, easy, painless until bills are slipped quietly under cabin doors on last day. I'm not at all equating the pandemic to a cruise only our govts seemingly blind swiping. My curmudgeonly dad would've said who the hell is paying for all this?? Seems too many don't care. Where it's all headed incl our freedoms worries me far more now then our investments and has me up at night.
So far the big banks report shelling out about $9 billion in such loans. There's no risk to them. Ottawa guarantees the principal. The banks make their interest from the feds,  who also happen to be buying $150 billion in bank mortgages. Now that they are foregoing hundreds of millions a month in homeowner cash flow thanks to deferrals, it's a welcome piece of business.
Three clicks and you get two grand a month in emergency benefits. For some recipients, this is more than they made working at Starbucks, or in their seasonal or part-time job. Three clicks and your business, comatose or not, finds forty grand in its bank account. Agree to keep on your employees, and Ottawa will pay 75% of their wages. By the time this is done – the autumn, maybe – the federal Liberals will have dispensed close to $200 billion. Historic.
Now, let's be clear. Because politicians turned off the economy in a massive reaction to a virus, they're culpable for the consequences. They forced people out of work. Killed off cash flow. Shut down commerce. Destroyed economic activity and made millions jobless. In a nation of over-indebted, house-lusty, ill-prepared grasshoppers, this was a financial death blow. The treasury had to open.
In a few weeks, with millions hooked on the dole and a black hole in public finances, it will end. Keep your eye beneath the cabin door. It's coming for you.
STAY INFORMED! Receive our Weekly Recap of thought provoking articles, podcasts, and radio delivered to your inbox for FREE! Sign up here for the HoweStreet.com Weekly Recap.