April 9, 2020 | This is Tough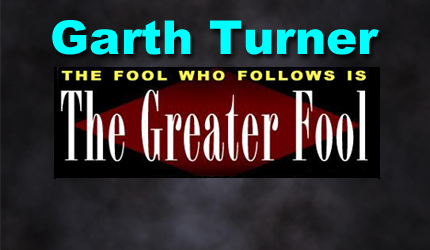 A best-selling Canadian author of 14 books on economic trends, real estate, the financial crisis, personal finance strategies, taxation and politics. Nationally-known speaker and lecturer on macroeconomics, the housing market and investment techniques. He is a licensed Investment Advisor with a fee-based, no-commission Toronto-based practice serving clients across Canada.
"For the first time in 65 years," the note read, "we are being forced to close." It could have added, 'so pray for us.'
Just another piece of paper in another shop window. I have no idea when the place where I buy my shirts and socks will reopen. Or if it will. But I know the guys who own it – father and son – and this week agreed to give them some money against future purchases – cash flow – trying an ensure the doors will swing back open in May. Or June. Or July.
Unfolding is a modern tragedy. Last month our nation lost 1.01 million jobs, double the estimate and eight times worse than ever before. The unemployment rate went up 40% in four weeks. There are now four million people signed up for emergency government support, which is a fifth of the entire workforce. Just the start. April will be worse. Way worse. It's a certainty Ottawa will have to find more billions.
Almost all losses are (of course) in the private sector. Few government workers have been impacted as Ms.Virus decimates the economy. The labour participation rate has plunged. Far more women than men are seeing their wages wiped out. Youth unemployment's popped 63%. Most of the destruction is in the service sector, and among people in our society who can least afford adversity.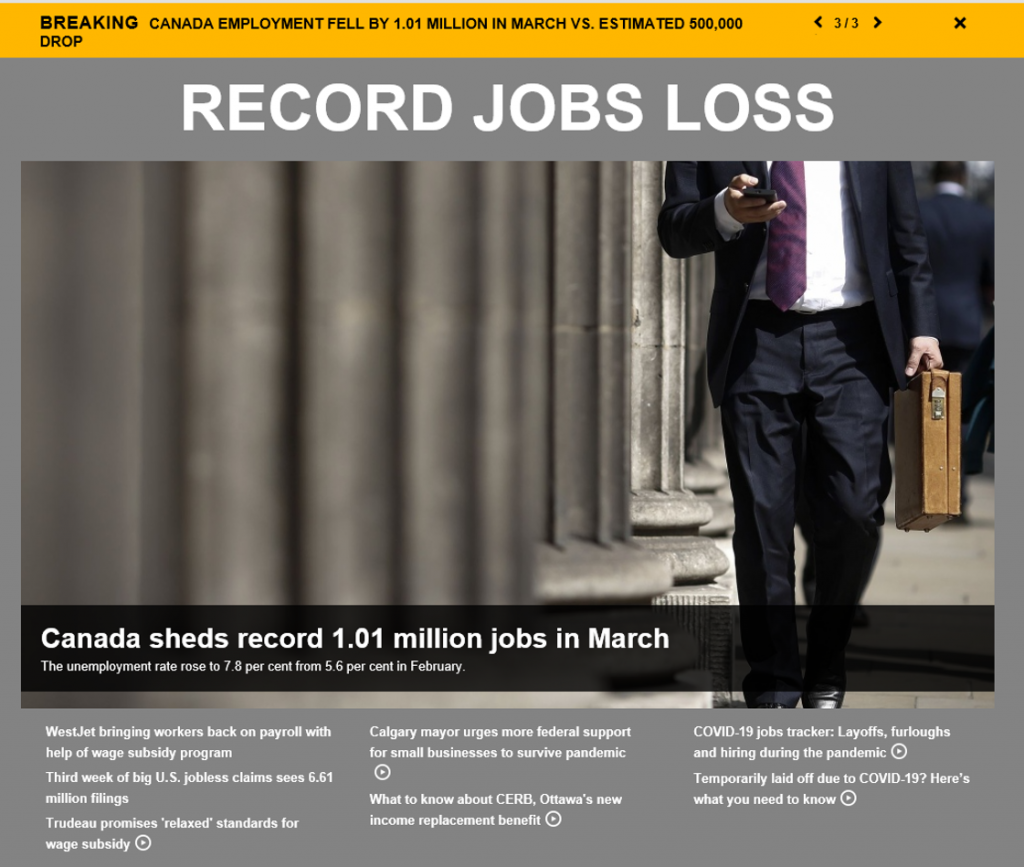 So why did the stock market gallop higher by hundreds of points, continuing a rally that's wiped away the sting investors felt?
First, the virus threat may have been overstated. The US just cut its estimates of Covid-related deaths in half. Things are stabilizing in Europe. Canada is flattening the curve. Yes, we are months away from any semblance of normalcy and all deaths are tragic. But that scary talk of 30-60% of the population being infected seems more absurd now than when the federal health minster causally and shockingly tossed it out. Nowhere in the world has this occurred. Why should it happen here?
Second, massive job losses and the systematic dismantling of the economy will bring even more government and central bank cash flooding in. In just three weeks almost 17 million Americans have applied for pogey. Last week alone 6.6 million filed jobless claims. In Toronto last week condo sales crashed 80% and detached home sales were off 69%. Prices have already started to slide – down 9% for houses. More to come. And in the States, a growing real estate crisis is taking shape.
Only 69% of renters have paid landlords for April. About 15 million homeowners are expected to miss payments if the economy stays shut for two more months. In Canada almost 600,000 families have applied to have their mortgages deferred for half a year, even though it inflates their debt load. Meanwhile people trying to obtain or renew mortgages are being rejected by lenders if they're employed anywhere in the service sector – hotels, car sales, food, mining, oil.
This is a mess spiraling out of government control. Rest assured it will result in gobs of new stimulus. There's an expectation central banks will consume huge amounts of publicly-traded financial securities as well as injecting more liquidity into the system, buying up additional billions in mortgages, taking loan costs to nothing and in the process throw gas on the markets.
Remember what I sad about the crisis augmenting the wealth gap? The poor, low-wage hourly restaurant or hospitality worker loses her only source of income, yet the portfolios of privileged people like me are fully restored.
Where's the justice in that?
There is none. It's the legacy of governments who have purposefully idled and disadvantaged those among us who can least sustain the damage. Yes, it was done for a noble reason – to limit illness and death. To save the health care system. Because we were all freaked.
But here are the results, with more troubling ones to come. It's worth noting, by the way, the emergency order shutting my neighborhood men's wear store – like all the provincial, municipal and national dictates that have trashed the economy and cost a million families their livelihood – was not voted on. No provincial legislatures approved them. The House of Commons is not sitting. Opposition leaders are self-gelded. The most significant individual economic acts in Canada's history, and the greatest level of expenditures ever seen, just kinda happened. Because of a virus that has so far taken 462 lives. This compares with 8,511 deaths last year from the flu. And we shut nothing then.
Do not construe this as diminishing the impact of the virus. Not my intent. Polls show two-thirds of Canadians are terrified of being infected, and expect it will occur – when this is wildly unrealistic. Fear is the most powerful emotion. And some is wholly justified. For the families who have seen loved ones stricken and perish, job loss and failed stores matter not. Nor should they.
But once Easter weekend passes, it may be time for questions.
STAY INFORMED! Receive our Weekly Recap of thought provoking articles, podcasts, and radio delivered to your inbox for FREE! Sign up here for the HoweStreet.com Weekly Recap.