April 28, 2020 | The Virus Diaries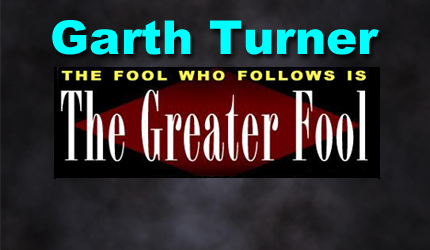 A best-selling Canadian author of 14 books on economic trends, real estate, the financial crisis, personal finance strategies, taxation and politics. Nationally-known speaker and lecturer on macroeconomics, the housing market and investment techniques. He is a licensed Investment Advisor with a fee-based, no-commission Toronto-based practice serving clients across Canada.
Jon's a heart doc, transitioning from a small regional hospital to the Big Smoke. His new gig in the cardiac unit of a major Toronto medical centre starts Friday. "Huge promotion," he says, "and now that Covid is moving offstage there's a serious backlog of elective surgeries to handle. I will be busy."
The good news: Jon's owned a downtown condo for the past five years, where he's planning on moving his small family. The bad news: he can't.
"Two months ago I told the tenants I'd be coming back into my old place," he says, "and they have refused to move out. Now I can't budge them, and we have no place to land."
Jon offered to give the tenants a payment equal to three months' rent. No dice. He found them another, similar, unit downtown. Nope. He said he'd pay their moving expenses. Forget it. While he has the legal right to displace them for his own family, there's no mechanism to do so. The Landlord and Tenant Board is shut. No tribunals. No judgments. In fact, as in several provinces during the virus crisis, there's a no-eviction policy in place in Ontario. If a tenant refuses to leave, or even to pay rent, too bad.
Moreover when the board resumes operations, the backlog will be Biblical. It's estimated the wait will be at least a year before a case is even heard. Meanwhile Jon's condo is his property in name only. He's scrambling to find a place for a family of four, plus beagle.
These are tough days to be a landlord. About a fifth of tenants paid no rent in April, thanks to the virus (and some bad attitude), and the situation may worsen this Friday. Things are even more dire for commercial property owners, since 80% of all small businesses are shut without revenue. More than 40% are expected to fail if the lockdown goes past the end of May. The feds' business rent relief program just started taking applications (10,000 on the first day), and in order to get any revenue LLs have to agree to a 75% reduction for a few months. When you've got a big mortgage nut and property taxes to pay, that can be brutal.
Meanwhile Airbnbers are freaking out. A flood of condos is poised to hit the market since the vacation rental market evaporated and leasing to a residential tenant is guaranteed to lose money.
Amazingly, more than 15% of all the households in the GTA own rental property. About half of all new, pre-con condo sales have gone to speculators, investors and amateurs landlords. Of those who have rented to long-term leased tenants, 40% are believed to be in negative cash flow – and that was even before the virus made it perfectly okay for tenants to stiff you.
Clearly small-time investors have banked on (a) Airbnb cash flow or (b) year/year capital gains in the value of their units. Currently, both are pffft. And with the virus believed to become a semi-permanent feature of urban life, high-rise, DT condo living is a lot less glam. Just look at all the 'touch-'n-toss' tissue boxes now riding around in elevators. Now think about the door handle into the garbage room. Yucko.
This landlord misery, political intervention, germ reality and tenant rentier class warfare could change real estate tastes and values over the next few years. In fact it might already be happening. Early pandemic numbers out of the US show a big surge in homebuilder activity, as buyers migrate away from the urban towers to suburban dirt.
That makes sense. Especially if this Covid thing morphs into a recurring seasonal flu-type plague. Why would young families not want a nice backyard to self-isolate in, a safe garage to disinfect the minivan inside of, real earth to grow cootie-free veggies and enough house space to safely socially distance? Try doing any of that on a balcony on the 50th floor.
Besides, who needs to go downtown anymore?  2020 has taught us that whole organizations can function with people at home, working remotely in their underwear. All you need is a strong Wi-Fi connection and a pooch to keep your feet warm. Screw the cublicle! And especially the commute!
Could this mean a suburban renaissance? After all, real estate is cheaper the further you migrate from downtown – or, at least, that was the pre-pandemic reality. Maybe in the new world order that'll be reversed. Let's wait and see.
In any case, detached will become the undisputed gold standard of housing, leaving condos for the unfortunates. By the way, if you need a good cardiac surgeon, I know of one living under a bridge.
STAY INFORMED! Receive our Weekly Recap of thought provoking articles, podcasts, and radio delivered to your inbox for FREE! Sign up here for the HoweStreet.com Weekly Recap.