April 19, 2020 | The V factor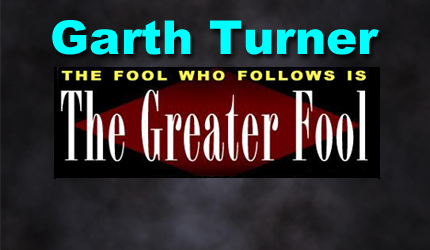 A best-selling Canadian author of 14 books on economic trends, real estate, the financial crisis, personal finance strategies, taxation and politics. Nationally-known speaker and lecturer on macroeconomics, the housing market and investment techniques. He is a licensed Investment Advisor with a fee-based, no-commission Toronto-based practice serving clients across Canada.
At this time last year (the third week in April) 202 houses – detached and semis – sold in Toronto. This year sales were 30. Gulp. That's a decline of 85%, showing just how nasty the virus has bitten. In all of the GTA (six million souls) the collapse was almost equal, at 80%.
Condos? Even worse. Sales of 231 in Toronto last year fell 86% to 32, and faded by 87% in the rest of the region. And look at this graphic showing the condo sales-to-new-listings ratio in the Big Smoke over the last few months. From 120% in February it crashed to about 10% last week. No showings, no sales. No sales, no market.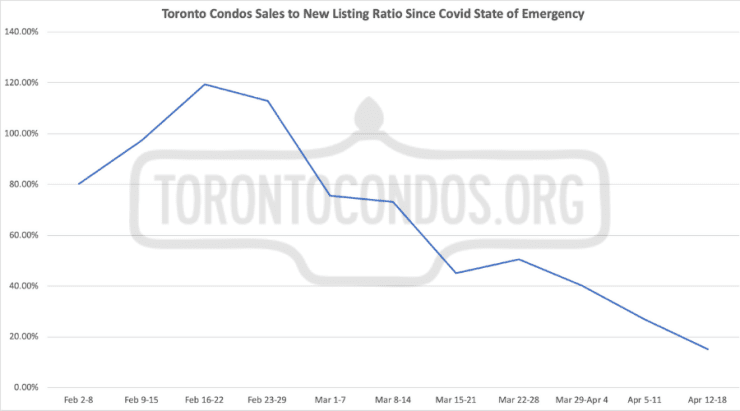 Toronto condo sales plop as pandemic panic pops
Not unique to Toronto, either. The same is happening in Vancouver, Victoria and Montreal. In Alberta it's a full-blown economic crisis. In the flatlands, it might as well be January – things are frozen solid. So the questions are simple. Is this temporary and will demand/sales explode in August? Or is this a new normal – sellers afraid of buyers poking through their stuff; no more open houses; skittish mortgage lenders; people seeking distance over convenience?
Here are some of the current realities. Several of them will stick.
The suburbs are suddenly looking good. Back-to-the-land is back. Your hippie parents would understand.
For the last decade moisters flocked to the city. The denser the population, the better. More social interaction. More connections. Nightlife, networking and collaborative workspaces. Commuting was dissed and hated. Cars eschewed. Condos ruled. Walk to work. Live in a loft with dangly pipes and a bike elevator, next door to Starbucks.
The virus changed that, of course. City cores are germ factories The subway's a death chamber. Maybe you're breathing the same air your neighbour is. Yuck. Besides the Mills are now in full family-formation mode, so bringing up junior in a sea of concrete isn't such a hot idea. Wouldn't a back yard and a pooch be nice?
You bet. Just watch the renaissance happen. Minivans. Barbeques. Lawnmowers. Ant spray. The works. And the whole rural thing is the next phase. Now that nobody needs to actually go to work anywhere, why not?
Sales have crashed. Listings have crashed. Prices are holding as a result. However people selling really have to sell. Buyers have bargaining power.
As the virus hit and sales crashed, sellers retreated. Listings have dropped everywhere, which means average prices have remained reasonably steady as less demand meets lower supply. But this also means those who have kept their properties on the market really, really, really need to sell. Choice may be more limited, but the potential bargains are multiplying with each week this mess continues. If you're in a position to strike with a meaningful, actionable offer, then go for it. You can even include a few conditions, if you want, like a home inspection. And write in what you fancy. Some furniture. The garden tractor. Dog.
Getting a loan is getting harder. A lot harder.
Yes, the virus has done a great job of dividing us into two groups – the creditworthy, bullet-proof elite (civil servants, teachers, first responders, essential service workers) and the tenuous riff-raff (small business owners, hairdressers, construction dudes, corporate vice-presidents, airline pilots, financial advisors, electricians). Credit is available and cheap, but risk has jumped dramatically. After all, 12% of all the mortgage-holders across the nation have asked for deferred payments, indicating distress. Four in ten Vancouver homeowners now say they're approaching poochedness. The tide has gone out. Many are naked.
Lenders and brokers are therefore spending more time looking at a borrower's job stability and financial status than in the past. When a pandemic arrives which infects few but bites everyone, even high-paying glam jobs can be wiped away in weeks. If you're buying or refinancing, make sure you grovel – or get a job at Service Canada.
Condos are the past. Dirt is the future.
The condo market is in shambles. Pay attention. This could happen again. And again. The virus may return, widely or in pockets. For weeks or months. Nobody knows. But meanwhile whole condo buildings are sealed to non-residents. Showings are kaput. Inmates are worried about common areas, elevators and garbage rooms. Airbnb has collapsed and thousands of units will be coming on stream as a result.
Inherently people now want more space, distance, security. This will fuel interest in properties with their own plots of land, windows that open and gaps between residential structures. Besides, at $1,200 per foot (or above), urban condos in Toronto and YVR had become excessively, insanely, irrationally expensive. Lately the $1-million-plus-unit market has withered and died. There is a watershed moment coming for the cliff dwellers. Many will be shocked as they slide into negative equity.
Will these realities hold? Or is it impossible to see the future clearly through the fog of pandemic-inspired mass panic and economic destruction? Will house lust inevitably overcome the infection of fear?
Time will tell. But a cabin with three laying chickens and a creek suddenly beckons.
STAY INFORMED! Receive our Weekly Recap of thought provoking articles, podcasts, and radio delivered to your inbox for FREE! Sign up here for the HoweStreet.com Weekly Recap.