April 7, 2020 | The Fuglies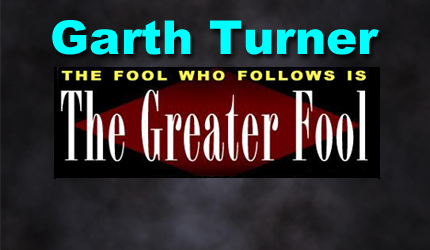 A best-selling Canadian author of 14 books on economic trends, real estate, the financial crisis, personal finance strategies, taxation and politics. Nationally-known speaker and lecturer on macroeconomics, the housing market and investment techniques. He is a licensed Investment Advisor with a fee-based, no-commission Toronto-based practice serving clients across Canada.
There are 19.1 million employed people in Canada. Well, they used to be employed. Until Mrs. Virus came to town.
On Monday a million of them applied for Trudeau bucks, the two-grand-a-month bailout fund. That was just the January-March crowd. People born in later months get to submit the rest of the week. Maybe three million more. Plus the 2.7 million EI claims since the middle of March.
Grand total? Perhaps seven million people. But wait. That would be an unemployment rate of 36%. Compare that with 8.3% back in the depths of the 2009 credit crisis. In fact, the highest rate in modern history was 13.2% (the early Eighties). And the Great Depression? The jobless in Toronto amounted to 17% in 1931, and by 1933 had hit 30% nationally, with one in five Canadians was living on government pogey.
So we're obviously in historic times. Does that mean you should freak out, hoard noodles, ammo and cash or move off-grid into a cabin past Tofino? If you like bugs, moose and the wrong kind of cougars, okay. But otherwise, chill. This is temporary, not structural.
The emergency benefit payment is for 16 weeks. Four months. Until August. The people who can't pay their mortgages get until September. Renters stiffing their landlords will be lucky to receive 90 days' grace. The expectations are for the pandemic to be over, or vastly dissipated (or we just get used to it and go back to work) by Canada Day.
The big stock market rally – which has lifted equity values in general by more than 20% – is a preview of the future. As stated here yesterday, Mr. Market could have a serious setback and race back down for a while, but since recovery is a given there's no reason to sell anything good out of your portfolio. Fiscal stimulus (government spending – as Trudeau is doing so spectacularly) plus monetary policy (central banks slashing rates and buying assets) are incredibly powerful when working together. Moreover, all countries are doing it. Japan's the latest.
Things are bad with people out of work because governments artificially turned off the economy. It did not die. It was murdered. Emergency orders in every province forced offices, stores and factories to close. Demand went from bustling to zero. Real estate was slaughtered. The supply chain broken. Retail is a smoky hole. (Last night Dorothy's fav little lefty bookstore down the street threw in the towel – and kept her $500 gift card money. She's pissed. So much for the moral high ground of the literati.)
As fast as that demand was extinguished, it can be re-established. That's the point of a $200 billion stimulus package and 75% payroll subsidies. The same dudes who sent you home are trying to keep it together. The cost will be an immense burden on the next generation, but the choice has been made.
So there are two things likely to happen.
First, the economic data to be published by the end of April and into May will be beyond ugly. Unemployment at 1930s levels. A collapse in the GDP. Miserable corporate earnings. Widespread business failures. Already more than 4,000 hotels across Canada have closed. Over 800,000 food service and hospitality workers are out. Manufacturers expect layoffs to top 70,000. Real estate sales, says RBC, will "slow to a crawl in most markets across the country in April and for as long as social distancing and lockdown measures are in place…. We expect property values to come under increasing downward pressure the longer restrictions persist and the deeper the recession gets. Super thin activity also makes the market prone to erratic price moves."
Fugly.
But temporary.
The second certainty is recovery. Already there are signs the virus may have peaked in Italy and Spain, as fatality rates level (or fall) and authorities consider easing some lockdowns. In the new epicentre, NYC, deaths spiked this week but have shown signs of a plateau. The White House is ramping up plans to re-start the national economy.
Says the CEO of the big green bank (where dividends will not be cut):
"The health crisis has meant parts of our economy are in a forced lockdown and that's why the numbers are going to be pretty bad. But as lockdowns get lifted, people go back to work, then of course the economy will come back It will be interesting to see how steep the V- recovery is, but I certainly expect good growth coming out of the crisis."
As for the markets? Well, remember that comment a few weeks ago (when stocks crashed) about trimming bonds and nibbling stocks? Here are some words from long-time Wall Street smart guy Ed Yardeni: "In our opinion, we are in the midst of a Great Rebalancing away from bonds and into stocks… the market's recent action suggests that investors are betting on an economic recovery starting during Q4 and continuing through 2021."
Maybe these guys are right. Maybe they're high on hopium. We won't know until we get there.
But we will arrive. Be patient. It's coming.
STAY INFORMED! Receive our Weekly Recap of thought provoking articles, podcasts, and radio delivered to your inbox for FREE! Sign up here for the HoweStreet.com Weekly Recap.