April 6, 2020 | The Big Fear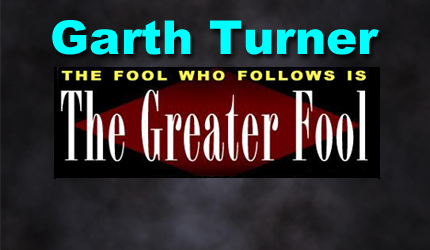 A best-selling Canadian author of 14 books on economic trends, real estate, the financial crisis, personal finance strategies, taxation and politics. Nationally-known speaker and lecturer on macroeconomics, the housing market and investment techniques. He is a licensed Investment Advisor with a fee-based, no-commission Toronto-based practice serving clients across Canada.
As the U of Pittsburgh announced a Covid vaccine Monday (!) the Trudeau-bucks portal opened, and was utterly swamped. No surprise there.
This not-a-virus-blog can't tell you if the new treatment will work at keeping the bug at bay, but the evidence continues to mount that people went into this crisis with their pants around their ankles. So far (three short weeks) about 2.5 million have claimed EI payments. Another two or three million will scramble after the two-grand-a-month benefit. And we know more than 500,000 homeowners have besieged the banks looking for mortgage deferral relief. That's a staggering 11% of all home loans currently held by the Big Banks, and the number is swelling. This is shifting more than $650 million per month from payments, to an increase in the amount these folks will owe. And they think they're getting a deal…
The dismal state of personal finances, the panic, the despair, the fear and the spirit of defeat and retreat so evident among the sad posters on this site may be swell news. Could this be that moment of utter capitulation, when most people think recovery will never come, depression is certain, capitalism will fail and we'll all be huntin' squirrel and boiling bark? Sheesh. Look at the public mood. It's ugly. Social distance warriors everywhere.  Renters stiffing landlords. Politicians yelling at citizens. Travelers being shamed. Asians hated. All amid a cacophony of pandemic predictions which have shocked and stressed the masses.
But, wait. Lo, what's this?
Look at volatility on the financial markets – the fear gauge of investors called the Vix. After spiking madly to a level greater than 2008 just a few weeks ago, it's plunged by almost half. Why has the measure of market anxiety dropped so fast even as the economic damage of turning off the economy builds?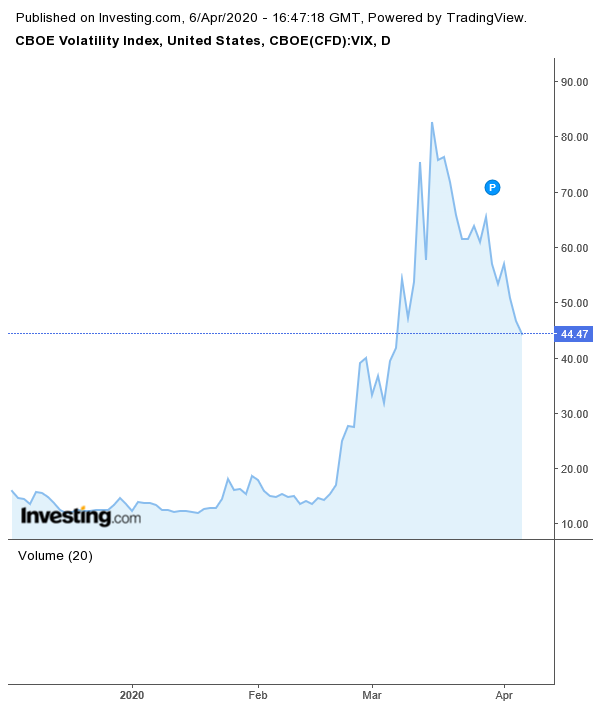 And have a gander at the stock market, as measured by the S&P 500.
This is a proxy for the entire American economy, currently headed for a jobless level of maybe 30 million, and a collapse in corporate profits as planes don't fly and people sit at home. But, yikes, this market has added 20% since late March and soared, giddy, on Monday. (The Dow gained 1,627 points and the S&P grew 7%.)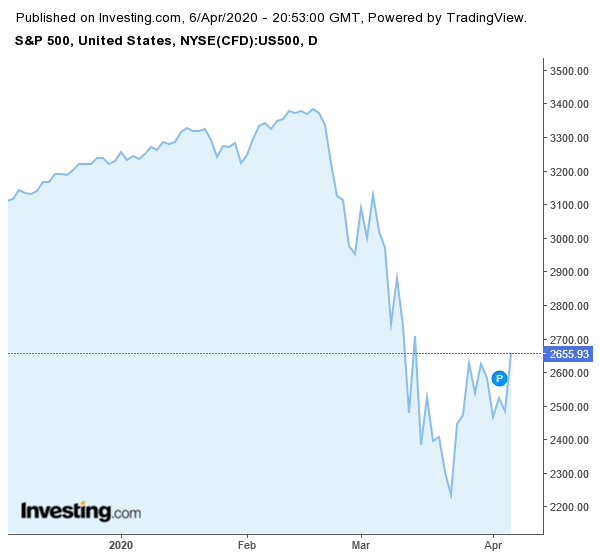 So, huh? What's going on?
The key thing to remember about equity markets is that they're forward-looking. Leading indicators. Investors care a lot more about where we're going than where we are. That's exactly why the Dow, the S&P and Bay Street crashed by about 30% in mid-February even before the emergency orders went out, the ICUs started filling with patients or the WHO declared a pandemic. Trouble was coming. It was gonna be bad. Head for the cellar.
Of course it takes average people a lot longer to smell fear. They start to react strongly when governments tell them to go home, stores close, jobs are lost, the toilet paper hoarding starts, cash flow disappears and the media brims with non-stop, cover-to-cover virus porn. As the news gets more grim, fear becomes panic, then desperation and finally to the point where some random guy yells at me to 'go home and stay home' when I'm walking my dog. That would be now. Capitulation. Be careful, or we'll all die. A recent poll found that 50% of Canadians fear they will get the virus. So far it's 0.04%.
So what does Mr. Market see?
More volatility, of course. That's a given. And there will be many bad days to come with assets losing value. But recovery is inevitable. Daily deaths have leveled off in Europe. Falling, even. Public health officials think the apex may have arrived in New York City. Social distancing, hand-washing, cancelling events, remote employment – it all seems to be working. At least that's the perception. That the pandemic would end was never in doubt. The issue has been one of timing. And it now seems closer. At least the end of the beginning.
Meanwhile some great companies look cheap. Central banks and governments are spending historic amounts to fluff asset values, finance the unemployed, inject liquidity into the system, bail out distressed industries and protect the capital markets. This is the moment of truth for fiscal and monetary policy. It was TPTB that shoved the economy into a medically-induced coma, and it will be the same guys who breathe the life back into it.
Of course, none of the above means markets cannot retest lows or that your corner Chinese restaurant will ever re-open. Millions of people have received a big whack on the head – folks who thought debt didn't matter and caching was for chipmunks. Large swaths of the population will be hurting for years to come. Much of it will be self-imposed. Some of it very unfair. But that's life. And the death rate is still 100%. Sucks.
So, you can wallow and vex with the nihilists in steerage. Or you can prepare for what's coming. Whatever. Just don't yell at me.
STAY INFORMED! Receive our Weekly Recap of thought provoking articles, podcasts, and radio delivered to your inbox for FREE! Sign up here for the HoweStreet.com Weekly Recap.