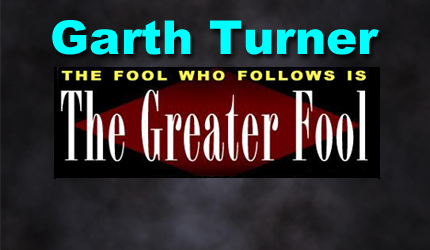 A best-selling Canadian author of 14 books on economic trends, real estate, the financial crisis, personal finance strategies, taxation and politics. Nationally-known speaker and lecturer on macroeconomics, the housing market and investment techniques. He is a licensed Investment Advisor with a fee-based, no-commission Toronto-based practice serving clients across Canada.
"My local mechanic told me he might not make it, yet four weeks ago he couldn't keep up with the work," says Jeff. "For over 5 years that I've known him, he's always been busy.  But now, a bump in the road that might set him back for 2 months is going to bankrupt him?  Makes no sense…he spent more than he made and now his future has come to collect. Garth, humanity is doomed because accountability is lost."
The tide's sweeping out. So many are naked.
Today's rent day, for example. What a mess that may bring. Look what the cascading virus has brought crashing into our ill-prepared society.
As you may have heard, about a million tenants may not make their payments by sundown. After missing one or two paycheques, and before being bailed out by the feds' $2,000 monthly payments, they're tapped. Apparently all those blog posts and surveys here about half of folks being two hundred bucks from misery were correct.
Politicians are wading in, confusing many who believed rental real estate was a sure bet. The premier of Ontario has told renters straight-up that if it's a choice between groceries and rent, they should choose food. That may be reasonable, but landlords also have to eat. Meanwhile several provinces (Ontario, Quebec, Alberta, BC) have nixed evictions and even shut down the dispute-resolution boards. In other words, non-payment of rent will have no consequences for a long, long time.
Big landlords, like residential REITs, have the financial reserves to withstand a no-rent storm (and several are trying to be empathetic). But the little guys may get crushed. Those who bought condos to rent out and were already in negative cash show (an estimated third of all leased Toronto condos, for example – ditto in Vancouver) will see real and immediate losses. There are mortgages to pay (the current bank deferral rules do not apply to rental units), condo fees, property taxes and insurance premiums.
About half all condo sales in recent years have gone to speculators, investors and amateur landlords. If tenants lose jobs, deplete savings, freak out at the shutdown of the economy, or just want to preserve their precious cash and withhold their rent, unit owners are powerless. They cannot collect. They cannot evict. They can't turn off the water or the heat. They cannot appear before the landlord-tenant board, because it's shut. They cannot get mortgage relief (unles CMHC-insured – rare).  They can only eat the losses.
Will government step in?
BC is giving tenants $500 a month. Ottawa's CERB will start doling out two grand a month later in April, but no stipulation the cash is used for rent. Same with the EI payments claimed by almost two million people in the last few weeks. Face it – nobody has any sympathy for residential landlords. The impact this might have on urban real estate values is real.
Meanwhile, witness what Mr.Virus has done to Airbnb. Total collapse, to the point where the company is offering to pay some compensation to hosts whose properties are empty and will remain so. Bookings have evaporated along with travel, the value of airline stocks and the jobs of pilots. With hotel occupancy collapsing below 5% nationally, Airbnb operators are SOL. Those who bought properties solely to do short-term rentals are pooched – and at last count (before the pandemic) there were 22,000 of them in the GTA alone.
Suddenly the collective wisdom of holding income-producing real estate doesn't look so wise. The costs remain. The revenue is gone. Gains from market appreciation are fully taxable. But the market has frozen, making a sale doubtful. The number of short-term rental units being listed is rising exponentially. Real estate's Achilles heel – illiquidity – is kicking a lot of butts.
The same dilemma is unfolding with commercial real estate. Small businesses are in awful shape, with zero programs in place for landlords to get mortgage deferral consideration, or free money from the feds. Yup, T2 has offered to loan entrepreneurs up to $40,000, but that's more debt and the process is complex. Lately even giant corps – like Canadian Tire and A&W – have been asking their landlords for six months of payment relief.
Meanwhile homeowners who can't make their mortgage payment this month (or the next five) can defer it. But the costs are significant. Interest continues to accrue. There is then interest on that interest. All must be paid back later, in the form of an increased monthly or an inflated overall debt load upon renewal. And, by the way, mortgage rates have been going up.
In short, real estate's no refuge. But a lot of tenants are about to live for free.
STAY INFORMED! Receive our Weekly Recap of thought provoking articles, podcasts, and radio delivered to your inbox for FREE! Sign up here for the HoweStreet.com Weekly Recap.