April 29, 2020 | Now What?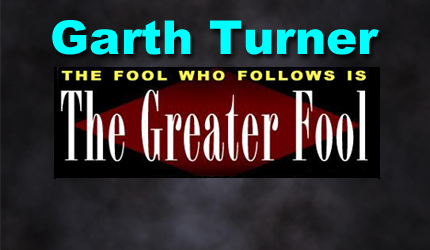 A best-selling Canadian author of 14 books on economic trends, real estate, the financial crisis, personal finance strategies, taxation and politics. Nationally-known speaker and lecturer on macroeconomics, the housing market and investment techniques. He is a licensed Investment Advisor with a fee-based, no-commission Toronto-based practice serving clients across Canada.
How much will taxes pop?
Some of the answer will come Thursday morning. The Parliamentary Budget Officer is an independent guy, not part of the government, the PMO or Trudeau's Liberal caucus. In short, he has creds. So what the PBO will announce in the morrow should be taken seriously.
Three weeks ago, amid a gush of federal virus spending, the PBO estimated the federal deficit would be an eye-watering $184 billion. That's the amount the government must borrow to cover excess spending in a single year. The new estimate will top $200 billion. And Trudeau continues to spend.
The country's current federal debt is $715 billion, growing $75.8 million per day. Adding $200 billion in a single year is unprecedented. Staggering. The previous record belonged to Stephen Harper, who spent $56 billion above revenues in order to survive the 2008-9 financial crisis.
So what happens when a country increases its debt by almost a third in the space of 12 months?
"Let's hope this spending is temporary," the PBO says. "Otherwise it is unaffordable. Had you asked me two months ago if we would be contemplating a deficit of close to $200 billion, I would have said that somebody is smoking something very strong."
So time to talk about the post-pandemic nation that we will inhabit. What will it look like? How will the new normal operate? As provinces take halting steps towards letting people shop and work, where are we headed? For how long will civil liberties be curtailed and behaviours forced to modify?
Here are some thoughts on what comes next:
Somebody has to pay for all this.
Taxes are going up. Accountants are bracing for the creation of yet another tax bracket, skimming up to 60% of incomes of the top 1%. But that won't pay for much, since we have a dearth of rich people. Look for a bump in the capital gains tax inclusion rate, real estate levies, more means-testing of benefits and possibly an inheritance tax. For starters.
Personal service is doomed.
Scotiabank employees got a memo this week saying: "Our 'new normal' is unlikely to be us resuming our 'old normal' in terms of how and where we work." That means not re-opening hundreds and hundreds of bank branches which BNS and the other guys closed in late March. It's a golden opportunity for corporations to slash employee overhead and dump costly real estate, pushing clients online and forever ending much human contact.
Shopping won't be fun.
Malls are dead. They'll be the last retail areas to open, with restrictions and a lot of shopper hesitation. Mall landlords are choking, but restaurants are simply dying. Social distancing means no more will Timmy's be the community hub nor will people wish to fine-dine when served by a comely babe in a mask and gloves. Get used to lining up for urban grocery stores.
Small business whacked.
Almost 80% are shut now and four in 10 won't open again, says the CFIB. Online shopping weakened this social backbone and the virus broke it. What a profound, sad loss it will be when the small-scale entrepreneur class is forced down.
Fewer offices. Dead downtowns.
White-collar corps have learned to handle remote workforces over the last six weeks. Zoom is the new god. Commuting is done. Dogs love it. Companies will seriously reconsider vast, expensive downtown offices. Spoke-and-wheel organizational structures will emerge. City-center streets will empty. Urban transit routes will thin. Downtowns will never again be what they were so long ago. In February.
Real estate migration.
It's already on. Less appeal to living in a congested area when the virus turns into a seasonal and recurring threat. A renewed interest in the burbs and beyond. Single family houses, not concrete towers full of strangers. The ability to control your space, safeguard your family and not have some degenerate sneeze on you. Besides, since you don't need to commute DT any more, why not be safe?
Some will never work again.
Before Covid we had 5% unemployment. Now it's 15%, maybe more. Many stores and eateries are done forever. Companies like the banks downsizing. Hotels, airlines hobbled for a long time. It's likely the jobless rate will be double-digits for a while. Maybe it'll be structural. How will these folks be supported?
The spigot can't be shut.
After politicians turned off the economy, they had to support the people they idled. Thus, a $200 billion deficit, as the direct deposit tsunami gushed out of Ottawa. Everybody who wanted some got cash. But how does it end? How does the government just turn it off when the economy may take years to reflate? Are we many steps closer to a Universal Basic Income? If so, who pays the staggering, recurring cost?
Less freedom.
A video surfaced this week of the nation's medical goddess, Dr. Theresa Tam, once musing that in a pandemic citizens should wear personal identification and face forced vaccinations. Current opinion polls show a scared populace might now find that acceptable. Fewer freedoms likely lie ahead. Sadly. Some countries use apps to track every citizens' moves. Crippling news for philanderers. And cowboys.
More Trudeau.
In mere weeks the pandemic has changed politics dramatically. Terrified by governments and media, Canadians have rallied around leaders as in a war. Trudeau's 74% approval rating is unheard of for a modern leader – even as he has broken electoral promises, been caught in a black-face past, brought on a debt storm, manipulated justice, raised taxes and now shuttered the economy. If he calls an election this fall, Canada will have a majority Liberal government.
Looks like a certain pathetic blog will be busy. Gather the horses. We ride at dawn.
STAY INFORMED! Receive our Weekly Recap of thought provoking articles, podcasts, and radio delivered to your inbox for FREE! Sign up here for the HoweStreet.com Weekly Recap.