April 29, 2020 | Economics: Is Our Global Economy Going To Crash? When?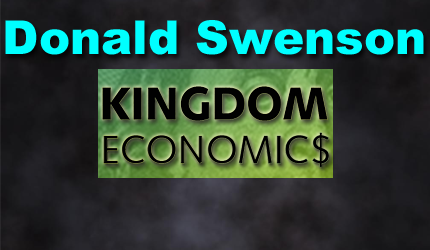 Donald B. Swenson: Born January 24, 1943, Roseau, Minnesota. Graduated H.S. 1961, Moorhead High, Minnesota. Graduated College 1968, Moorhead State University, Minnesota. Designated member of Appraisal Institute (MAI), 1974. Employed with Western Life Insurance Company, 1968 – 71; Iowa Securities Company, 1971 – 73; American Appraisal Company, 1974 – 81. Part-time teacher/valuation consultant/bartender, 1979 – 2008 (taught workshops at Waukesha County Technical Institute, Wi. and Madison Area Technical College, Wi.). Retired 2008 (part time teacher/blogger), AZ. Self educated economist/philosopher/theologian: http://kingdomecon.wordpress.com.
I have been writing about our economy for some 50 years. So far there has been no serious crash that worries investors and traders. But is a crash coming in 2020? I think so! Let's review the issues.
1. Unemployment in America is now reaching levels which I have never witnessed these past 50 years. At the same time America's workforce has shrunk some 17% since 2000 (the current workforce is now 132,054,335 down from 155,80l,354 in 2000). Unemployment is now 35,739,772 (representing some 23% of our workforce). This will get worse as our year progresses. Will sentiment continue positive going forward? I don't think so!
2. As I write, America's GDP is down some 4.8% this year and many are expecting this to increase substantially after the next three months. Consumer spending is down, real estate sales are down, auto sales are down, manufacturing is down, our oil industry has crashed, etc. What will happen next?
3. What I expect is that 'values' of homes will decline precipitously during this period of unemployment and slow economic activity. Commercial real estate and industrial real estate will also experience declines in 'value'. This trend is deflationary.
4. Huge inflation could happen in the food and farm sectors of our economy. Prices could skyrocket for meat products and for general food items which people need for their daily needs.
5. As the recession/depression worsens in select sectors of our economy we could witness civil disturbances all around the planet. Some countries will enter a depression mentality earlier than others. Our problems are now global in nature and what happens in America could magnify in nations with which have less advantages. America is lucky as our dollar is the reserve currency of the world and this allows us to borrow and spend even as debt gets excessive.
6. Mr. Powell and the Fed will continue to add new liquidity to our markets (their balance sheet is now nearly $7 trillion). We could see the Fed balance sheet increasing to $10 or more trillion by the end of 2020. Some are projecting some $20 trillion in a couple of years. All this will magnify our debt and deficits and make the overall problem much worse. You can follow the numbers here: http://www.usdebtclock.org.
7. The economic dominoes will continue to fall for the balance of 2020 and 2021. There is no solution to our economic problems as the model which our world follows is based upon adding debt and more debt (endlessly).
8. As I write the debt numbers are getting exponentially worse as our revenue numbers are tanking. All this leads to a slowing economy and a recession which then leads to an economic depression.
Conclusion: Temporarily we can avoid a crash for a few months. But by the end of 2020 the numbers and sentiment will worsen. This will then lead to a major crash in all our markets. As I write our virtual stock markets are going Up and Up even as our real economy is getting worse and worse. This can continue (temporarily) as virtual trading has decoupled from our real economy. Our markets are mostly fantasy markets which do not reflect the hard realities of economics.
Feel good finance is what our central planners (Powell, Mnuchin, Trump, etc.) are promoting as of now. But feel good economics will get old as people lose their jobs and their general confidence in the system. This is happening now in a minor way but I expect a major crash in confidence by the end of the next quarter (say in July, 2020). As confidence crashes our central planners will discover that their QE counterfeiting program and the liquidity programs will falter.
The underlying economy is now revealing the many problems which our elites have avoided these past 70+ years. Our system is corrupt and the model we follow for economics (Keynesianism) is now invalid for creating a new prosperity for the planet. A crash must happen and I would suggest that SOONER is better than LATER. Think for yourself to discern our situation. Have a good day! I am: https://kingdomecon.wordpress.com.
STAY INFORMED! Receive our Weekly Recap of thought provoking articles, podcasts, and radio delivered to your inbox for FREE! Sign up here for the HoweStreet.com Weekly Recap.